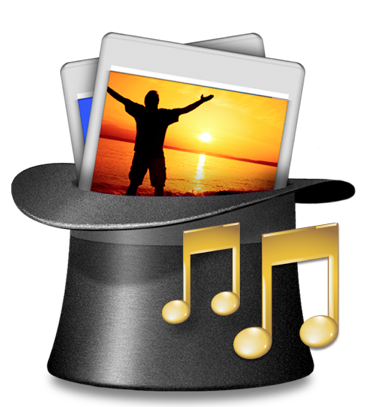 FotoMagico 3.5
Boinx Software
Price: $149US for Pro version (used for this review), $29US for Home version
http://boinx.com/fotomagico/overview/
When I travel, I like to take pictures. Lots of pictures. In fact, my kids make fun of me because I'm always having them pose in front of some landmark, or on the beach, or, well, wherever I feel like taking another picture. I'm sure many of you reading this do the same thing.
But what do to with the pictures once they're on your computer? There are only so many you can print. And how often do we go back to look at them?
Here's a really great way to share those pictures, and at the same time, have a back-up of your precious memories: make a slideshow with FotoMagico.
FotoMagico makes quick work of creating a slideshow, complete with music if you desire. Photos, music, and movies are shown in the right-hand sidebar; just drag and drop the media onto the storyboard. FotoMagico can take over from here, and add transitions and zooms to your photos. Another option is to create an Instant Slideshow, which gives the user a little more control over the output. The short movie below is an example of adding pictures and music to the storyboard and letting FotoMagico do its thing.
That movie looked good, but I wanted the viewer to see close-ups of certain pictures. That meant tweaking each slide.
Start and finish screens show you how to picture will look. Simply move the photo inside the frame to get it exactly where you want it to be. Zoom and rotation buttons give additional control. Although images should be edited before they are used in FotoMagico, there is a simple color correction slider under the Options button for non-destructive touch ups.

Parameters on photos can be changed individually or in batches. There are 16 transitions to choose from, but remember, with transitions, less is more. The transition timing is adjustable, as is the length of each slide.
I spent less than an hour working on version two of my slideshow. The result is below.
Pretty cool, huh?
If you are working on a slideshow with hundreds of photos, it can get rather unruly and difficult to manage. Slideshows can now be grouped in chapters, which can be color coded, and expanded and collapsed as you need them.
Each FotoMagico slideshow can have up to three audio tracks: music, sound effects, and narration. Any sound file on your computer (except DRM protected tracks) may be used. Audio length is adjustable and can be used for all photos, or just a select few. Narration is recorded within FotoMagico. Any music playing in the background is automatically lowered during narration.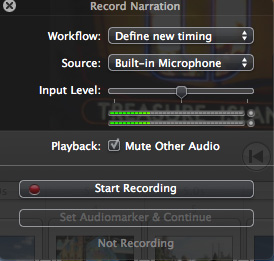 FotoMagico now has direct integration with Aperture, Final Cut Pro, Final Cut Express, Motion, and Adobe After Effects. Also new in version 3.5 is Export to iPad and support for QuickTime movies within a slideshow.
After the slideshow has been completed, the next logical step is to share it with family and friends. FotoMagico has 12 exporting options, from burning to a DVD, uploading to YouTube, or creating a QuickTime movie, to producing a movie to be embedded in web page. For fun I chose the Screen Saver option, which worked exactly as it should. Next time, though, I'll have to remember to delete or lower the music before I export.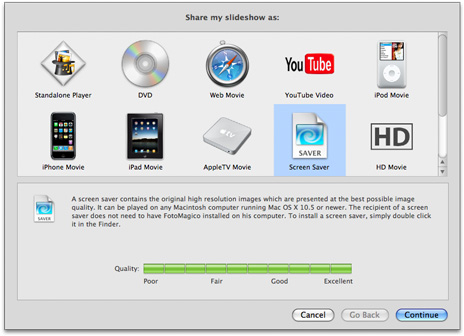 The Boinx Software web site has a lot of information, tutorials and Frequently Asked Questions (FAQ) to help you learn the software. Additionally, FotoMagico has a Help file and some start-up videos within the application. Honestly, I jumped into FotoMagico with both feet and referenced the Help files when I couldn't figure something out on my own.
As noted at the top of this review, the Pro version of FotoMagico is $149 and the Home version is $29. Only you can decide which version best fits your needs. Boinx Software has a table here that shows what features are included in each version. You can download FotoMagico for a five day trial before you buy. Normally I would say five days isn't enough time to truly evaluate an application, but in this case, a few hours is all you'll need.
FotoMagico is a fun and relatively easy way to share photos. It's an application that can be used by teachers and students, parents, photographers: basically anyone with a camera and a computer.