Which style of iPad case is best for you? Let's look at three different models, with our guest reviewer, Howard Nemerovski.
Eco-Vue for iPad
Company: Marware
Price: $45 plus shipping (available worldwide)
http://www.marware.com
iPad SoftGloss Case
Company: iFrogz
Price: $30
http://ifrogz.com
Sleeve for iPad
Company: Rickshaw Bagworks
Price: $30 to $60, depending upon custom materials of your choice
http://www.rickshawbags.com
Marware's Eco-Vue is similar in design and function to the Griffin Elan Passport Folio iPad case that I reviewed here last month. Eco-Vue is constructed with an attractive, sleek genuine eco-leather outer shell. You can read about eco-leather at the product's web site here. There are dozens of user reviews, mostly raves, linked on the same company web page.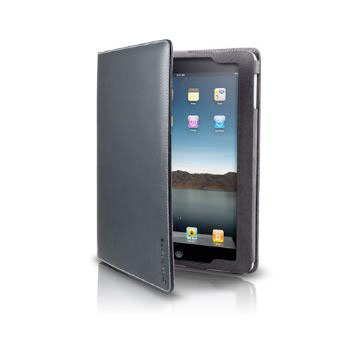 Slip an iPad into Eco-Vue's snug top drop-in sleeve. Marware's sleeve design provides alignment of holes and slots for convenient access to all iPad controls. The soft, ultra-suede interior of the case protects the iPad's surfaces. Eco-Vue's pull-out hard tab conveniently permits the iPad to rest in an elevated horizontal/landscape easel position, a feature that I wish had been included in the Griffin case mentioned above. There is no equivalent tab to facilitate the iPad's vertical/portrait freestanding mode.
An elastic band slips over the front of the case to secure it when the iPad is not being used. I'm not confident that this elastic band will still be serviceable for the life of the rest of the case. A top tab helps secure the iPad within Eco-Vue to minimize the risk of the iPad's flying out when the case is upside down. This tab mildly distorts the narrow upper edge of the frame. A wide hand strap on the rear of Eco-Vue is of harmless, doubtful utility.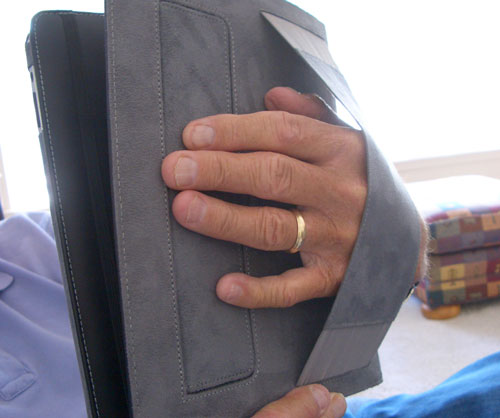 Overall, I give Marware's Eco-Vue a mildly positive recommendation, and a MyMac Review Rating of 8 out of 10. Read other user comments, and decide if that hand strap is what  you really need.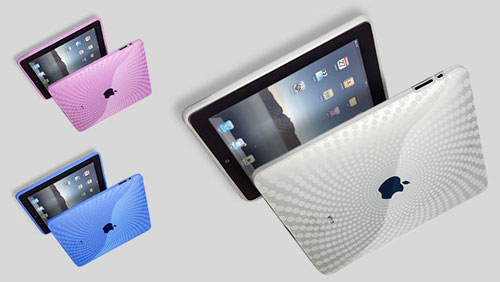 The iFrogz  SoftGloss Case is a semi-permanent colorful protective cover for an iPad's easily-scratchable rear metal surface. That's it. Because the case is designed to fit tightly around the perimeter of the iPad, some pulling and tugging are required to install it, but once in place it's secure. Holes and slots permit ready access to the iPad controls. The design and the blue color of our evaluation unit are attractive, and the feel of the plastic is pleasant. Some moderate shock protection may be provided by the thick, pliable plastic, but don't bet the farm on this case's saving your iPad from a sudden shock or fall.
I personally won't use this category of rear-only shell cover, but if you are looking for a reliable way to keep an iPad's back panel scratch-free, a provisional 8 out of 10 MyMac Review Rating would be appropriate.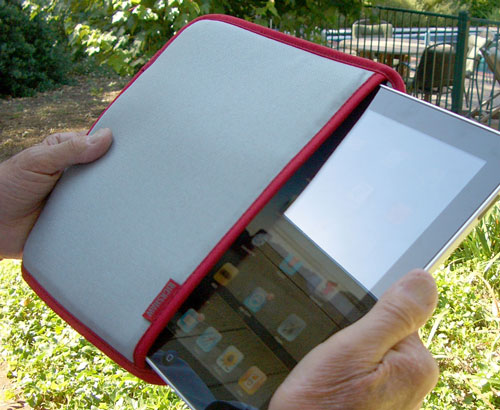 Rickshaw's iPad Sleeve is a delightful surprise. The cloth material is attractive, the fit is secure, and the padding is generous. For value, choose the most affordable $30 custom colors and fabrics, because you can get two $30 cases for the price of one of the company's more exotic high-end custom designs. All Rickshaw products are do-it-yourself design, via web, email, or personal shopping at their funky San Francisco location.
I prefer the hoizontal/landscape orientation for my sleeve, because it gives me more gripping area for inserting and removing an iPad. Vertical/portrait orientation is also available. If you enjoy variety, buy one of each orientation, and tell the company that MyMac sent you.
Bonus points to go Rickshaw Bagworks for their goal of zero waste. When you receive a Rickshaw iPad sleeve or other small-format product in the mail, it arrives in a no cost, no waste fabric zippered "round trip shipper" envelope that you return to the company for future shipments.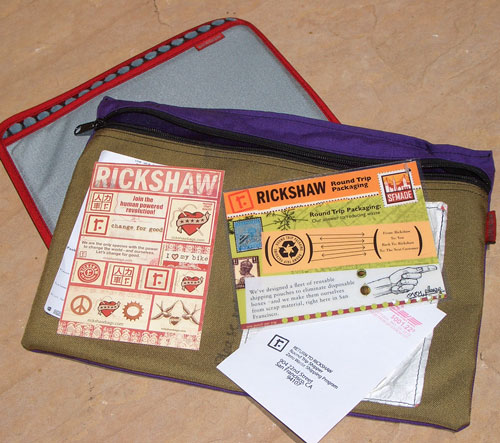 MyMac awards this iPad sleeve a perfect 10 out of 10 Review Rating for users who are sensible enough to pay a little for a load of stylish protection.