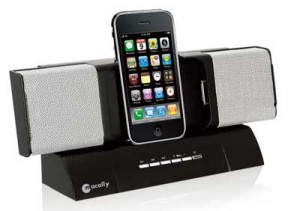 AmpTune — Dual Dock Stereo Speakers + Charger for iPhone/iPod/iPod touch
Company: Macally
Price: $70 MSRP ($51.22 U.S. from Amazon.com—good value!)
http://www.macally.com/
Audiophiles: stop reading now. This product is not for you.
Normal music listeners: pay attention. You may overlook this unusual speaker system, which would be a mistake.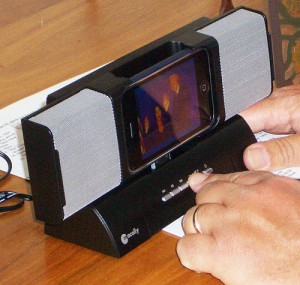 AmpTune, just released from Macally, is a small, compact, versatile, affordable, portable or powered way to hear music and view iPhone/iTouch videos with style and innovation. A handy remote control unit allows users to switch tracks and adjust volume, plus a couple of other tricks, from across the room. Audio quality is concentrated on the midrange spectrum, but by setting your player's equalizer to Bass Booster the audio response is fine for typical listening situations.
I've been playing video content and streaming Pandora radio from my iPod touch, listening to MyMac podcasts from my iPod Classic, and impressing everyone who walks into the dining room and says "Whazzat, Nemo?" when they see the cute AmpTune blaring away from the buffet. Maximum volume won't get you evicted from your apartment, but it will satisfy casual listening for normal music fans (see paragraphs one and two above).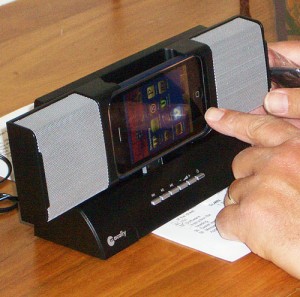 AmpTune's stereo speakers slide apart for inserting an iPhone/iTouch vertically and horizontally, the latter direction via a 30-pin dock connector/charger in the right speaker enclosure, in addition to the base-mounted iPod/iPhone dock. The speakers can be pushed together when you don't have enough space, but stereo separation is a little better when speakers are slid apart, and AmpTune looks cooler that way too.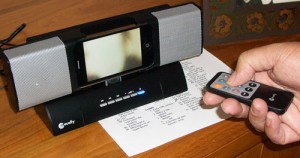 Front deck controls are handy, but most people will use the remote, I expect, once they learn what the buttons control. A mini-stereo cable is included to be used with a rear Line In jack that works fine with your legacy or non-Apple audio source, Macintosh, and iPad.
With four AA batteries you can take your video/audio show on the road, or in your vehicle, or to school or work, or even the beach (not recommended) if you are very careful. You get the idea. AmpTune is a go-anywhere, play-anything, portable iTheatre or jukebox that is cleverly designed. Audio response is perfectly acceptable for recreational listening and video watching. Bravo to Macally for repurposing the iPod speaker dock and video screen into a smart, small sliding space.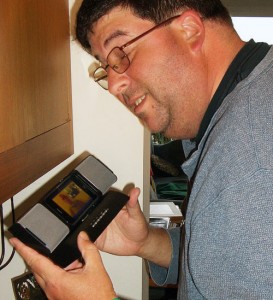 MyMac Review Rating: 9 out of 10
Thanks to Jim for being our AmpTune hand and body model.
See good selections of company product configuration photos here.