A-Frame
Company: Griffin Technologies
Price: $49.99
http://www.griffintechnology.com/
When I shop for an easel/stand for my iPad I am looking for some very specific features:
Is it sturdy?
Can I use my iPad on it with a case?
Are my iPad ports accessible?
Is it expensive?
The Griffin A-Frame excels at this list, with the exception of price. It is a bit pricey, but you get what you pay for and this is a fantastic, and very attractive, stand for the iPad.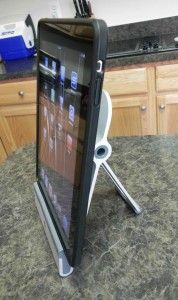 Let's take the other three items from the list one by one.
Is it sturdy? The A-Frame is definitely sturdy. When the package arrived the first thing I noticed was the weight. It is a heavy piece of equipment and it is definitely well made. This will last even if you drop it a few times.
While on the topic of construction I'll talk about one more feature. While the A-Frame is made of metal, every place your iPad would touch it has a rubber bumper. No need to worry about scratching your iPad.
Can I use my iPad on it with a case? Yes! Griffin designed the A-Frame perfectly for using the iPad in a case or without. The part your iPad rests on was made larger than a caseless iPad. There is plenty of room to fit virtually any case with almost 3/8 of an inch to rest in. The rubberized surface keeps it from sliding with or without a case, so there are no worries about the iPad slipping. I have looked at several stands for the iPad that will not work if you are using a case.  This feature puts the A-Frame at the top of the heap, as far as I'm concerned.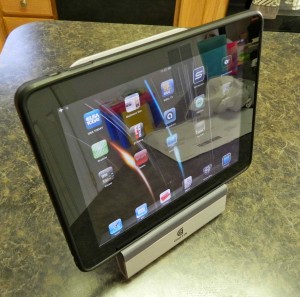 Finally, Are the iPad ports and switches accessible? Yes. The iPad can rest vertically or horizontally in the A-Frame. You can even collapse the stand and lay it flat to give your iPad a semi-reclined position for typing or viewing on a table. If you need access to a port or switch just make sure you lay the iPad in an accessible position.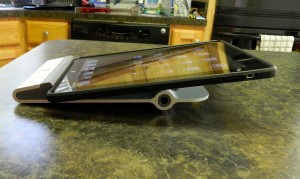 As I said earlier, my only complaint about the A-Frame is the price. At $49.99 it is pricey for a stand for the iPad. However, after trying it out I would not want another stand. The A-Frame is great for displaying photos, typing, or even using it with one of the apps that turns your iPad into a second display for your Mac.