Defender Series iPhone 3G/3GS Cases – AT&T Exclusive
Company: Otterbox
Price: $49.95
http://www.otterbox.com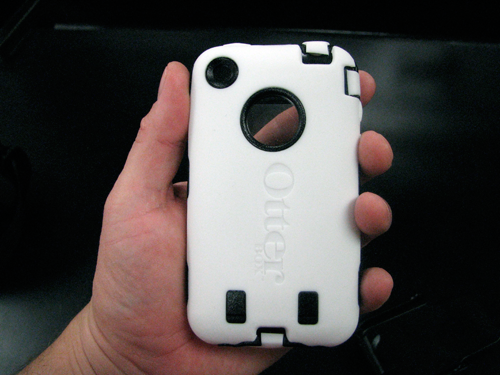 My day job is educating the youth of America. On my free time, I enjoy the great outdoors as an avid fisherman and hiker. These are pastimes that can place your iPhone in environments that are none-too-friendly to electronics. It makes sense that I would like an option to protect my favorite piece of technology from the elements while I'm engaged in my piscatorial pursuits each weekend. Otterbox's Defender Series of iPhone cases are like armor for your iPhone, offering the ultimate protection in harsh conditions.
The case consists of two components: a hard-plastic inner case surrounded by a soft silicone outer covering. The outer silicone covering nestles securely into the hard-plastic inner case, with tabs molded into it to hold it securely in place.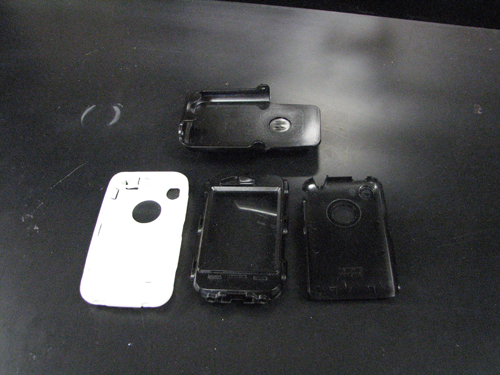 The Otterbox Defender Series case that I reviewed is an AT&T exclusive. The color options (black, white, hot yellow, and hot pink) are bold and make a fashion statement when you take your phone out of your pocket. The case that I reviewed, white with black trim, looks like it should be standard issue for any stormtrooper. As is typical for Otterbox cases, the fit and finish and attention to detail are excellent. After using the case for two weeks, I couldn't find a blemish anywhere on it.
The Defender Series protects your iPhone completely, with all ports and controls covered, except for the speaker and microphone. The headphone jack, mute switch and charging port are covered with silicone flaps that recess into the case well and never open up unintentionally. The flap covering the charging port flips open toward the front of the phone, allowing the phone to be used with some docks, but I would venture that you are better off just plugging your cable directly into the port instead.
The home button, volume control, and on/off switch on top of the phone are covered, with slight bulges that give a tactile feel when using these controls. With the exception of the home button, I find that at times I have some difficulty using these controls. It takes a fairly firm push to get them to work each time.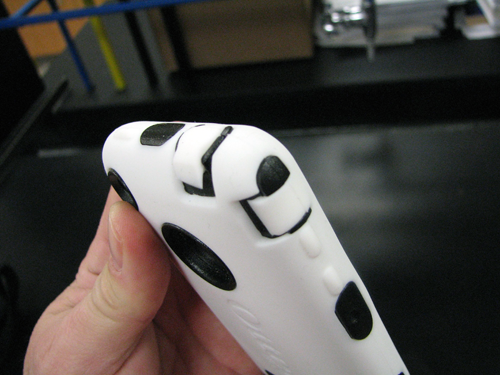 The proximity and light sensors on the front of the phone, and the camera lens and Apple logo on the back of the phone, are covered by clear plastic windows, protecting them from dust and any stray drops of water that might splash onto them. I like having the Apple logo visible, if for no other reason than the coolness factor of showing off my iPhone.
Many case manufacturers supply an adhesive screen protector with their cases. Otterbox went one step farther and built a clear screen protector into the case itself. It offers excellent protection, but I noticed a slight gap between the protector and the actual screen on my iPhone. I also had to be deliberate about making gestures on the screen. The protector seems to decrease the screen's sensitivity to touch. I can also see all of the places where the screen and protector contact each other, giving them a "wet" look that can be distracting at times.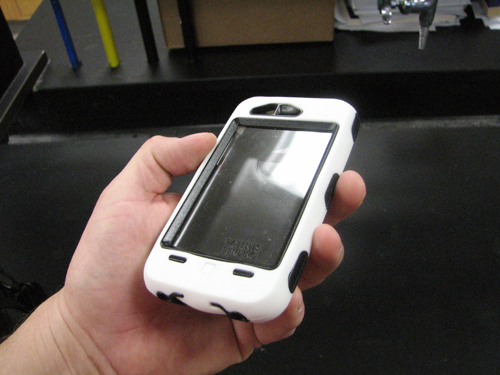 The speaker on the top of the iPhone's face is also covered by a fabric-like mesh, keep out dust while allowing sound to transmit to the user's ear without any sound loss.
Overall, this is an extremely well thought-out and constructed case. It is on the pricey side, and the build quality reflects such. I prefer a very slim case on my iPhone, so I probably wouldn't use the Defender Series cases on a daily basis. It's a pretty thick case and adds a fair amount of bulk to your iPhone. It is a product that has a niche that seems to be underrepresented in the market, as unbelievable as it might seem. This case will protect your iPhone in some of the roughest conditions imaginable. If you're a person who enjoys outdoor pursuits, or just somebody whose work conditions would brutalize an unprotected iPhone, then the Otterbox Defender Series cases are perfect for your needs.
MyMac Review Rating: 8 out of 10
email – MyMac Magazine – Twitter – Advertise – Reviews Archive – Podcast