Pro Runner 200 AW
Company: Lowepro
Price: $89.99
lowepro.com
ALWAYS WEAR PROTECTION
With the cost of photographic equipment and accessories rising to the beat of Moore's Law, the average photog must protect his/her investment from the elements and the various travel hazards that abound. With this thought in mind, Lowepro has been making protection and travel solutions for the conscientiousness photographer for many years.
My first experience with Lowepro was with their Fastpack 250 backpack. I was very impressed with the quality and practicality of this backpack. The Fastpack was not designed to be an all weather backpack. Therefore, it was somewhat limited to certain situations and weather conditions. On January 4, 2010, Lowepro introduced the Pro Runner All Weather line of backpacks and roller/backpack products. I was very excited to get my hands on this product and give it a try. I travel a great deal with my photography gear and occasionally face inclement weather. How would this new product line hold up in non-ideal conditions?
FEATURES
As the smallest backpack within the Pro Runner product line, the 200 AW delivers a compact, and streamlined solution for photographers on the go. The feature set of this backpack is lengthy. From its fully padded interior to its patented, built-in All Weather AW Coverâ"¢, the Pro Runner 200 AW thoroughly safeguards valuable gear. Other features include: a Hideaway Tripod Mountâ"¢ system; rain-flap lids; SlipLockâ"¢attachment loops; mesh side pockets; discreet front pocket accommodates a light jacket, cell phone or MP3 player; memory card pockets on the inside lid; padded mesh backpad; adjustable and padded shoulder straps; and a webbing grab handle. For a complete list of the features jump to the product page.
USABILITY
FIRST THINGS FIRST When I first received the 200 AW, my immediate response was to the attractive combination of black and green colored materials used by Lowepro. The use of high quality materials and craftsmanship, from my experience, is a hallmark of a Lowepro product. The 200 AW is no exception. The look, feel, fit and finish were expertly combined to produce an impressive solution for the photographer on a day trip with moderate equipment requirements.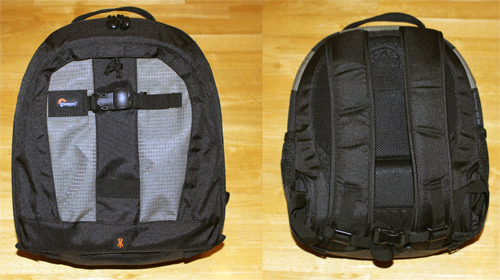 The first thing you notice when looking at the front of the 200 AW, are the two external tripod loops which will allow one to carry along a moderately sized tripod. There is also a holster for the tripod legs tucked away at the bottom front of the backpack, available for service when needed. I thought this was a great feature on this size of a backpack. Many backpacks of this size fail to include this feature, choosing instead to force one to upgrade for the privilege. Next, there are two layers of zippers which allow access to, from top to bottom, a personal storage compartment and then the equipment storage compartment. As always, Lowepro did not skimp on the quality of zippers. This is very important. If you have every had to mess with a poorly designed or sub par zipper on the job, you know how frustrating and unproductive this can be.
The shoulder strap support system on the back of the 200 AW was well designed in terms of equalizing the weight and removing the strain from shoulders which can quickly wear one down during a long day. One nice feature is the ability to tuck the bottom of the straps into the pocket holding the AW cover. Whether you are carrying the 200 AW by its handle or just using one strap to sling the backpack over one shoulder, being able to tuck away excess strapage (Is that a word?) makes the backpack less cumbersome and more transportable.
On either side of the backpack, one will find mesh pockets to store a water bottle, phone, boarding pass, or any other item one might need to access easily. Also, each side sported an attachment loop for items which might have the option to hang rather than having to be placed into a pocket etc.
IT'S WHAT'S ON THE INSIDE THAT COUNTS As impressive as the outside of this backpack was, the inside did not disappoint.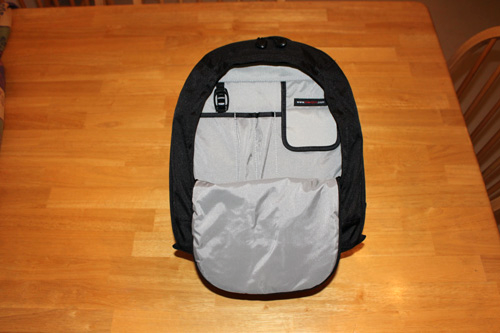 The personal items compartment was large enough to carry the basic items one might take on a day trip of recreational photography. With individual pockets for your phone, pencils/pens, and keys, your personal gear will be well protected and organized. There is also room for a small item of clothing etc., in front of the pockets. All in all, a nice combination of space and organization.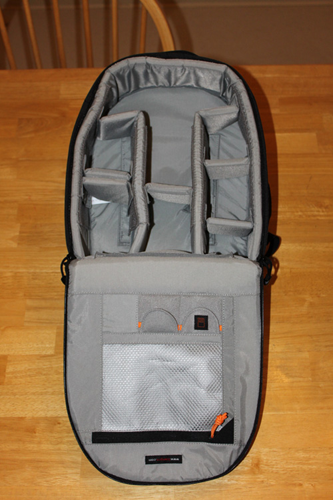 Moving into the main storage compartment, there was plenty of room for the basic equipment one would carry on that day trip. There was room for one pro level camera body with lens attached. There was also room for additional lenses (1-2 depending on type), a strap, flash unit, extra battery and charger. Of course, the compartment is configurable according to your preference. I have to say, for the size of the bag, I found the main compartment quite roomy. Nothing seemed forced or crammed into place. I think Lowepro reached a nice compromise between size and storage.
On the backside of the main compartment lid, there was a large mesh pocket for additional sealed storage and two CF (Compact Flash) pockets. Overall, a nice use of the space and another level of organization one can enjoy with this backpack.
LET IT RAIN! One of my favorite features of the 200 AW, is the ability to easily cover the backpack with a water resistant exterior cover.
The cost and sensitivity of today's precision camera equipment warrants that the conscientious photographer properly maintain and protect his/her equipment. Adding an additional level of protection, Lowepro has included an attached outside cover that will allow one to protect the backpack, and the precious cargo inside, from those unavoidable rainstorms that tend to show up on scheduled shoot days.
The cover is tucked away in its own pocket on the bottom of the backpack. It is easily removed, installed, and, when the weather clears, stored. Call me overly cautious, but I found myself using the cover even when the weather was fine (I think it's a guy thing).
THE BOTTOM LINE I was very impressed with the Lowepro Pro Runner 200 AW. If you need to carry a great deal of equipment, this is not the bag for you. However, if you need one camera body and the supporting accessories, this should definitely be on your short list. While it does carry most of the equipment you will need, be aware that this backpack will not carry your computer. If you need your lappy with you, move up to the Pro Runner 350 AW.
MAKING A GREAT PRODUCT EVEN BETTER
Filed under the category of, "Food for Thought," the one area I would like to see addressed, would be the over all exterior design. The shape of the 200 AW is inline with most backpacks within this space. However, the stiff horseshoe silhouette of these bags just seems a little harsh and dated. I would like to see some innovation here. Let's keep the practicality and add a dash of sexy to this space.
MyMac.com Review Rating:
The Lowepro Pro Runner 200 AW is a great backpack for your precision and delicate camera gear. It is a nice combination of size and storage. For those who need to bring one camera body and the supporting gear, sans their computer, I would highly recommend this backpack. However, I must also encourage Lowepro and the other manufacturers in this space to, deliver me from the horseshoe design and give me some sexiness! I am awarding the Lowepro Pro Runner 200 AW an outstanding rating of 9 out of 10 in our MyMac.com Rating System.
email – MyMac Magazine – Twitter – Advertise – Reviews Archive – Podcast