Photoshop Elements 8
Company: Adobe
Price: $60 to $80 online
http://www.adobe.com/products/photoshopelmac/
Note: John Nemerovski contributed to this review.
It has been a while since I used Photoshop Elements, and I was anxious to check out the new features in Photoshop Elements 8. For those that don't know, Photoshop Elements is the "lite" version of Photoshop, but in no way is this a "lite" program.
In simplest terms, and what I tell my students, Photoshop Elements is Photoshop without a lot of the professional printing tools and a few power user features. However, it is perfect for the student or average user. With more user friendly tools then the professional Photoshop and filters and even interface.
Let's start with the interface. I really don't like the all grey interface of Elements and other programs that aim to make the program prettier or have more eye candy. While it is supposed to be more user friendly, to me it is more distracting than having the old grey-scaled tools and your desktop in the background.
Now that my interface complaint is out of the way let's look at the installation process. Installation for me was very slow, and the installer even locked up the first time. I don't think processor or memory can be an excuse here. I have a 2.66 Intel Core 2 Duo iMac with 4gb of memory. In other words, a fast machine. Other MyMac staff had a completely different experience and a quick and painless install. Your experience may vary.
Once installed and launched you are presented with (as I mentioned) a very colorful user interface. Many of the old and faithful Photoshop and Photoshop Element tools are here. You have your magnifying glass, your eyedropper, your eraser, etc.
One thing I don't like, as a Photoshop CS user, is that some of the tools, like the magnifying glass and the eyedropper, are now at the top of the toolbar in Elements and not in the same location as they are in Photoshop. This just makes it a little confusing for those going back and forth between programs.
OK, time to get to the good stuff. What is new? Well, there are a lot of new features in this version of Elements that might make you want to upgrade. Even those with the last version might want to listen (or read). The new features are very cool. Not always perfect, but very cool.
First, one of the coolest Photoshop features I have seen demoed recently was the recompose tool or the ability to stretch your photo without distorting your subjects. In other words, you can stretch the scene and make it wider while keeping the subject (maybe people?) in the correct proportion. I was really excited to try this feature out. Unfortunately, I was a little disappointed. First, the automatic resize did not produce great results at all. My subjects were always distorted. When I did the manual option, where I have to tell Photoshop Elements what the subject is, I got better results. The more specific I was about the subject, the better this feature worked. Even though it wasn't as perfect as I would have liked, this feature is still very cool.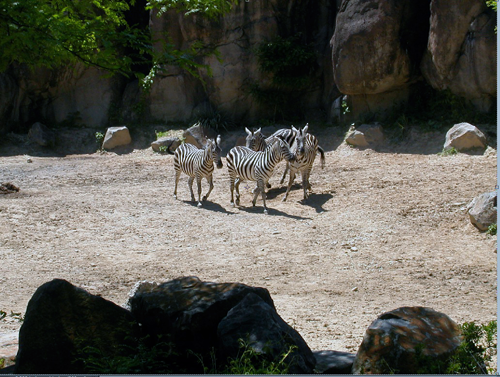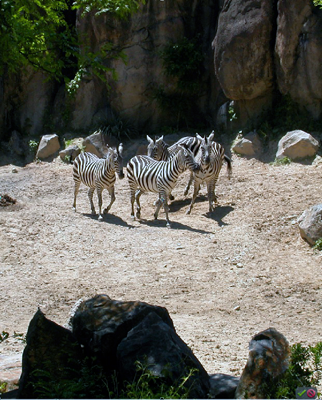 Another fantastic feature is the new Smart Brush. Smart Brush lets you apply effects to areas of your photo just by selecting the effect and painting. For example, I have a picture of my son in a red chair. Buy using the color effects I can quickly change the chair to blue! There are a bunch of great effects you can apply with this brush from photo effects, to nature effects, to crazy effects. The brush uses the quick select technology, but instead of just selecting the object it applies the effect to your selection as you go over it. Like quick select you can add and subtract areas to the selection when done. A great and fun tool!
Let's move on to another new feature. If you have Photoshop you might know about the photomerge technology. This technology allows you to merge two photos together. For example, you might want to take a picture in front of a building with your friend, then he/she takes one of you in front of the same building, and you want to merge the two pictures together so you are both in it. In Photoshop this can be done with photomerge and masks. In Elements the photomerge process becomes as easy as drawing a line over what you want out of a picture or in it. Couldn't be simpler. My students have to do this for a project and they would love to do it this way instead of the masking and merging method. What a great time saver, and an easy to use and understand tool.
Do you see a pattern here? Elements 8 is starting to take a lot of great features from Photoshop and incorporate them into the program in a much easier and fun way to implement them.
Want to publish your work to the web? You can create a web page with templates similar to what you would do in iWeb. What about printing your work into a greeting card or collage? Elements 8 has templates for that too!
These are just some of the great new features in Photoshop Elements 8. You can visit here for a full list.
Is it worth your money to buy Photoshop Elements? I say yes. Whether you are upgrading or using it for the first time, Photoshop Elements is a fantastic, fun, program (with my complaints included) for image editing and creation that is well worth the money. It just keep getting better.
John Nemerovski adds:
Donny compares the new Elements interface to the "old" original one, from versions 1 through 4. You can punch a hole in the full screen grey workspace in version 8 to see your Mac's Desktop, or iPhoto Library, or whatever you want to have visually available, including the new Adobe CS4 Bridge. Go to Window > Application Frame, and uncheck it. This feature is a huge reason to use a Mac with Photoshop Elements, because the workspace is locked down solid in all Windows versions of the application.
Grey is the new gold standard, as far as Adobe is concerned. Users can choose two versions of an all-grey foundation, and both are difficult on the eyes. Grey is used because it looks professional, and because images pop out visually from it. So far so good, but extending grey to locations within Elements 8 where older eyes or people working in less than ideal light will strain or have difficulty knowing where to point, click, or slide is mildly sadistic. Every Adobe interface designer and engineer should sit in a dimly-lit room with his or her aging grandparent, who will decide what is easy to see and what is nearly impossible. This is a pet peeve for me and my elderly tutorial clients, so I'll limit my remarks to a paragraph.
On the subject of Adobe's non-standard installer, [insert expletive groan here]. I had a long phone conversation with two Adobe representatives on this matter. Adobe chooses to design and implement its own installer that is not friendly or intuitive, especially for newcomers to Elements (or the CS4 suite, which is worse). The company reps promised that their CS4 and Elements installers will improve in subsequent versions. This Elements 8 installer is a little better and faster than the most recent Mac version 6 installer, but that doesn't say much. Please, Adobe — even Microsoft Office has a quick, straightforward installation method.
I'll remind Donny and our readers that the Tool Bar can be either one or two columns, and that keyboard letters can be used to activate individual tools, minimizing any confusion between CS and Elements tool locations.
Because professional CS Photoshop versions are staggered in release with Elements versions, the latter always have a few exciting additions not found in "real" Photoshop. As Donny emphasizes, the vast majority of people doing simple or complex photo editing or digital artwork can go their entire lives and be satisfied with Elements. Most Elements features are incorporated into the next versions of Photoshop, and many Photoshop improvements show up in Elements. That is all good news for users, and makes the modest price of Elements worthwhile with every biennial release. Elements continues to have "amateur" features that surpass "pro" Photoshop for usability.
File > Save for Web > Presets for custom JPEG settings was defective in Elements 6 for Mac, and it continues to be broken in version 8. Adobe is aware of this problem, and blames Apple. This is unacceptable. When a serious company is aware of a serious problem for several years, it needs to get serious and fix it.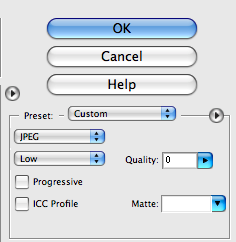 Adobe's powerful CS4 Bridge is included with Elements 8. Adobe Bridge CS4 is beyond the scope of this introductory evaluation. MyMac hopes to explore the Elements/CS4 Bridge in a future article. Bridge is a robust file management application that isn't compatible with iPhoto, but can be used in parallel with it. Most MyMac readers and Elements users will prefer managing their images with iPhoto, so let us know if you want or need a detailed tutorial or review of Adobe Bridge CS4. Deke McClelland's excellent Adobe Photoshop CS4 One-on-One has an extensive explanation on how to optimize and get best usage from the Bridge CS4.
Almost every Menu item in Elements 8 has one or more new addition or improvement. In spite of my grumbling above, I use and rave about Adobe Photoshop Elements every day, for teaching and personal work, when CS4 Photoshop is not required. Elements' new numerical values for Quick Fix sliders are alone worth the upgrade from version 6 (but gray on gray on gray, including Cancel and Commit — give us a break, Adobe). If you are still using a version lower than 6, immediately purchase and install (or download and audition for 30 days) Elements 8 for Mac. Give special attention to the new Quick Fix tools: Whiten Teeth, Make Dull Skies Blue, and Black and White — High Contrast. They are wowzers.

Elements' old faithful functionality is unsurpassed, if your Mac has the necessary muscle. The new additions, when you master them, will have you jumping for joy. This is a world class application that has been an industry standard since version 1.
There is a slightly severe introductory learning curve when you are new to Elements or to digital image editing. Have a friend or an instructor give you some basic training. If you can learn from a book or a video, there are multiple sources available that you can study over and over. Currently, the best book is Barbara Brundage's Photoshop Elements 8 for Mac: The Missing Manual, and others soon will be available.
Our combined MyMac Review Rating for Adobe Photoshop Elements 8 for Macintosh is 8 out of 10, with strong personal recommendations.
email – MyMac Magazine – Twitter – Advertise – Reviews Archive – Podcast