Six unusual items you'll want to buy for yourself: FireWire adapter plug, 10.6 training DVD, cooling pad, photography book, Snow Leopard tutorial, and laptop battery.
FireWire 800-400 Adapter Plug
Company: Newer Technology / Other World Computing
Price: $10
http://eshop.macsales.com/
Apple goofed. When the company dropped FireWire 400 for FireWire 800, they left behind millions of users and their legacy FW400 peripherals. We're still here, wondering how to use our FW400 devices with only FW800 ports. Solution: Newer Technology / OWC has a nifty, affordable converter plug adapter. Insert any FW400 cable into the adapter, and you have instant compatibility with FW800 sockets. Question: Why doesn't Apple purchase a boatload of these Newer Tech tips and place one into each new Mac package? Putting the burden of unanticipated obsolescence onto loyal customers is a stupid move. Wake up, Apple.
– – – – – – – – – – – – – – – –
Basic Training for Mac OS X Snow Leopard DVD
Company: Class On Demand
Price: $40
http://www.classondemand.net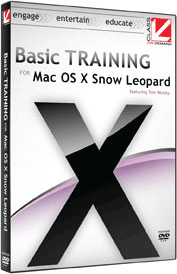 After launching the DVD's training software, which requires no installation, some loud and annoying music begins, accompanying an intro screen graphic. This ongoing soundtrack is a minor wrinkle in the fabric of a well-designed and produced tutorial on Apple's 10.6 Operating System.
Tom Wolsky, the Class on Demand trainer, conducts these lessons. You must click on the play and pause buttons to get the video to start or stop, instead of using the Space Bar, which is slightly inconvenient. The lighting and video quality are exceptional. So is the audio. Thanks to Class on Demand for such fine production values.
There is a useful count-up only progress bar, with a time count but no scrubber, and you can jump back and forth as desired. There is no way to know the total time duration for a chapter. Thirteen chapter topics are available, with another irritating audio track on the topic title page. Topics are:
1. The Desktop
2. The Dock
3. Apple Menu
4. Applications
5. Time Machine
6. Spaces
7. Mail
8. iCal
9. iChat
10. Safari
11. Preview
12. iTunes
13. Boot Camp
Two sample lessons are available at the product's web site. The actual training is brisk, clear, and straightforward, and lasts nearly two hours. Old timers will be able to follow along in real time. Newcomers to Mac OS will want to replay full or partial segments. Chapters are brief and focused. Keyboard command shortcuts are displayed whenever appropriate, which we applaud.
The lesson window is a normal Macintosh Finder window, so you can change its size or place it in the Dock, even with audio and video running in background. You can "Return to Menu" any time, with its splendidly awful dance beat audio track. DVD noise in a Mac laptop is minimal. When finished for the day, quit the "Snow Leopard" application, and eject the disk.
This series of lessons is no-nonsense, and will be useful for individuals, tutors, and classroom teachers. Total newbies should have an experienced user handy when background explanations need to be given. Tom Wolsky has a pleasantly exotic, mysteriously accented English that is easy on the ears.
– – – – – – – – – – – – – – – –
HeatShift Cooling Pads
Company: ThermaPAK
Price: $28 to $35
http://www.thermapak.com
Mac laptop computers may be really cool, but they are also always warm, and sometimes too hot, especially on the tender tops of your precious thighs. Ditto for table top usage. Continuous and excessive heat stresses the electronic components in your portable Macintosh. Place a ThermaPAK pad underneath your porta-Mac, then both it and you will proceed in cool comfort. Order a black ThermaPAK if you want it to be invisible to other people, or order a bright pink pad if you are fashion forward. The company fully guarantees all its products for customer satisfaction.
– – – – – – – – – – – – – – – –
Photography Unplugged
by Harald Mante
Rocky Nook Press
ISBN 978-1-933952-47-5, 208 pages in large format color
$49.95
Professor Mante is one of the foremost photography instructors in Europe. We interviewed him recently here, and now he has a new book that will knock the lens cap off your DSLR from a hundred meters. Unlike his earlier book, Photography Unplugged is simply, and powerfully, a book of his best pictures, acquired and selected from a lifetime of creative visualization. "Wow" and "Where is that?" are what you will hear over and over when your friends and family look through this visual masterpiece. It must been seen to be appreciated. Highest recommendation for all serious photographers and students.
The immediacy of his imagery is captured beautifully in this splendid printing. All photos are in color. Mante's subjects are "simple" and straightforward, yet powerfully direct and communicative. The walls are colorful in his world, the shapes and angles are typically dramatic, and each photo has you lingering on it and returning to it over and over. This is my personal favorite book from 2009.
– – – – – – – – – – – – – – – –
My New Mac, Snow Leopard Edition: 52 Simple Projects to Get You Started
by Wallace Wang
Rocky Nook Press
ISBN-13 978-1-59327-209-8, 512 pages
$29.95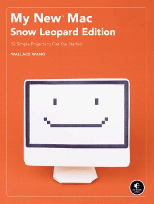 This outstanding newbie guide cleverly combines basic instructions with tutorial projects, so readers learn thoroughly and dynamically. All my private and group students are required to buy and use this book.
Do you want to type in a foreign language, or grab a web clip from a favorite Internet site? How about using a simple organizational method that will help you find files fast? Maybe you're interested in tagging and sorting your iPhotos. These and dozens more practical tasks are presented clearly, with detailed instructions and numerous screen shots.
The non-serif font text is difficult to read for older eyes, so we ask the publisher to switch to a larger serif font for future editions. Aside from that suggestion, this title gets a strong recommendation for all new and most experienced Macintoshers.
– – – – – – – – – – – – – – – –
NuPower Laptop Computer Batteries
Company: Newer Technology / Other World Computing
Price: $80-$120
http://eshop.macsales.com
Knock on your neighbors' doors, and ask them if they have a working iBook or PowerBook with an original battery that is mostly depleted from its factory capacity. If they answer yes, point them to MacSales.com. A new battery can add years to the life of older Mac laptop computers. Follow the included instructions for charging and conditioning your new battery, and it will deliver portable power for most of the next decade.
email – MyMac Magazine – Twitter – Advertise – Reviews Archive – Podcast