Over the past couple of years we've seen lots of photography-centric apps for the iPhone and iPod Touch. While the iPhone 3GS offers a somewhat "better" camera in terms of pixel density as well as some automated features, all three generations of iPhone cameras are capable of producing fairly compelling images, provided you use the right apps. The iPod Touch, of course, does not have a camera at this time, but it can certainly work with the majority of photography apps as long as they allow access to the on-board Photo Library.
As I often tell my students, one sure way to give your photography a shot-in-the-arm is to proudly show off your images; hang them up on your walls, frame or mat them and give them as gifts, or print them onto greeting cards and postcards to mail (or email) to your friends and families.
And so, we are faced with a number of offerings from the App Store in the "send a postcard from your iPhone" category. In this review, I will concentrate on the notion of sending postcards which showcase your images, directly from your iPhone or iPod Touch. With our device, and in particular the iPhone being an "always-with-us" camera, we can be more original, more flexible with our photography. It enhances our creativity by, among other things, allowing us to generate our very own postcards and have them sent directly to our friends and family in just a few easy steps.
Some app offerings are very simple but quite effective in this regard. The better ones are more versatile yet easy to use. There are two types of electronic picture-postcard apps to consider when shopping around. The first type is the "electronic picture-postcard app." An app in this category generates an electronic version of a picture-postcard, complete with your image of choice and a personalized greeting. It then emails it to your recipients directly from your device. The better apps in this group will also give you the option of posting your card to your social networking sites of choice.
The second type of app is the one I call the "paper-based picture-postcard app." An app in this category generates a good, old-fashioned paper picture-postcard! In order to accomplish this remarkable feat, the app relies on companion online services that, for a fee, will print, address, stamp and mail your postcards. You are the "talent," they do all the dirty work.
I have tested several apps that fall in either camp. In the first "electronic postcard" group of apps, I have evaluated Postman by Freeverse, SodaSnap by F2M2, and Postage-Postcards by RogueSheep. For the second group, "paper-based postcard," I tested Postino by AnguriaLab, and goPostal by Yume Software. For each category I have chosen, and report on, the best-of-class.
ELECTRONIC PICTURE-POSTCARD APPS

Postman
Company: Freeverse, Inc.
Price: $.99
http://www.freeverse.com
Freeverse's Postman is my top choice in the electronic picture-postcard category because it gives me all the flexibility I look for in any photography-based app. Additionally, Freeverse deserves kudos for a beautiful and well-executed app!
Freeverse has been around for quite a while, developing excellent and visually striking software for the Macintosh and Windows platforms. They quickly entered the iPhone app development arena with a number of clever, highly entertaining and graphically rich games. More recently they have entered the photo utility market. The developers and graphic artists at Freeverse have an incredible talent for designing visually appealing and intuitive interfaces while sticking to all of Apple's design guidelines. Postman is no exception. I sometimes use it to simply showcase to my friends what can be done in iPhone app design!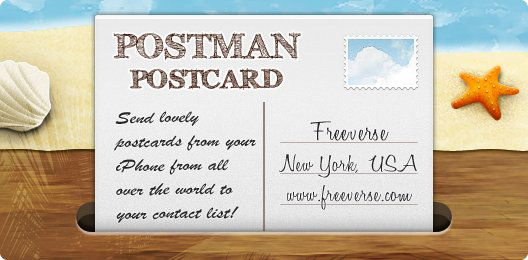 With Postman, Freeverse introduces a very handy and extraordinarily versatile app to help you be more productive with your iPhone photography, and to help you show off your travel photos!
At the risk of stating the obvious, multimedia sharing and logistics software is the IN thing these days, and several apps integrate quite seamlessly with popular sharing sites. Postman is no exception. It lets you share your picture-postcard creations with anyone world-wide via Twitter, Facebook, Tumblr or good-old email. As with other apps of this genre, you are given the option to upload your postcard directly from your iPhone to a companion web site where you can direct your friends and family to view your postcards, perhaps even as you move along in your travels.
One thing to note is that if your social networking service of choice is not directly integrated with apps like Postman, you are often given the ability to upload your postcards in alternate ways. Three services that I use come to mind: Evernote.com, Posterous.com, and Flickr.com. These services give account holders a special email address to which they can email their postcards and images. These are then automatically placed as a note in Evernote, a blog entry in Posterous, or a photo in Flickr.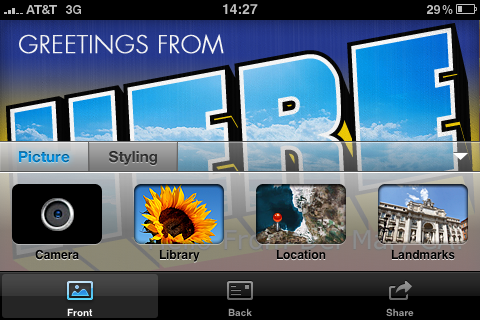 Having Postman create your own unique postcard from one of your images is a thing to behold while the app guides you through the process! First there are three main sections in the app: the postcard "Front," the "Back," and Share. In designing the "front" of your card, you first need to choose what image you want to use. You may either snap a picture with the integrated camera (iPhone only), import an existing image from your Photo Library, show your actual location as a pushpin on a Google map, and this one is a bit strange, choose from a number of famous landmarks worldwide. For example, if I want to have my recipients think I am visiting the Great Wall of China, there is a picture of the Wall that I can use. Other examples include the Colosseum, Egyptian Pyramids, and the Eiffel Tower to name a few.
Next, you get to choose a postcard "Styling" for your image and for text that you can use as a caption right over the image. This last feature is something I really appreciate. I use text to give my photos a bit more personalization. I can place any text I want on the "front" and exactly where I want it by simply dragging it over the image. I can choose from all of the built-in iPhone font styles and colors. A handy slider allows me to adjust the text size so that it can be accommodated over the images just the way I want. Additionally, there are many postcard themes to spice up your postcard image with various borders, vignettes, holiday cheer, a newspaper look, antiquing effects, and other fun choices.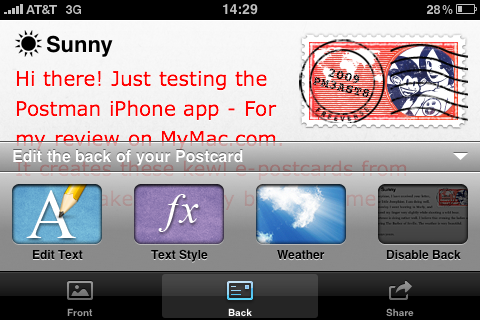 Now for the "back" of the postcard – where the text, address and stamp go! You are given standard iPhone text editing features. You can choose from a list of nine font styles and several colors. Also, through the use of a slider, you can smoothly size the text to make it fit just right. Here's a nice little touch: you choose from different icons to add at the top to indicate to your recipient what kind of weather you are experiencing at your travel location. You can choose from Sunny, Cloudy, Rainy, Snowy, Storm, or no indication. Nothing fancy – no realtime weather, but it is fun. Finally, in Freeverse's inimitable style, a facsimile of a postage stamp with postal cancellation is placed on the "back" of your postcard. The stamp features characters from certain Freeverse applications, like Burning Monkey Solitaire and the geek's all-time favorite, Jared!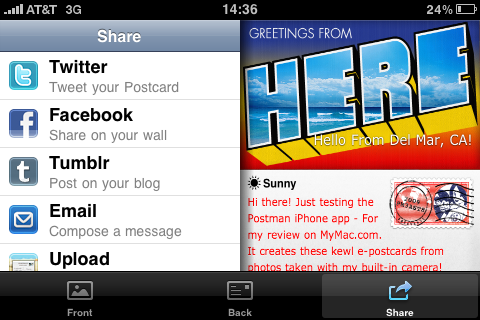 When you are satisfied with your postcard creation, you are ready to "share" it with the world! You are given posting choices for Twitter, Facebook, Tumblr, Email, and the upload to the Postmanapp.com web site. For this latter option, you are given a unique URL to share with others who then can view your postcard via their browser of choice. The email option will send your postcard as an attachment image via the device's Mail app. Of course, you can address the email to as many recipients you want, and enter any text you want to supplement the postcard image. The "front" of the postcard (your image) is directly above the "back" of your postcard where the message, current weather and stamp are displayed.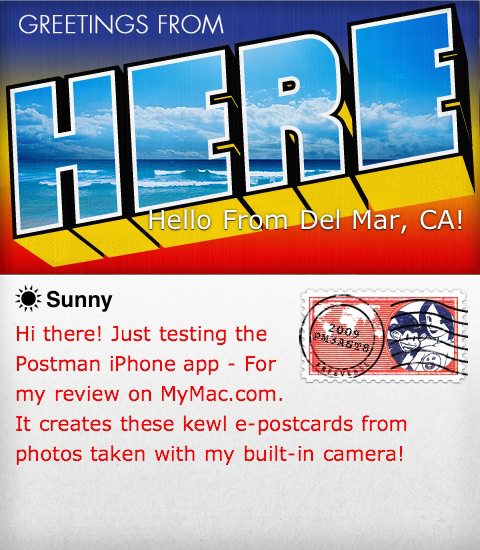 Finally, you can save your postcard to your Photo Album, and your original image remains untouched. This is important, as it allows you to save the postcard for later use in case you forget someone's email address while traveling. I call it "non-destructive image editing," and it is something I require when looking for solid photography apps.
By visiting www.Freeverse.com, you can view a little video demonstrating how Postman works.
I've been considering what I might like to see added to Postman. Some people seem to think that the addition of photo editing tools would be nice. I disagree. Let's do our photo editing in dedicated apps (such as Photogene by Omer Shoor or PhotoForge by GhostBird Software). Postman should be left to do what it does best – help us design a postcard using our own image and handle the logistics of sharing it with friends. I would like to see a larger variety of fun photo styles to choose from, while I could do without the pointless pictures of landmarks to fool my viewers with. Additionally, I would like to have the ability to try out different font styles, sizes and colors for the message on the "back" of the postcard. There's not much to be done to the interface; it is one of the most beautiful examples that I have seen on the iPhone platform. It is easy on the eyes, and highly intuitive, translating to ease-of-use and an overall pleasant experience.
I rate Postman a solid 9 out of 10! It's my electronic postcard maker of choice!
Requirements: Compatible with iPhone and iPod Touch, Requires iPhone OS 3.0 or later
Version Reviewed: 2.1.2 (June 12, 2009)
PAPER-BASED PICTURE-POSTCARD APPS


Postino
Company: AnguriaLab, LLC
Price: Free
http://www.angurialab.com
AnguriaLab's Postino (a word which, interestingly, means "postman" in Italian) is my choice in the paper-based picture-postcard category because it fills my need to send out paper postcards based on my own pictures. I come to expect a lot of my iPhone apps these days, and Postino delivers (pun intended, of course).
What makes Postino different when compared to Freeverse's Postman app (reviewed above) is that Postino will ultimately generate a real paper postcard which is then physically mailed to one or more recipients. Your recipients' addresses can be entered either manually or chosen from your Address Book. It is important to note at this point that Postino can also send your postcard creation via email to multiple recipients with the help of your device's Mail app in collaboration with your Address Book.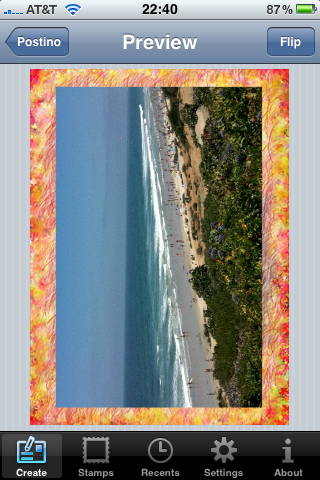 Creating the postcard is pretty straightforward and intuitive. You snap a photo with the iPhone or browse for an image from your on-board library. You can move and crop the photo, but you can't rotate it. You also have the option of framing the image with over 50 frame styles from simple, classic frames to more elaborate and festive frames. You then type the message that will ultimately be printed on the back of the card. However, you are not given a choice of font styles, size or color, and I am hoping that this gets included in a future update.
Here's something I really like; a feature that I have not encountered in any other app of this genre: with your finger, you can optionally draw a message, signature or drawing on the back of the card and in a choice of colors and thicknesses. This will be printed below your typed message. Additionally, you can choose to include your GPS location printed on the card.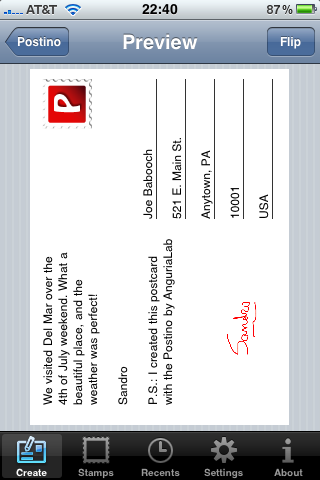 Finally, you address the card by either filling in name and address fields, or have Postino autofill from your Address Book. You can only send a postcard one-at-a-time to multiple recipients, but your image and message are retained. All you do is change the addresses. If you choose to email the postcard, you can enter multiple recipient email addresses either manually or importing from your Address Book.
When you are done creating your postcard, you can preview it, edit it, and finally hit the Send button. AnguriaLab provides valuable feedback from within Postino. You can view a thumbnail of your postcard and a color code will indicate the card's status: green for a successful submission, yellow indicates that the card is being processed by AnguriaLab, and red means that some kind of failure occurred (which, to date, I have not encountered).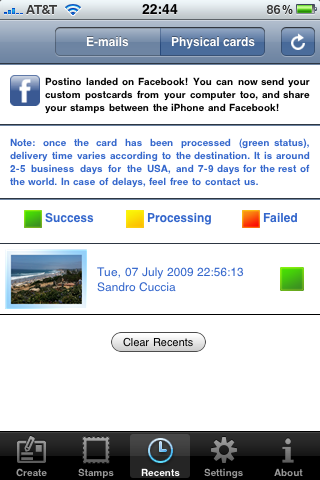 While the postcards themselves are printed on very high-quality high-gloss postcard stock, keep in mind that you are not printing an image from a high-resolution source like a digital SLR camera. However, you can get excellent results from the iPhone if you take images in good light and hold it very steady. Also, there is no color management involved here, but I have found the printed colors to be more than acceptable.
The cards can be delivered worldwide. This is very important to me as I still have a few remaining relatives in Italy who do not use email! Unlike other services, no physical stamp is affixed to the card – the postage is printed on the card along with the image and text. While AnguriaLab is based in Italy, I am fairly certain that the card itself is printed and mailed stateside for U.S. recipients. Once submitted from the iPhone or iPod Touch, the postcard is delivered domestically (U.S.) from within 2 to 5 days.
The obvious question at this point is, "So, what's the catch?" Well, the catch is that you pay a fee (called a Virtual Stamp) for this service, per postcard. The Stamp covers the production, postage and mailing of the card. Using the Postino app, you purchase via PayPal as many Stamps as you want. One stamp costs $1.99. AnguriaLab offers quantity discounts for each 5-stamp increment up to 20% off for 50 stamps. Postino maintains a running count of the remaining stamps you have in your account. Only you can determine if the cost is worthwhile. As for me, I don't send these out willy-nilly. Specific situations determine the need to send out the physical postcards. For those situations, the cost of the postcard is acceptable. Besides, how much will it cost me to purchase a postcard at a store, a stamp, and my valuable time to address it and mail it? Plus, with Postino, I have the added benefit of mailing my own images! This makes a postcard I send a one-of-a-kind, unique collector's item!!
The one feature that is missing, and that should hopefully be included soon, is a feature whereby you are able to save your postcard to your Photo Library. By saving your postcard, you can repurpose the card or send it later to others. Plus, I like to keep an archive of my postcard creations, wouldn't you?
Find out more about Postino by visiting www.AnguriaLab.com where you can see a number of screen captures and learn more about the service.
Here we are at the end of the review. I would like to give an honorable mention to a similar product called goPostal by Yume Software. The quality of the cards is a tad better than Postino's and are slightly larger. An actual postage stamp is affixed to the card, and a post office cancellation applied, giving the received card an even more authentic feel. Also, the cost per postcard is $1.29 and handled by a credit card purchase via an SSL link directly from the app. Additionally, multiple recipients can be configured at once, which is a big plus. However, I found the feature set to be much less rich than what is offered by Postino. For example, you can't move and crop your image, there are no embellishments like frames and themes, you can't preview the card, and you can't email the card. Finally, postcards can only be sent domestically by U.S. users.
I assign a rating of 7 out of 10 for Postino. I'd rate it higher if the app would allow saving my postcards to the Photo Library, as well as giving the possibility of sending to multiple users from within the postcard creation session.
In conclusion, with these clever and beautifully designed iPhone/iPod Touch apps reviewed in this article, why go to the trouble of purchasing and mailing tacky, poorly photographed and expensive postcards when you can easily customize messages and use your own images, all in an effort to provide that personal touch to your correspondence.
Requirements: Compatible with iPhone and iPod Touch, Requires iPhone OS 2.2.1 or later (tested on iPhone OS 3.0)
Version Reviewed: 1.0.4 (May 18, 2009)
email – MyMac Magazine – Twitter – Advertise – Reviews Archive – Podcast