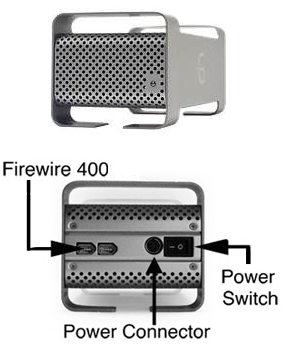 We have changed things up! We are going to switch to a WEEKLY giveaway for a month rather than bi-weekly!
With all the software, photos, music, and videos we seem to need every day on our Macintosh computers, we all need more hard drive space! Here is your chance to win a 320GB miniG Firewire Hard Drive!
The rules are very simple:
Using Twitter, simply tweet this:
Twitter Contest @MyMac Win a free miniG Firewire HD from Transintl.com! Just RT this post. Details http://tiny.cc/kOqq2
Simple, no?
Why are we doing this? Well, MyMac.com loves our sponsors, of course, and Transintl.com are good people who we want to help bring awareness to. It really is as simple as that!
(And they are supplying the drives, so there is no money coming out of our pockets!)
Winners will be chosen every week for one month! The contest starts September 15, 2009 and ends October 13th, 2009. Dates the winners will be chosen:
Sept. 22, 2009 – Winner! Phil Paxman @IDDW. Congratulations, Phil!
Sept. 29, 2009 – Winner! Ben Avery @whisperingloon. Congratulations, Bill!
Oct. 6, 2009 – Winner! Cindy Hickman @lifeonprint. Congratulations, Cindy!
Oct. 13, 2009 –Winner! John Darrow @JD_Denver_SW. Congratulations, John!
Rules:
We will enter each twitter user name in a custom FileMaker Pro database that we will use to randomly select the winner. The database will be emptied every time a winner is chosen. You are allowed to RT that post once every 24 hours, increasing your chance of winning 14 times every two weeks. Winners will be contacted via message on Twitter, at which point the winner will have to submit shipping information to contest@mymac.com. The prizes will be shipped directly from Transintl.com to the winner.
Each RT of the above Twitter post by YOU will get you one (1) entry. Please don't spam twitter, though, as only one RT will be counted. If you send out 100 RT in one day, that is still only one entry.
Hey, it's a free hard drive! Why not enter?
Only continental US residents eligible. No shipping to P.O. or drop boxes. MyMac.com makes no warranties or claims on the prizes. No one affiliated with MyMac.com or the MyMac.com podcast is eligible. You are not eligible to win if your Twitter posts are set to private. This contest is void where prohibited and open to anyone. Prize is valued at $125.00 US. More information on the miniG drive can be located at Transintl.com.
Good luck!
miniG Specifications:
Specifications
Interface Firewire 400
Ports
2 x F400
Chipset
Oxford 911
Hard Disk Drive 3.5″ PATA
Performance Up to 400 megabits/sec
Capacity 80-750 GB
Dimensions 10.25″ (L) x 4″ (H) x 4.25″ (W)
Weight 4.5 lb
In the box FireWire Drive, 1 x F400 Cable,
Power Adapter, Backup & disk utility software
Warranty 2 Years
Achieve high-level, industrial/corporate-grade performance for digital video/audio editing and storage with the streamlined, miniGâ"¢ Firewire F400 Single Drive external enclosure. Simply add your choice of low-cost, high-performance, high-capacity ATA drive. The Firewire 400 interface supports external transfers up to 38MB/second to satisfy video projects, DVD authoring, audio, animation, modeling, music/image libraries, and conventional storage.
MiniG's uniquely-designed storage subsystem employs tempered aircraft aluminum, stylized flow-through perforations, and an external power supply to assure cool-running, high-performing drive operations.
Utilizing the latest PATA to FireWire Hot pluggable technology feature allow the FireWire drives to be Plugged or Unplugged with out turning-off or restarting the computer. The drive mounts automatically when plugged into the FireWire Port of the computer.
email – MyMac Magazine – Twitter – Advertise – Reviews Archive – Podcast