Photoshop.com Mobile
Company: Adobe Systems, Inc.
Price: Free.
http://mobile.photoshop.com/iphone/
IS IT PHOTOSHOP FOR THE IPHONE? NOT REALLY, BUT IT IS FREE!
While it's true that the iPhone and iPod Touch are actually pocket computers, there still are certain limitations as to what these little marvels can actually accomplish. This is partly due to the obvious restrictions of the graphical user interface and the physical size of the screen. Nevertheless, with the image capture capabilities afforded by the iPhone camera, this little pocket computer does have sufficient processing power to help us push some pixels around with the help of smartly written apps.
Adobe Systems has released an app that many are mistakenly calling "Photoshop for the iPhone." I suppose that in some ways it could be called Photoshop Mobile. It's actually called Photoshop.com Mobile. In this review, I will refer to it as "PS Mobile" which, by the way, is its name as it appears on the iPhone and iPod Touch screen. (Note: iPod Touch users don't have the benefit of an internal camera, but they can edit images that have been imported to the on-board Photos app.)
PS Mobile is a free app that provides a few – very few – of the image sharing and editing capabilities available on the Adobe online service called Photoshop.com. In fact, the app is a companion product to what Photoshop.com has to offer. This photo editing and sharing web site was launched over a year ago. A basic membership is free to anyone interested in being able to edit, store, and share images "in the cloud," to use a tired expression. It certainly doesn't hurt to go for a free account if, at the very least, for an opportunity to play with a great example of an a powerful Internet application running on an elegant Web site. Plus, you get 2 GB of free storage space. If you later find you simply can't live without it, you can upgrade your membership and purchase additional storage up to 250 GB and 500 GB limits. If you don't currently have a free Photoshop.com account, you can create one directly from within the PS Mobile app or via the web site where you can view more information about the service. Once you have images organized in your Photoshop.com account, you can use the PS Mobile app itself to access and show off your online images to friends and family as you all gather around your iPhone or iPod Touch. Flickr.com fans should note that the Photoshop.com site in no way even approaches the powerful photography community aspects as well as the rich organization and editing tools available on Flickr.
While there are many more editing tools available online at Photoshop.com than are available in the PS Mobile app, don't expect to be able to do what you can in Photoshop Elements and big brother, Photoshop CS4. You are not provided with the editing tools that any serious amateur or pro photographer needs, like histograms, levels, curves, selections, layers, and much, much more.
As with the Photoshop.com online "mothership," the PS Mobile app allows you to perform the most basic of image editing operations. You can either access the camera directly for an immediate snapshot that is then copied into the app for editing, or you can access your on-board photo album and choose a picture you'd like to crop, retouch and add effects from a handful of choices.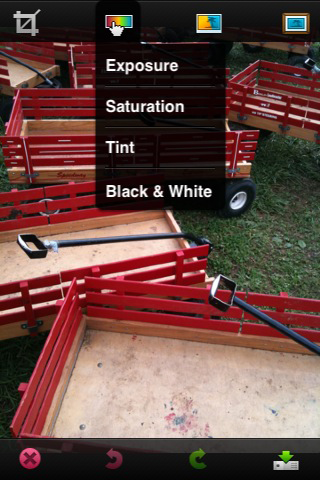 A big plus for any photo editing program is the support for "non-destructive" editing. Fortunately, PS Mobile falls into this category. This means that any changes you make to an image within the app will be saved as a separate edited image when you are finished. The original remains untouched. Furthermore, you are given an opportunity to save your finished image to your account on the Photoshop.com site. Once saved there, you can further edit your image with the larger array of tools available to you. Additionally, from the web site, you can organize your iPhone photos into albums. You can order prints, and you can share the images with friends and family directly from your account.
The PS Mobile app utilizes the iPhone's capabilities of recognizing on-screen finger gestures. Most of the image editing tools will allow you to vary the amount of change (for example, exposure level) by simply (and slowly) swiping right or left on the screen.
All editing tools are available via drop-down menus; a nice touch. There is a crop tool, and your image can be flipped and rotated. However, the rotation is only limited to 90-degree increments – no free rotate capability. You are also given Exposure, Saturation, Tint, and Black & White controls. The latter is an all-or-nothing proposition. The only useful tools that give you a modicum of control are the Crop tool, Saturation, and Exposure tools. But keep in mind that there is no histogram view of the image. Basically, your changes are "by-eye" only. There are also a couple of menus that give you some basic special effects tools (vaguely reminiscent to Photoshop filters). Available to you are Sketch and Soft Focus effects, both of which are variable via the finger gestures across the screen. Finally, there are several fixed "Effects" like, Vibrant, Vignette Blur, Border, Warm, White Glow and others.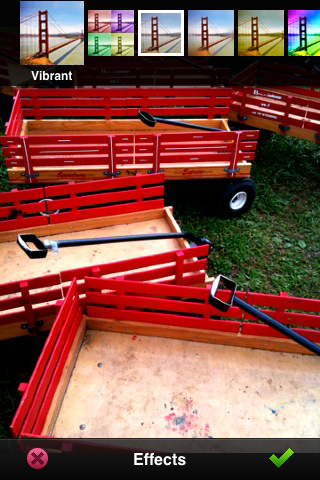 PS Mobile does support multiple undos, which is a big help when exploring all the editing tools. There are tips available to briefly explain each function. Fortunately, these can be disabled and kept out-of-the-way. When you are finished editing your image, you can save it to your on-board photo album and quit, or you can save and upload it to your Photoshop.com account. With this last option, you are able to upload the image to the online albums you have established there, where you can share directly with friends and family.
As you can see, PS Mobile is more about quick and simple edits of your images followed by uploading and sharing via the online service. Once on the Photoshop.com site, you do have a simple but wider array of tools and options available to apply to your photos for further enhancements and sharing.
When pitted against competing stand-alone image editing apps, PS Mobile is mediocre at best. A much better image editing product – and still sitting at the top spot on my iPhone screenful of photography utilities – is the $0.99 Photogene 2.1 by Omer Shoor. In this app, for example, you can view the image histogram and make your edits based on luminosity values. In addition, there are a number other useful tools and functions not available in any other mobile application that I have tried.
In all fairness, when considering a rating to PS Mobile, I have to look at the product from two points-of-view because the app can be used for two completely separate reasons. On the one hand, I expect that a substantial number of the app users will want to utilize it's image editing features in a stand-alone manner, not wanting or inclined to take advantage of the integration with the Photoshop.com online service. For this type of use, I only consider the set of photo editing tools available. For this reason, I have to give it a mediocre rating of 4 out of 10. These same editing tools are available in other apps which, in turn, have even more powerful tools to offer as well. The tools here are of the most basic types with not much in the way of additional power and flexibility that serious photographers look for in a photo editing app – even a free one.
On the other hand, when considering the use of PS Mobile as a mobile companion to, and integrated with a free Photoshop.com online photo-editing and -sharing account, I have to bump up the rating just a couple of notches to a 6. Using the app this way makes more sense and a bit more useful.
So, my final verdict for this first release of PS Mobile is a MyMac Review Rating of 5 out of 10. As a mobile photographer I am most interested in having the best and most flexible photo editing tools for use "in the field." While Photoshop.com Mobile for iPhone is well written with a smart user interface, for a 1.0 release it simply does not fit the needs of the typical photographer.
Requirements: Compatible with iPhone and iPod Touch. Requires iPhone OS 2.0 or later.
Version Reviewed: 1.0.0.209
email – MyMac Magazine – Twitter – Advertise – Reviews Archive – Podcast