Kensington Nightstand Charging Dock for iPhone
Company: Kensington
Price: $39.99
http://us.kensington.com
Do you use the hotel clock radios when you are traveling? I don't because I always have problems with them. Either I can't figure out how to set them, or they just don't go off for some reason. I've also had these go off in the middle of the night, thanks to some wise guy.
I thought I might be able to use my iPod Touch for an alarm, but there wasn't a way to check the time in the middle of the night. Power up your iPhone or iPod Touch in a pitch black room and you'll burn your retinas out.
I was intrigued when Kensington introduced the Kensington Nightstand Charging Dock (KNCD) for iPhone (and iPod Touch).
The KNCD is a simple charging dock that holds your iPhone/Touch in landscape mode. To complement this set up, Kensington has released an app named Rise&Shine for free in the app store.
Plug your iPhone/Touch into the KNCD and prop it up on your night table, launch the Rise & Shine app and you are all set. It will even give you the local weather and it will charge up your iPhone/Touch..
The app has several settings for color, screen dimming, and style of clock. To set an alarm, you use your iPod Touch/iPhone clock. Not sure I like that? I'd prefer to set everything up within the Rise&Shine app.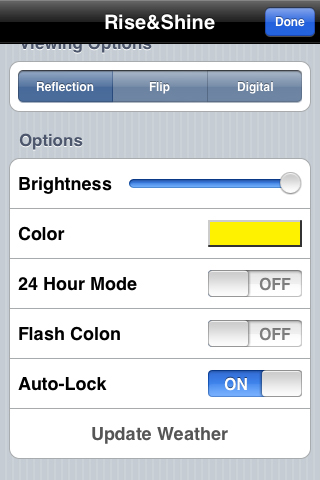 As you can see in the screen shot above, there are settings for brightness, color, clock mode, as well as different styles for the numbers.
I used the KNCD on a recent business trip and I did use the unit in my hotel room. It worked very well as an alarm clock. I liked the fact that while I slept, my Touch was being recharged.
What I did not like was the brightness setting. Even at the lowest setting, the screen is still pretty bright. However, in a dark, unfamiliar hotel room, this may be an advantage. I was able to use the Touch as a kind of night light in the middle of the night. At home, I could not make the screen dim enough to suit me.
Press on the weather icon and you get the local five day forecast. I had problems with this feature. Since I have an iPod touch, I would frequently see the screen below.
If you have an iPhone, I'm sure this would not be a problem. The first time I fired the app up, it gave me a forecast for a town about 60 miles away. Currently, it has improved and now gives me a report for a town that is only 35 miles away. It would be nice to be able to type in a zip code in the settings menu and have the KNCD retrieve that forecast instead.
Overall, I'd say I like the Kensington Nightstand Charging Dock, and I think frequent travelers who don't want to mess with the hotel room alarm clock will want to consider buying one too.
email – MyMac Magazine – Twitter – Advertise – Reviews Archive – Podcast