Flood-It! by Lab Pixies
Cost: Free
http://labpixies.com/gadget_page.php?id=10
If you're still looking for an addictive game to play on the iPhone or iPod Touch, look no further. Flood-It! by Lab Pixies, which claims to make the "coolest gadgets on the web", is my all-time favorite game.
The premise of Flood-It! is simple—fill the board with one color in 22 steps or less. Start in the upper left corner, then click on a colored ball at the bottom that's the same as the adjacent block. Continue until the board is one color, or you've used your 22 steps. Each game takes less than a minute to play, which makes it a perfect game to play when you only have a few minutes.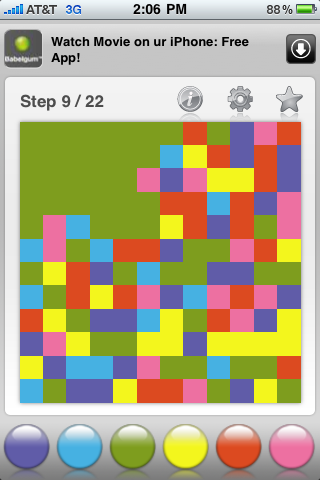 Flood-It! has three different size boards, and twelve color schemes. If you'd like even more features, upgrading to Flood-It! PRO for 99 cents allows you to play against the clock, restart the board, undo your last move, and choose from additional color schemes. This game is appropriate for any age, and, quite honestly, has kept me up past my bedtime many nights.
email – MyMac Magazine – Twitter – Advertise – Reviews Archive – Podcast