IDR350m Increased Dynamic Range Earphones with mic and tapLineâ"¢ control
Company: Scosche
Price: $54.99
http://www.scosche.com/
There are a lot of choices when it comes to earphones for your iPhone, iPod, or iPod Touch, so a company needs to do something just a little bit differently to get noticed, and the $49.95 IDR350m earphones from Scosche are worth a look.
I do not ask much from a set of earphones. They need to have good sound quality, play music fairly well, eliminate some outside noise, and be comfortable. Some might say they even need to look good. But that is about it. But these went a little further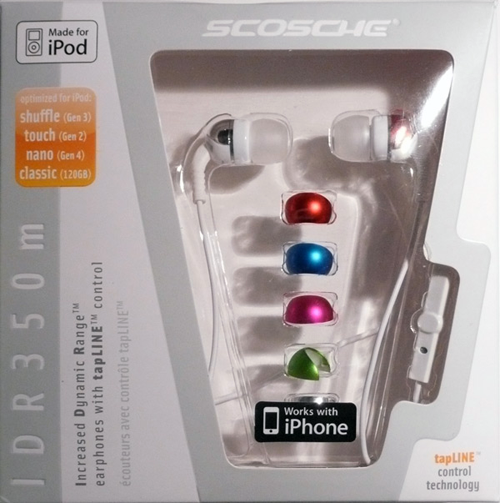 So lets have a look at each of these requirements one at a time:
On the comfort side, the IDR350m does a reasonably good job. Unlike Apple's earphones, these do not just lie in the ear, but rather come with a set of 6 different silicone "inserts" that attach to the earphone, and go into the ear. There are three sizes (S/M/L) each of single and dual flanged silicone inserts, and they are easily attached to the earphone. After trying all of them, I picked the one that was most comfortable for me, and also had the best fit to help eliminate outside noise. Some people might find the in-ear design less comfortable than Apple's style of just hanging there, but Scosche pulls it off well, and they did not bother me at all.
Comfort: check!
On looks, the units are fairly small, and disappear mostly into your ear, so do you really care how they look? Yet, the people at Scosche also include 6 different pairs of colored "caps" to add a personalized color touch to your headphones. Caps come in chrome, blue, pink, red, green and clear. I did not care about the looks so much, so color was not so interesting to me, but I did find the color caps useful for another reason. As with most small headphones, I have no idea which is the left ear, and which is the right, and the small printed L or R is almost impossible to read. And that remains true here with the L and R well hidden by the wire. But. I put a red cap on the right ear (red for right), and a chrome cap on the left ear (chrome for a, … never mind) and now, when I pick them up, I quickly know which is the right ear, and I get them right every time.
Looks: check!
But what about sound? The manufacturer says these headphones have "a boosted Dynamic Range", what ever that means. They use oversized 10.7 mm drivers to deliver a better sound, and for most music and voice, I have to agree, the sound was exceptionally good, especially with jazz and classical which can push the limits of frequency response of a headphone. And the silicone ear pieces did work well to isolate outside noise, making the music stand out in reasonably noisy areas as well. The units are tuned to deliver boosted base, normals midrange, and boosted, crisp highs, and in general, that is what I heard. The frequency response is well balanced, with crisp, clear sound throughout the frequency range.
But like other headphones designed for music, these make it much easier to hear the distortion of poorly encoded music. I notice on music with lots of bass, especially on 128k encoded tracks, the sound became distorted, especially if the volume was raised. At low and normal volumes, this was much less noticeable. I did not hear this problem on 192k or better tracks, leading me to believe that any distortion I was hearing was the cause of the source and not the headphones. At $49.95, I must say for music, they preformed MUCH better than many headphones I have tested selling at twice this cost. Sound: check! Outside noise: check!
But there are two additional reason to consider these, especially at their price: They have a built in microphone, and a built in remote control, so they work with an iPhone or new iPod Shuffle too.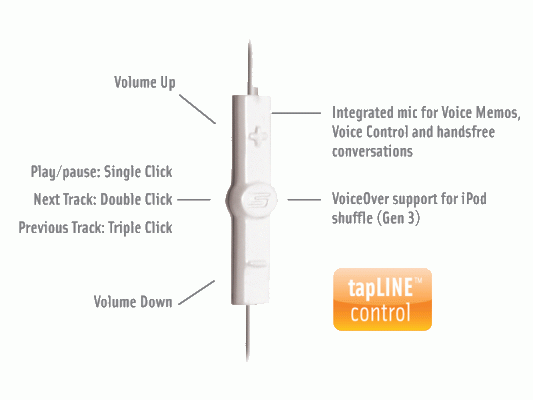 The Microphone: Since I do not own iPhone (yet), but only an iPod Touch, I was never really interested in a microphone before, until now! There is a small microphone built into the wire of the right ear piece, which hangs right about at mouth level when the earphones are in your ears. When used with an iPhone, it will act just like Apple's earphones, allowing you to make calls and do voice commands, but here you will also get better sound in your ears.
But when used with a Gen 2 or Gen 3 iPod Touch, these earphones add the microphone support needed for many applications that do not normally work on the iPod Touch. For example, I was able to make VoIP calls using Skype and Turephone, and use several audio recording programs as well. I even had no trouble making Midomi Ultra recognize the songs I was playing on my stereo in the same room. All those things were very cool.
Lastly, there is a small remote control built into the wire right where the microphone is, with three buttons: volume up, volume down, and control. Volume up and down change the volume directly on the iPod or iPhone. Pressing control once will toggle between pause and play of music or video. Double-click it to skip to the next song. Triple-click it to go back one song. I even tried them on my MacBook 13″, and they sounded great, and the remote also worked there too.
I happen to like ear bud style headphones, and these from Scosche provide a comfortable experience with excellent audio quality. The built-in volume control and microphone were great, allowing me to use the iPod Touch with audio apps, and I could adjust volume of music, and pause and skip without having to take my iPod out of my pocket. The noise cancellation worked well to eliminate background noise too. While some might find these pricey given Apple's $29 price for their headphones with remote and mic, I think these are a real bargain given their excellent sound quality rivaling earphones at twice this cost.
Compatibility:
iPhone 3GS, iPod shuffle (Gen 3), iPod touch (Gen 2, Gen 3), iPod nano (Gen 4), iPod classic (120 GB) and Mac computers purchased after Oct 2008
Specs:
Driver size: 10.7mm
Cable length: 52"
Cable color: White (also available in back, see IDR350md)
Frequency Response: 17Hz – 20kHz
Pros:
Built in volume and playback controls
Excellent music playback
Good microphone performance
Reasonable (non-dynamic) noise suppression
They include a small, spring loaded carrying case. Nice touch!
Cons:
White wire looking like Apple earphones, what iPhone thieves look for
(Note: available in black as well, see IDR350md)
Some distortion at higher levels
The double/triple click thing occasionally misses a click.
Some might find these a bit pricey
Note: All hardware products reviewed by me are on loan for the review period only. In the event I am allowed to keep a product, such a decision is made by the company only after the review has been published, and thus has no baring on the review outcome.   Most  software products and books reviewed are not returned as per policies of these companies on returns. Under no circumstances am I paid by anyone to positively review any product, nor do I receive any other in-kind compensation.
MyMac Review Ratings: 8 out of 10
email – MyMac Magazine – Twitter – Advertise – Reviews Archive – Podcast