32GB Premium SDHC card, Universal Card Reader, and 320GB FireWire 800/USB SureFire Portable Hard Drive
Company: Verbatim
Price: $100 online for 32GB SDHC card, under $30 online for Universal Card Reader, and under $120 online for 320GB SureFire Portable Hard Drive
Note: the SDHC card is also available in 4GB, 8GB, and 16GB sizes, for correspondingly lower prices; and SureFire is also available with 250GB and 500GB capacity, with appropriate pricing. Verbatim's helpful web site has detailed information, and you should begin your research at the company's site.

Annoying introduction:
I had read and heard that it is possible to boot up Apple's new MacBook Pro computers from SD cards inserted into their internal slots. Being able to do so will come in handy in my tutorial and troubleshooting consulting business.
My MacBook Pro doesn't have a built-in SD card slot, so I was unable to install Mac OS 10.6 directly from its installation DVD onto Verbatim's high-speed, high-capacity SDHC card. Snow Leopard didn't install onto the card using either a MacAlly 5 in 1 Express Card media reader or a new Verbatim Universal Card Reader. Instead, I installed a bare bones version of 10.6 onto an external FireWire hard drive from another company, then I used SuperDuper! from Shirt Pocket software to clone Snow Leopard onto the 32GB USB card that had been converted to the GUID partition system, connected through Verbatim's card reader. All of the above was necessary because I wanted to test the zippy 32GB Verbatim card as a 10.6 boot volume.
Now for the action part of the story:
Without personal access to a new MacBook Pro with its internal SD card reader, I needed to go undercover. Posing as an ignorant new computer buyer, I played with a few new Apple laptops at an undisclosed retail location until the store's gatekeeper got bored with me and wandered a few feet away. (Don't attempt the following unless you really know what you are doing.)
Secretly inserting Verbatim's 32GB SDHC Speed Class 6 (that's fast!) card into the SD slot on a new 15 inch MacBook Pro, I navigated to System Preferences -> Startup Disk to select the card's 10.6 operating system as my boot volume. No dice. The card was displayed in the appropriate panel, but it was grayed out, so I couldn't select it.
After making sure the onboard audio volume level was as low as possible so the startup chimes wouldn't be loud, I restarted the demo MacBook Pro from the Apple Menu. Holding down the Option/Alt key, in less than a minute I had the choice of booting up from either the internal hard drive or my commando SD version of OS 10.6. I took a deep breath, chose the latter, and soon was looking at my personal version of Snow Leopard from the prior FireWire installation and subsequent cloning to the Verbatim media card.
Silently praising my brilliant technique and pure dumb luck, I took a few digital photos of the display to prove what I had accomplished. I could have made [Command/Shift/3] screen shots, but that didn't occur to me until today.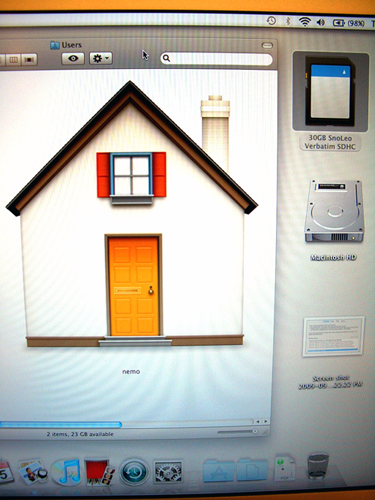 Having accomplished my goal, I quietly restarted the MacBook Pro, removed the Verbatim card when the screen went black, and made sure the computer was identical to its original appearance at the [fill in the blank] store.
What about the Verbatim card reader?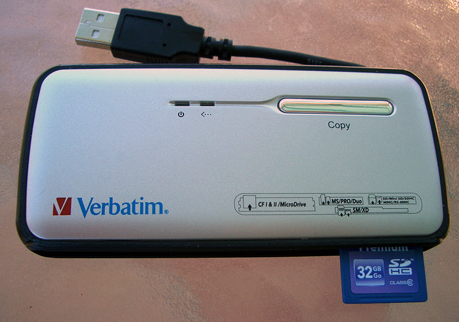 It didn't get much use until afterward. I've been using it for data transfers to and from 10.5 and 10.6 systems from the new whizbang SD card. I'm continuing to test both of them against other readers and flash drives, in which different sizes of files, different cards, and different card readers are compared, and Verbatim always comes out in first place.
What is a SureFire drive, Nemo?
As Verbatim begins to distinguish itself as a company that makes more than blank optical media (CDs and DVDs), users should pay attention to the company's USB flash drives, "camera" and media cards, and external hard drives. SureFire is appropriately named, especially for the Macintosh community.
The black, lightweight, 5400RPM SureFire ships in a snug, stylish, practical black carrying case. It fastens with a snap tab, with the cable ports exposed. You can use SureFire while it is contained in the case, but for extensive use you'll have much less heat buildup with the drive removed from the case.
From the factory, our review SureFire 320GB drive was formatted with the GUID partition map, meaning it can be used as a boot volume for Leopard 10.5 and Snow Leopard 10.6 systems. Testing it in OS 10.5, I repartitioned it into four backup volumes: one for my MacBook Pro's Leopard system using SuperDuper!, one for the a Snow Leopard system, one for my iPod Classic using Senuti, and one for my smaller iPods plus overflow and temporary files. Partitions are out of favor, but I like using them this way for backing up multiple devices.
Over the next couple of days, I cloned and copied my precious computers and iPods onto the relevant partition volumes of the SureFire 320 using FireWire or USB. There is one FireWire 800 port, one mini USB port, and one mini power port on this portable drive. The first two are common, but the power port isn't seen too often. By using a dedicated cable that ships in the SureFire's box, a laptop owner can use the round plug to connect to a computer's second USB port when a single port doesn't provide enough juice to power the drive.
Four short, high-quality black cables are included: one with FireWire 800 on both tips, one with FireWire 800 on one tip and FireWire 400 on the other tip, one for USB transfer, and the one for USB power. Someone at Verbatim made several wise decisions that resulted in this extensive, yet simple, range of choices and cables. The all-black cable color may be too monochromatic; it would be nice to have each of the four cables be a different color for quick selection from a crowded drawer or gadget bag, but this is a suggestion, not a criticism.
Drive operation is very quiet. A small blue LED glows when SureFire is powered by the computer, and the LED blinks magenta during read/write. The black outer shell gets warm to the touch during heavy activity, such as a full backup.
My speed tests, comparing SureFire to some of the competition, confirmed that it has identical speed to drives with similar specifications. Internal drives change and improve all the time, but most 5400RPM drives connected by FireWire 800 perform within a very close range.
How do we rate these products?
It is a pleasure to award high scores to all three Verbatim products. There is a lot to like in each of them, and nothing to grumble about. Taken as a group, they add up to a comprehensive couple of drives plus a card reader that between them can handle almost every data transfer and storage system in use today.
MyMac Review Ratings: a strong recommendation, at 9 out of 10 for design, features, price, and performance.
email – MyMac Magazine – Twitter – Advertise – Reviews Archive – Podcast