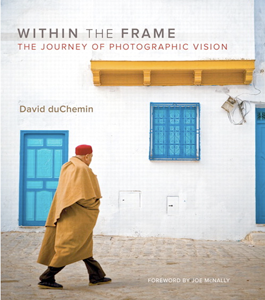 Within the Frame: The Journey of Photographic Vision
By David duChemin
Peachpit Press
http://www.peachpit.com
Price: $39.99 US
272 pages
ISBN: 0321637836
Know someone who's into photography but has no formal training? Someone who may not have the time to take classes, but would love to learn more by talking to a pro, one on one? Then you've got a winner. Within the Frame is all about storytelling, and is written to reflect it. In a conversational style, duChemin covers the basics (composition, rule of thirds), and even some of the more technical aspects of photography (lighting, catch light). From the start, he also tells his story, and what the less tangible aspects of photography are.
duChemin makes it crystal clear in the introduction: the world doesn't need yet another how-to book. To say this is not a how-to book would be erroneous however, it definitely sets out to equip the aspiring pro with tips on gear, and every image (hundreds of them) show you which camera was used, with what lens, and what shutter speed, which aperture settings, and at what ISO. He goes as far as showing series, or three shots bracketed (faster shutter speed, a "medium" shutter speed, and a slower shutter speed to see which exposure is best), explains which shot he ended up picking, and why. You'll also find discussions on presets in Photoshop, and how certain shots are altered to get a more foggy effect, or a slightly greener tone to get the atmosphere that he felt at the scene.
To reduce this book to a how-to would also be mistaken; it's more of a conversation where technique and tools come to the service of what you see, what you feel, and to borrow from duChemin's opening chapter, "Shoot What Moves You." The didactic success of the book lies in the multiple layers of answers duChemin gives us. His stories intertwine the technical "how," that which relates to tool, shutter speed, lighting conditions, cameras, and the practical, human "how," that which tells of talking to people you meet, how to ask for permission, what to do when someone asks you to pay them to take their picture.
duChemin will not stop at the more ethical side of photography, and his answers are sometimes as creative as his work. If someone asked him for money for example, he would deny them national currency, going instead of his own trade's currency: a photograph. In the third world country, he says, where landmarks mean high tourist density, asking for money is common; but he believes it's a fairer trade to give his subjects the photograph he took of them.
It's hard to walk away from the book having learned nothing; more than practical advice, his story is really about what it feels like, what it "thinks like" to be a pro, the challenges one crosses, and how one solves them, topic by topic. It's rich in examples, devoid of banalities, and rich in detailed, practical tips. If you want to learn and want something that'll keep you hooked, you'll want to get Within the Frame.
It's a pleasure to read, written in a friendly, conversational style that makes absorbing so much information much easier. I especially like the parts where the conversation is turned back to the reader, and he invites you to go out and shoot what could be mini assignments, exercises to help you get to the next level. Overall encouraging, inspiring, and a great birthday present for anyone (including yourself!) who has a DSLR and needs a little extra inspiration to go out there and shoot more.
email – MyMac Magazine – Twitter – Advertise – Reviews Archive – Podcast