iPWR SuperPack
Company: iPWR
Price: $59.95 USD with free shipping
https://www.ipwr.com/shop/home
It sure seems like I spend lots of my time charging things these days. When I don't have the time to charge my iPods at home, or when I am traveling, battery packs like the iPWR sure come in handy.
The iPWR SuperPack is an add on battery pack that will allow you to use your iPods/iPhone while recharging the unit.
Check out the video:
This is an interesting unit and is different than other battery packs out there.
The iPWR comes with an on-off switch which actually helps the unit hold a charge longer than other battery packs. The internal battery is an 1800 mAh Lithium-Polymer unit while the iPhone itself only has a 1400 mAh Lithium-Ion internal battery. The iPod Touch (2nd Gen.) only has a 1000 mAh Lithium-Ion internal battery, so the iPWR unit packs 120% of the power of the internal iPhone battery and almost double the power of the Touch.
I got almost two complete recharges of my iPod Touch from a single iPWR charge. Very nice.
Bottom line:
I like this unit quite a bit. While traveling over the past couple of weeks I drained the battery down on my iPod Touch while on a plane flight. As we were getting ready to land, I plugged my iPod Touch into the iPWR unit and then put the whole thing back in my bag. By the time I reached my hotel, I almost had a full charge back. Very nice.
Free shipping and the advanced integrated circuit with on/off switch, allowing the unit to hold a charge for up to twelve months, are two additional compelling reasons to buy the iPWR.
The biggest downside to using the iPWR is that it blocks the headphone jack. If the good folks at iPWR came up with a cable that you could use for times like that, the iPWR would be almost perfect. The cover doesn't connect to the unit, so there is always a chance you could lose or misplace it. No paper manual included, only a website FAQ.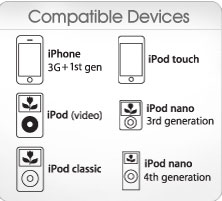 If you are red-green color blind like I am, you will especially like the functioning of the charge LED.
The iPWR works with, iPhone, iPod Touch and any iPod with a 30 pin connector. I even used the iPWR with my iPod mini.
email – MyMac Magazine – Twitter – Advertise – Reviews Archive – Podcast