U-Feel iPod Touch Case
Company: Uniea
Price: $29.95
http://www.uniea.com/touch2g/u-feel.html
I love my iPod Touch. This is one of the greatest gadgets of all times. But for some reason, Apple insisted that the back of the device be made of a shiny chrome metal, which scratches easily. And when I say easily, just set it down on a table and it is scratched. And, the unit is somewhat fragile and could be easily broken if dropped from a low height or even just bumped. So, there is really only one choice, you must put it in a case.
Up to now, I have been a great fan of Speck cases, and in fact own two. A red, transparent hard plastic case, and a soft, purple one. Recently however, I found a new case I really like by Uneia, called the U-Feel.
The U-Feel is a hard Polycarbonate plastic case that comes in two colors, a dark grey and white. Like many iPod Touch cases, this one surrounds the entire back and sides of the case, protecting them from damage. But unlike many cases, this one also has a clear, one-piece "touch-through" cover to also protect the iPod's touch surface. The only openings in this case are for the home button, the volume up/down controls, the power button, the headphone jack, and the bottom connector. Other than these openings, the case completely protects the unit.
In addition, this case also has a pop-out plug on the back that allows one to attach the included belt clip assembly. This comes in several pieces, and assembly is not exactly the easiest thing to put together. Getting the clip on the outside takes a lot of patience, but be patient, and you will get it to attach. Once attached, this clip can either be attached to your belt, or used as a stand. And the clip rotates 360 degrees, allowing it to stand on the long or short edge as well.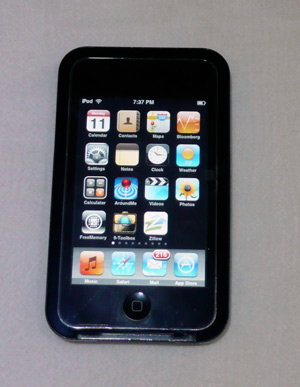 After putting it all together, I must say I had some concerns as to if the touch screen would continue to work as well as it should once put into the case. After all, placing a plastic shield over the touch screen might make it work less optimally, making the device fairly useless. I was pleased to see that this was not the case, and the touch screen worked just fine, although I did occasionally see a time where it missed a touch or two, but nothing significant.
I did have two problems with this case. First, the thickness of the case makes reaching the volume up and down buttons as well as the power button rather difficult. I had to use my thumbnail to actually reach both of them. While I do not use these controls often, this was still annoying. I also had issues with the docking port. Connecting a USB cable was fairly easy, but docking the unit was not so. They made the dock cutout rather large, but I can see where see where some docks might have problems.
Overall, this is a great case if you keep your iPod touch in a purse or pocket. The case will protect not only the back, but also the screen as well from scratches and bumps from things like coins, keys, and other sharp objects. And hanging on your belt there will be no worries about small bumps either.
Pros: Unique design, complete protection from nicks and scratches, and touch screen protection.
Cons: Button access issues, docking connector access, and difficult to assemble.
email – MyMac Magazine – Twitter – Advertise – Reviews Archive – Podcast