G-DRIVE mini Portable External High-Speed Triple Interface Hard Drive
Company: G-Technology
Price: $239 US for 500GB/5400RPM model
http://www.g-technology.com
G-Tech's newest high-capacity, high-speed, high-value portable external drive now has two Nemo nicknames. The first one is "WithMeAtAllTimes," which speaks for itself. The second one, an acronym, is a "TOED-YEN," which means "The Only External Drive You'll Ever Need." It's true, it's affordable, and it's a screamer.
The mini's dimensions are roughly 5″ long by 3″ wide by 1″ thick, and just under nine ounces in weight. An overall impression of a light, sleek, solid piece of practical hardware comes to mind when holding a G-DRIVE mini in your hand.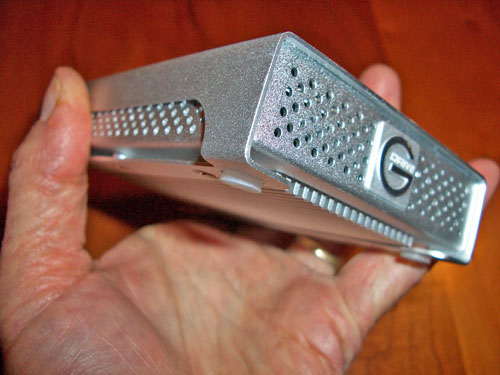 Our 500GB/5400RPM evaluation unit is the best choice from the current company lineup of five available drives. It's fast enough that you'll utilize its higher capacity much more than the additional speed of the G-Tech's current 7200RPM drives. Slower drives run cooler, which can prolong their lifespan.
My first task was to use Apple's included Disk Utility software to partition the actual 465.8 physical gigabytes into eight volumes: two for Senuti backups of my iPods, four for SuperDuper backups of my computers, one for a Time Machine backup of my business laptop, and one for overflow music tracks.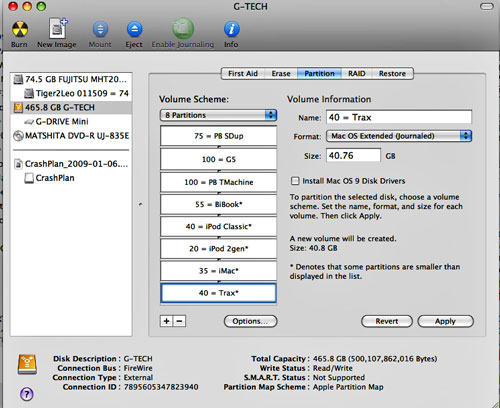 Over a three day period, I backed up every computer and iPod, and loaded in a few thousand songs. This bus-powered G-DRIVE mini is the quietest, coolest, fastest, easiest to use portable external drive we've reviewed. I previously carried five smaller capacity FireWire/USB drives on my professional rounds as peripatetic computer tutor and digital photo instructor. Now I only need to take this gem from G-Tech.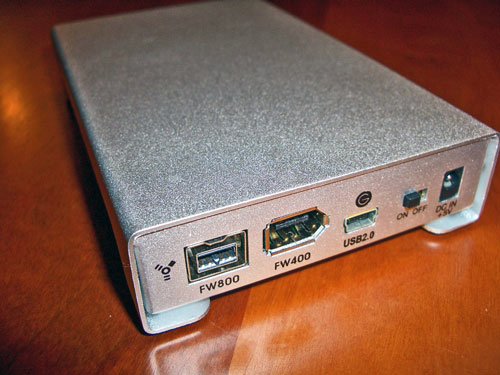 Its squared-off brushed aluminum shock-resistant case is stylishly geeky. Short, white, FireWire 400, 800, and USB cables are provided, as is a supplementary USB bus power cable. You'll need to purchase a FireWire 400-to-800 cable for occasional use with older Macs. No AC power is required, but some older laptops with low-power USB ports don't have enough muscle to power this drive via USB. This isn't a problem, because all such computers have FireWire port(s).
MyMac applauds G-Tech's three-year warranty. That's good. No written instructions are provided. That's bad. A product CD with instructions for Mac and Windows is included. Experienced Macintoshers will get straight to work using G-DRIVE mini, and they probably will never look at the CD.
The included leatherette and elastic protective case is unusual. It fits the drive v-e-r-y snugly. I wonder if G-DRIVE mini is able to remain in its case during operation, with the drive's rear end facing forward for instant port access. Probably not, except for short duration usage. The case's coverage nullifies this drive's well-engineered fan-less heat dissipation. Excessive heat is a potential killer to all digital devices. Advice to G-Tech: redesign the case so it has a little looser fit, and also provide a compact gadget bag or companion case to contain all four cables.
Company comments to MyMac include: "Industrial design complements MacBook Pro. We do not integrate backup software [because] Time Machine is a beautiful app and works perfectly. There's no reason for us to buy software, load it on the drive, and charge the consumer. We put a lot of quality and care into our products – all aluminum enclosure, fastest and most reliable internal hard drives, the best components, and cooling technology, which is a must. Because of this, our G-Technology drives command a slight premium. You get what you pay for!"
Yes, there are less expensive competitors available that will serve you well for many years. G-Tech's high-performance G-DRIVE mini jumps to the top of our recommended list.
LINKS:
Senuti by Fadingred Software
SuperDuper by Shirt Pocket Software
email – MyMac Magazine – Twitter – Advertise – Reviews Archive – Podcast