Introducing CallWave's Fuze HD Web Collaboration Tool
Company: CallWave
http://www.fuzemeeting.com/fuzemeeting/home
Given all the hype surrounding the term "high-definition," along with the current proliferation of HD content-HD TV, HD Blu-Ray discs, HD camcorders, even HD radio-one might be forgiven for being more than a little jaded when a new HD service is announced. But it's not every day that high-definition Web conferencing comes along, so the announcement of an HD-capable Web collaboration tool at MacWorld this past January caused us at MyMac.com to sit up and take notice.
The FUZE high-definition collaboration and conferencing tool, from CallWave, is completely Web-based and requires only a Web browser capable of running Flash 9 or higher. I'll get to the complete hardware and software requirements later, but for the moment suffice to say you'll be good to go with OS X 10.3 or higher and a G4 processor, although for HD video you'll get best results with a more recent Intel Mac.
One of the advantages of Fuze, as compared to other Web conferencing options, is that as long as you have the Flash plug-in, there's absolutely nothing else to download or install-whether you're simply participating in or actually hosting the conference. And Fuze participants can actually "fetch" additional attendees by contacting them online with a link that takes them directly into the meeting. But what really makes Fuze stand out is the option to upload not just the usual PowerPoint presentations, spreadsheets and PDFs, but high-resolution photos and even HD video.
I was recently given a demonstration of Fuze's HD capabilities by Greg Saiz, Director of Product Marketing, and the demo did not disappoint. After showing how even the graphics embedded in a simple PowerPoint file could be scaled to a very high magnification via Fuze and still look crisp and clear, Greg uploaded a 20MB hi-res JPEG image of an automobile engine along with a few minutes of HD footage showing a private jet in flight. Both were remarkably sharp, and the image remained so even after filling the screen by isolating only the smallest detail. Both video and images can be marked up by participants, and the annotations can be saved for later review.
Those of us who tend to become concerned over issues of file size vs. available bandwidth can relax-the Fuze folks have you covered. Their service utilizes a "man in the middle" concept when it comes to managing large files, in that the Fuze servers handle the distribution of the content to each participant once it's uploaded. This keeps the "host" of the meeting from getting bogged down, regardless of the speed of his or her Internet connection. Along these lines, a very thoughtful feature of the Fuze interface is a series of progress bars at the upper left, one representing each participant. When new content is uploaded to the Fuze service, the bars update to reflect how much of the file has been "pushed" to the participant. That way everyone can see at a glance who's received the complete file and who's still waiting, which goes a long way towards eliminating those annoying "Wait, wait, I didn't get the file yet" outbursts that punctuate your everyday average Web conference.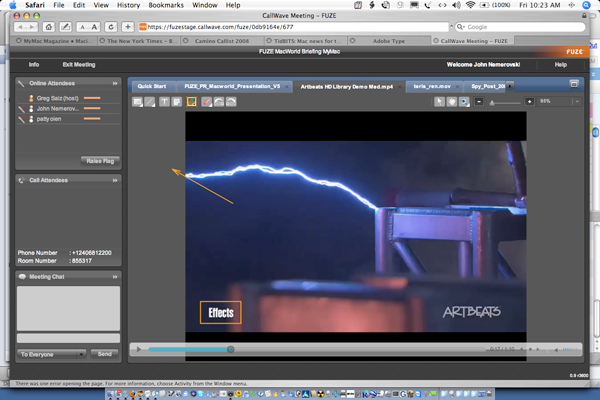 Now, as if all this wasn't enough, another element of the Fuze product announcement at MacWorld involved smartphone integration, which will allow iPhone, Blackberry and Windows Mobile users to not only participate in the conference, but fetch attendees, manage meetings and also view HD video and images. These capabilities were demoed on the iPhone at the aforementioned MacWorld Expo, and CallWave hopes to have all these features available to mobile users sometime in Q2 2009. There is an iPhone client already available at the App store that already offers some of these options; you can download the application for free once you've signed up for a Fuse account.
Pricing has not been firmly established as of this writing, but currently you can create a Fuze account with unlimited meetings for $29/month, or $279 annually. CallWave plans to offer per-minute pricing as well, making Fuze an extremely competitive option when compared with more well-known services like WebEx GoToMeeting, or Acrobat Connect neither of which offer some of the features that Fuze provides.
I noted earlier that the Mac hardware requirements were pretty basic in terms of participating in a Fuze conference. Although the ideal configuration would be a current Intel-based Mac running version 10 of the Flash plug-in and the Web browser of your choice, you could participate even on a G3 or G4-based Mac running OS X 10.3 and Flash 9.0.151.0, which is still downloadable from Adobe's Web site. Keep in mind, however, that while the basic conferencing features should work fine, attempting to view HD video would most likely be an exercise in frustration on anything older than a G5 desktop.
And while we're on the subject of Macs, one of the questions I asked Greg was in regard to Fuze's Mac support, specifically in terms of whether there were any "Windows-only" features, or options that performed much better for Internet Explorer users. As Mac owners, we're often frustrated when we're persuaded to subscribe to a particular Web-based service only to discover that certain parts of don't actually work on a Mac, or that Mac compatibility is either promised for "a later date" or not planned at all. Greg assured me that a Fuse conference will function just as well on an iMac Intel Core 2 Duo running FireFox as it will on a Dell box running Windows XP SP 2 and Internet Explorer. In fact, he pointed out that one of the new features currently in the works is desktop sharing to the iPhone, which will be available to Mac users first before that option is rolled out to those participants on the "dark side."
Based on the existing feature set of Fuze, in particular its HD capabilities and the improvements planned for the iPhone client software, I highly recommend that Mac-based workgroups who currently use services like WebEx or GoToMeeting, especially those that work with large images and/or hi-definition video, give Fuze a try. The way I see it, showing your clients high-definition graphics and video with Fuze can't help but improve your image-in more ways that one.
email – MyMac Magazine – Twitter – Advertise – Reviews Archive – Podcast