Waterfield Designs MacBook Air Suede Jacket Sleeve
Waterfield Designs
http://www.sfbags.com/products/laptopsuedejacket/laptopsuedejacket.htm
US $29.00
Waterfield Designs MacBook Pro SleeveCase
Waterfield Designs
http://www.sfbags.com/products/sleevecases/sleevecases.htm
US 42.00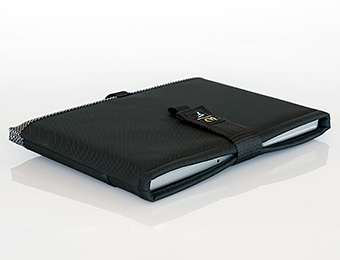 Waterfield Designs has a comprehensive selection of computer bags, covers, and sleeves. MyMac Labs recently received two new additions to the Waterfield product line: one for the MacBook Air, and one for the MacBook Pro.
While the MacBook Air is not Apple's biggest selling laptop, it has devotees. And when you've spent the big bucks for Apple's lightest laptop, you want to make sure it stays pristine.
The Waterfield Suede Jacket Sleeve is a minimalist sleeve. It's simply a very thin UltraSuede envelope with two finger loops on each top end, and a bit of padding inside the bottom edge. With no logo or markings, the Suede Jacket is plain-Jane elegant.
The Suede Jacket is not designed for dent protection; it's a carrying case that protects against scratches. With no padding, and no flap at the open end, it seems to be intended to protect an Air that's being carried around inside a briefcase, or one that travels from office to meeting room and back.
The only problem I had with the Suede Sleeve was getting the MacBook Air inside it. The Suede Sleeve is a essentially a form fitting bag with no interior structure. Compared to the Designer Sleeve, it took several more seconds of finagling to get the Air into the Suede Sleeve. The finger loops at each top corner helped to pull the Sleeve around the computer, but not enough to overcome the Sleeve's floppiness. Once inside, the Suede Sleeve was easy to carry, and I had no concerns about the Air falling out from the Suede's open top end. There's a bit of padding on the bottom edge for a tiny bit of shock protection, but don't fool yourself. The Suede Sleeve is not designed to protect against dents and drops. It's a thin and ultralight carrying bag.
Given the small amount of material used, the Suede seems a bit expensive at $29.00.
Conclusion. I wanted to like the Suede Sleeve, but each time I had to fiddle to get the Air inside it, I ended up wishing the Suede had a bit more structure. It was just a bit too troublesome to use, and too expensive for a simple scratch protector.
Waterfield's sleeve for the MacBook Pro is as different a sleeve as you can imagine. No minimalism here; the MacBook Pro sleeve is closer to a carrying bag without handles or straps. It's a sturdy, well-padded sleeve with a fold-over flap to securely hold your precious MacBook Pro in place. The side padding is substantial enough to provide good protection against bumps, dings, and bruises.
I particularly liked the fabric loop on the bottom, as it helped get a good grip when pulling the Pro out of the sleeve. Other sleeves I've tested provide nothing to hold onto when removing the computer, so you're forced to firmly hold onto the sleeve, which makes it harder to get the computer out.
Waterfield builds in a small pocket on one side that's suitable to hold a magazine, or a small folder of papers. It's not deep enough to hold a MacBook Pro power adapter.
You can custom configure the SleeveCase. The base model we evaluated costs $42. You can add a carrying strap for $12, and a large fold-over cover flap for $15.
I was very impressed with the strong stitching, plentiful padding, and overall quality construction of the SleeveCase.
Conclusion. If you're looking for a sleeve that will provide good protection, but don't want a carrying case, the Waterfield Designs SleeveCase is a fine choice.
MyMac rating 4.5 out of 5 It can be pricey when ordered with all the options.
email – MyMac Magazine – Twitter – Advertise – Reviews Archive – Podcast