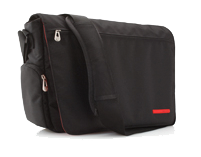 Axio Messenger Laptop Bag
Price: $84.95
Dr. Bott
Axio
Laptop bags are very personal items. Everyone who owns a laptop needs to carry something different. That's why manufactures offer so many varieties and styles. Axio offers a variety of bags, hard-shell, courier, and sleeves, to name a few. Today we are going to look at the Axio Messenger bag, offered by Dr. Bott.
This case is different from the Courier style I usually carry around. It is a bit softer and wider. The Axio Messenger Bag (AMB) has wide pockets and a big flap to cover the inner pockets. The AMB is constructed of polyester rather than ballistic nylon. Thats why it has a softer feel.
I needed to run out to a meeting, so I tossed my MacBook into the fleece lined computer pocket. I found the computer pocket to be a touch wider than I like. This bag can hold up to 15" laptops, so the extra space is needed to accommodate these larger laptops. A velcro strap locks the MacBook in the pocket. I had a couple of file folders I needed and I really liked how easily I could slip these into the large zippered front flap pocket. This pocket folds over the front and snaps closed.
My iPod Touch fit nicely into one of the small pockets on either side of the AMB. One of these pockets is fleece lined and has a circular rubber slot that will allow you to pass your headset wires through to your iPod. A good idea if you don't want to show off your iPod.
When I was ready to leave, I picked the AMB up and pulled the strap over my shoulder and I immediately noticed how well padded and soft the strap pad was. This is always a gripe with me. Some bag manufacturers really skimp on the shoulder pad, and if you've ever spent a lot of time running through airports, you can really appreciate a superior pad like the one Axio offers.
It was pouring rain when I walked out of the house, and while the AMB isn't advertised as waterproof, it did shed water well, and kept my paperwork dry.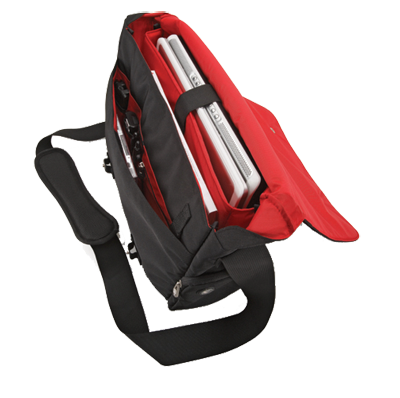 I find the interior of the AMB to be well thought out. It has a zippered compartment for smaller items next to a sleeved area to hold pens and business cards. This section is closed with a velcro strip. Opposite the padded laptop compartment are mesh pockets for cables and other gear.
One of the many other things I liked about the AMB is the red interior. Most bags have a black interior, and if you've ever dropped something into this "black hole" you know how difficult it can be to find the thing you dropped. I am happy to report this is not so with the AMB. The red interior makes finding small items you may have dropped into the bag a snap to find.
In conclusion:
Most all of the other cases I own are made of ballistic nylon which is very tough. I don't know how well this polyester material will hold up under heavy use, but it looks and feels sturdy. I really like the red interior. I like the fact that my iPod and laptop are in fleece lined pockets as well as the cable pass-through. The AMB itself is wider than most, and as such, it feels bigger.
The Axio Messenger Bag is a serious bag worth a look by anyone with a 15" or smaller laptop.
email – MyMac Magazine – Twitter – Advertise – Reviews Archive – Podcast