Stellar Phoenix Macintosh 3.0
Company: Stellar Information Systems Ltd.
Price: $129.95 single-user license
(see Web site for administrator and technician licensing options)
http://www.macintosh-data-recovery.com/
In my line of work, I'm often called upon by my clients to recover files they've accidentally deleted, or to attempt a complete recovery of their data from a crashed hard drive. Over time I've found that, just as you can't be too rich or too thin, you can't have too many data recovery programs at your disposal, as they each have their own particular strengths and weaknesses when it comes to saving your client's bacon.
Recently I purchased a copy of Stellar Phoenix Macintosh, version 2, in an attempt to retrieve data from a very stubborn and badly-crashed hard drive that was exhibiting the "click of death" and generally refused to yield to other data recovery apps. To my surprise—and my client's delight—Stellar Phoenix Macintosh allowed me to create a disk image file of the drive in question by reading around the bad sectors, and I was able to recover 99% of the data contained thereon. I did, however, encounter numerous problems with the software throughout the recovery process.
As a result of my experience with the program, I drafted an email to Stellar's support department and offered kudos for their product. In the spirit of constructive criticism, I also attached a substantial list of suggested fixes and improvements that I felt they should consider for the next version, including addressing serious stability problems, scanning speed and some major user interface issues. Many of these issues appeared to be the result of a hasty porting of the program over from the Windows side, along with not enough time spent smoothing out the rough edges. In any case, I was informed that version 3.0 was already in the works and would address my concerns when it was released.
Fast forward a couple of months. I've been testing version 3.0 for the past week, so I went back and looked over the constructive criticism I had offered to Stellar following my experiences with 2.0. Were they able to effectively address a lot of the program's shortcomings with this new version? And can the program successfully recover files from hard disks, iPods and media cards?
In short, yes.
And no.

The "Entirely New User Interface" is a big improvement over the previous version, now featuring Home and Back navigation buttons as well as the option to choose the type of recovery you want to perform.
One of the bullet points Stellar uses to promote version 3.0 is an "Entirely New User Interface" for the program. Yes, the interface has a fuller set of options, and when you mouse over each one you get a popup description of its purpose, as well as more detailed info that appears in a field at the bottom of the window. Each window also incorporates navigation buttons like "Back" and "Home" to keep you from getting lost as you proceed through the various options for recovery. But Stellar is still using the "brushed metal" look for their product, a choice that immediately dates it back to OS X 10.3 or earlier, and makes me wonder if they have paid any attention to Apple's developer resources or Human Interface Guidelines. Call me a bleeding-edge trendsetter if you must, but were I to introduce a brand-new Mac application with an "entirely new user interface" that retails for just shy of $130, I'd leave the brushed metal stuff far behind.
Another new option with version 3 is the ability to recover data from an iPod (music, video and image files) as well as from camera cards (RAW files from various manufacturers as well as JPEGs and TIFFs), in addition to data residing on HFS and HFS+ formatted drives. The program actually presents you with the option to choose the appropriate media from which to recover—hard drive, iPod or camera card—and tailors your recovery options and experience accordingly. This worked quite well in my testing in the sense that it went after photos on a camera card specifically, and MP3s on an attached iPod, as opposed to simply presenting me with a massive list of files to recover. The program also offers options to filter the lists of files that it generates, so if you know you're looking for strictly music files you can remove the references to anything other than, say, AIFFs, AACs and MP3s.
Unfortunately, in my experience Stellar Phoenix was unable to "Recover Deleted Files with File Name," another promotional point for this new version. I was able to create an extensive list of recoverable files from a 4GB iPod as well as an Olympus camera card, and the majority of the files when recovered were intact, although a few had obviously been overwritten by other data over time and were therefore incomplete upon my attempting to open it. That's not a dig at Stellar's software; no recovery program can recover a file that's been partially replaced by another file saved to the disk in the same area the deleted file once occupied. But none of these recovered files appeared in the file list with a corresponding name, creation date or modification date, just a five- to eight-digit number with a file suffix and nothing else.
The final promotional point for Stellar Phoenix Macintosh I'll address is "Improved Support for LaCie drives." It seems that the developers are using the term "LaCie drives" to refer to external drives in general (as in FireWire 400, USB 2.0, eSATA) as opposed to a brand of external drive (as in LaCie, Western Digital, or Fantom to name but a few). Unless, of course, there is something unique about LaCie externals that caused them not to work with the previous version, which I tend to doubt. In fact, the Help section for the Hard Drive Recovery option specifically states that: "This option is used to recover data from drives and other mass storage devices such as USB, LaCie, FireWire." I raise this point primarily because I found numerous instances wherein the phrasing used to describe the various options available, as well as the info present in the Help system, is somewhat awkward and confusing at times, and I suspect that employing a qualified translator might have helped in polishing this aspect of the software a bit. Enough said.
Now, one thing Stellar doesn't mention in their promotional material is the speed at which the program scans your media, which is certainly understandable in that I have never worked with a program that took as long or longer to scan relatively small volumes in search of recoverable files. I started with my MacBook's internal hard drive (160GB) as a test to search for deleted QuarkXPress documents, and the scan literally took over 10 hours. As I noted prior, the five Quark files it did find had no names, creation dates or modified dates available. When I attempted to recover them the program warned me—appropriately—that I should not attempt to save the recovered files to the same drive I was trying to recover them from, because it could overwrite them. Makes perfect sense, so I mounted a network drive to use as a destination—and the program instantly crashed. Ten hours of scanning down the drain. I didn't have the time or the interest to attempt the same procedure a second time, so I elected to move on to another media type.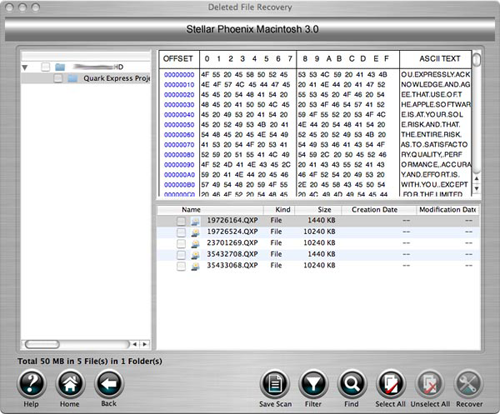 After a seemingly interminable amount of time, StellarPhoenix located 5 deleted QuarkXPress documents for recovery. In spite of their claims about file metadata being available for recovered files, neither file name or creation/modification dates were visible, but the files were successfully recovered.
With a 32MB camera card I had a different result; I started the scan and realized that it was going to again take at least 3-4 hours to complete, even though it was only scanning at most 32MB of data. I had my camera connected directly to my laptop, and it occurred to me that since it was an older camera that I might be accessing the media at USB 1.1 speeds. So, I stopped the scan from Stellar Phoenix, disconnected the camera and connected a USB 2.0 media reader instead. Once the reader was attached, Stellar Phoenix froze to the point where it would not even respond to multiple attempts to force quit, and I eventually was forced to do a hard restart just to free up the laptop and start over. Upon rebooting, the scan of the card commenced; it was more rapid using the USB 2.0 connection but still took far longer than I felt it should have, requiring nearly an hour to complete. This time the program did not crash when I recovered some of the files to my hard drive, and the files were largely intact.
On to an iPod, a 4GB 2nd generation Nano. Stellar Phoenix recognized it as an iPod and scanned for music file recovery. Again, the scan took what I would consider an insanely long time to complete. Although the MP3 files it discovered appeared without file names, creation dates or modification dates, the program does offer a nifty audio preview mode to allow you to sample the entire contents of each file to determine if you want to recover it before bothering to complete the recovery process. So props to Stellar for adding that feature, although if it truly lived up to its advance billing and did show you filenames and dates, the audio preview function might be reduced to a thoughtful bonus feature as opposed to an essential part of the recovery process for audio. In any case, the MP3 files I selected for recovery were restored without incident.

For recovered audio files, StellarPhoenix offers a nifty audio preview, which comes in especially handy when the program can't show you filenames or created/modified dates. Listening to a few seconds of every MP3 file in a list of hundreds gets old fast, but at least you'll know they're ready to be rescued.
A few other rough edges of note: There is a Preferences menu, but it's terminally gray (kind of like me) so if there are indeed preference settings for this application, they cannot be accessed from the GUI. That might have something to do with another aberration I noted, namely that the program creates its own unique folder in the Applications directory called StellarTemp, and in that folder is the "AgreementFile," which turns out to be a document that stores your acknowledgment of the program's license agreement. If you delete it, you are confronted once again with the license agreement upon launching Stellar Phoenix. I do realize this has nothing whatsoever to do with the program's functionality, but to me it's just another example of the lazy and/or careless programming that distinguishes StellarPhoenix Macintosh.
Here's the final verdict: My own testing of versions 2 and 3 demonstrated that StellarPhoenix can successfully recover numerous files from multiple media types, in some cases succeeding where other recovery software failed. Yet I found myself constantly frustrated by the program's excruciatingly slow scanning performance, its propensity to crash or become unresponsive, and the lack of effort expended by the programmers in terms of following Apple's human interface guidelines and adopting the Aqua theme in a program that costs $129 (and up) and is now at version 3.0.
StellarPhoenix appears to have a great deal of potential, but before it can be considered a top-tier data recovery product for the Mac it's going to need a lot more polishing. Until then, I can't be certain if it—or the data it attempts to recover—will truly be able to rise from the ashes.
email – MyMac Magazine – Twitter – Advertise – Reviews Archive – Podcast