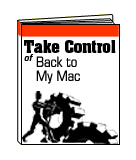 Take Control of Back to My Mac
Glenn Fleishman
TidBITS Electronic Publishing
http://www.takecontrolbooks.com
ebook US $10.00 online purchases only
100 pages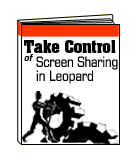 Take Control of Screen Sharing in Leopard
Glenn Fleishman
TidBITS Electronic Publishing
http://www.takecontrolbooks.com
ebook US $10.00 online purchases only
88 pages
Both ebooks purchased together $15.00
TidBITS author, blogger, columnist, and all-around networking pundit Glenn Fleishman is bound and determined to help Mac users better understand and use screen sharing and Back To My Mac.
Apple's famous ease of use notwithstanding, many users may find setting up screen sharing, and especially Back To My Mac confusing. If their home or office network is not all Apple gear, setup can be tricky.
He's so determined that he penned 188 pages (two ebooks) worth of help, explanation, and tips for those who are clueless, or merely stumped when screen sharing won't share, or Back To My Mac just doesn't get back.
For those of you who have not purchased a TidBITs ebook, you're missing out on great help books. TidBITS publications have a refined format that gets you the information in a clearly presently, well-written manner. TidBITS titles are extremely affordable (I won't say "cheap") and easy to download and read. Some (not these two new titles) are available in printed versions, although I prefer them in ebook format, as I want electronic reference when I working on a computer problem.
Why electronic reference?…Have you ever tried to copy and paste Terminal commands from a printed book?
Screen sharing is the ability to remotely connect to and control another computer. While Apple has only implemented screen sharing as a standard feature relatively recently, it's been around for a long time, and the technology is straightforward. Netopia's remote control application Timbuktu has been for sale for at least ten years. Apple's implementation is plain vanilla by comparison, and unlike Back To My Mac, does not require a Dot Mac (soon to be MobileMe) membership.
In contrast, Back To My My Mac is a combo feature from Apple. It's a twofer that allows screen sharing and file sharing with your remote Mac, without the usual hassles of screen sharing and file sharing. When properly configured on both routers and Macs, BTMM (Back To My Mac) dispenses with the usual login and authentication bother, instead leveraging your .Mac/MobileMe account to provide both login info and the Internet "location" of your other Macintosh. Even when you're galaxies away from home, your remote Mac looks and acts just like it's hooked up locally.
Naturally, Apple's easy to set up screen sharing and Back To My Mac both have gotchas and pitfalls that Steve Jobs didn't happen to mention in his last Keynote. This is where Fleishman comes in.
Take Control of Back to My Mac covers both the Screen Sharing and File Sharing aspects of BTTM. But Screen Sharing has enough details that Fleishman felt it was worth a separate ebook to provide the usual TidBITS level of comprehensiveness. So, Take Control of Back to My Mac covers the basics of Screen Sharing in the context of BTTM, but no more than the fundamentals. If you want the full scoop on Screen Sharing, get Take Control of Screen Sharing in Leopard. You'll learn more about how Bonjour screen sharing differs from direct screen sharing, the pros and cons of third party screen sharing application, and much more.
The Take Control BTTM ebook, will take you step by step through BTTM setup and usage. But since BTTM has earned a reputation as being cantankerous to actually get working, the book has a substantial troubleshooting section. Back To My Mac, while seeming simple, is really a significant undertaking. Getting secure auto-logon, file sharing and screen sharing to work seamlessly is a huge task: avoiding the fundamental problem of finding the remote computer is not trivial. A technique known as port forwarding is the most common solution. Take Control Of BTTM has to try to explain the subtleties of port forwarding. Port forwarding, or how to direct a specific service to find a specific computer inside a router, is the bane of those of us who have to setup remote control software.
Fleishman takes a powerful swing at explaining port forwarding. While he doesn't hit it out of the park, he does hit a stand-up triple. It's too bad he has to spend as much space as he does explaining this complex (for most users) topic. For BTTM to work just right, with no finagling, you have to use Apple routers, and not be in most hotel or office environments. If you're using non-Apple gear, TCO Back To My Mac will tell you how to setup several popular non-Apple routers, although it can't help find you a friendlier office or hotel.
While screen sharing is much more reliable than full-blown Back To My Mac, it has quirks of its own. Port forwarding problems still lurk in wait. Various flavors of screen sharing applications each have their own strong and weak points. Apple's application looks plain-Jane, but even it has hidden configuration options that will make it much more powerful. Fleishman covers each in turn.
If you have permanent Back To My Mac problems, Take Control Of Screen Sharing can get you over half the puzzle, as screen sharing is generally easier to configure, port forwarding notwithstanding. The other half can be solved with plain old file sharing, which Fleishman covers in his TidBITS ebook, Take Control of File Sharing in Leopard. Between the two, you've got all of the functionality, and 75% of the ease of use, of Back To My Mac.
I have a few quibbles with TCO Back To My Mac and TCO Screen Sharing. While I realize Fleishman wants to provide comprehensive help, and explain fundamental networking concepts, there are times when the acronym per page ratio is sky-high. Many readers may find the explanations of port forwarding, DHCP reservations, publicly routable addresses, and so forth too complex. Networking concepts are tough topics to write about in a few pages, but this much detail may prove daunting for some.
In his drive to be comprehensive, Fleishman covers virtually every choice, permutation, and combination of setup options for screen sharing and BTTM: local networks using IP, networking with Bonjour, screen sharing with three different applications, etc. On occasion, I had to wade through discussion of obscure options (Kerberos security, for example) I did not want, to get the information I desired. If you get overwhelmed, the numerous hyperlinks and Table of Contents are your friends.
All in all, these two books are fine additions to the Take Control library. Don't be scared off by a smidgen more jargon than usual, you may actually learn something about networking.
MyMac.com rating 4 out of 5 for both titles.
email – MyMac Magazine – Twitter – Advertise – Reviews Archive – Podcast