Spire Viro Laptop Case
Company: Spire
Price: $64.00
http://www.spireusa.com
Ok, you have your MacBook laptop and you want something classy that protects your investment yet is well designed, versatile and presents a good image. Then check out Spire's Viro laptop case for the MacBook.
Spire, a small company now based on the East Coast, produces products that it states are the finest laptop backpacks and bags available. I decided to give Spire's Viro laptop bag a thorough testing, putting it through its paces, as it were.
As you can see below, the bag is classy in its appearance and yet designed to handle the demands of people on the move. Lightweight and compact, it provides the user with a well padded area for the MacBook, yet still allows plenty of room for all the other things that you may want to bring along for the ride.
Designed to hold up to a 14-inch laptop, the Viro exterior is made from 1680D Ballistic nylon with a large 2″ single-buckle closure to keep the contents inside where they belong. The front flap contains a zippered pocket 8 inches deep and 7 1/2 inches wide, large enough to contain items that you may need to get to quickly. Underneath the front flap, on the face of the bag are slots for pens, a spare battery or other additional items. There is another zippered compartment 10 inches deep for more additional storage.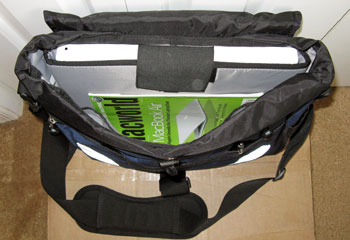 Now you are at the main storage section of the case. On the back of this area is the padded section for your MacBook. There is additional space for extra items to be stored, as in your power supply, AC power cord, files and other items. There are also additional storage slots for pens and other items.
Now on the back of the bag there is a slot storage area (that also serves as a pass-through for rolling luggage handle) plus an adjustable strap that allows the user to provide a way to secure the bag more securely to the body by running it across the waist. The shoulder strap is removable and the case also has a handle on the top of the bag to permit it being carried that way rather than with the shoulder strap. There is a side outside mesh pocket for a water bottle and a side outside pocket that can carry your iPod or MP3 player and a grommet point to pass your headphone jack through.
As with all other items that I review, I gave this bag a good workout. It flew, it went under airplane seats, it was "gently handled" by TSA inspectors at a couple of airports as they closely examined it. It went to work, it went to libraries, and it went on vacation. It carried additional files and folders, magazines and books, in addition to my MacBook. When it got dirty from being on the floor of the plane, I just brushed it off. It traveled by car and by subway. It even got rained on, although not a tropical downpour.
The laptop storage area is 13.5″ x 10.5″ x 1.25″ and the case itself is 14.5″ x 12.0″ x 4.5″. You'll find that you have a choice among three colors: green/silver, blue/silver and black/silver.
If you're looking for a laptop bag with a classy yet functional appearance, check out Spire's Viro Messenger Bag. Not bad at all!
So to review:
Pro: Well-designed, classy and functional MacBook bag that offers protection for your MacBook and does so with versatility and protection in its design. Provides storage space for the necessary MacBook accessories and additional paraphernalia. The bag also carries a Lifetime warranty against defects.
Cons: Really nothing to speak of that could cause one concern.
Highly recommended!
My Mac rating: 4 out of 5.