Photoshop Elements 6
Company: Adobe Systems Incorporated
Price: $89.99
Previous owners can upgrade for $69.99
(Check around on the web, as there are special deals with reduced pricing)
http://www.adobe.com
It has now been two years since Adobe last released a new version of Photoshop Elements for the Mac. The release PSE 6 at the end of March 2008, skipping an entire version number (5) marks the long awaited switch to an Intel-native version. So, did Adobe get it right?
I have been using Photoshop Elements since it first appeared in version 1.0. Photoshop Elements 6 still continues to provide users with amazing capabilities at a very reasonable price. For those users who can't afford to run out and buy the full version of Photoshop, PSE 6 still provides a lot of the same assets at a price that one can reasonably live with without having to take out a loan.
CHANGES
The first thing that a PSE 6 user is going to notice is the change to the user interface. PSE 4 and previous versions provided a clear, see-through to the desktop below. Not so with PSE 6 which comes to the user with a charcoal grey interface that totally blocks out the view of the desktop below. There is also just a feel to the change that just doesn't feel Mac-like when you first open it up and begin to use it. I know that it took me quite a while just to get used to it… and at times; it still gets to me as being non-Mac like.
Adobe has continued utilizing Adobe Bridge that first appeared in PSE 4, this time with almost a complete version taken from Photoshop CS 3. Adobe Bridge lets you rank and label your pictures, and also provides you with the capability to file, sort and arrange your items. You can inspect a hard drive for images or files using Bridge, find saved projects, stack files together under one thumbnail and even apply keywords. You can choose Adobe Bridge as your photo manager program or you can set it up that iPhoto is your main photo management program and that PSE 6 is your default photo-editing program. Adobe Bridge can also be used to browse through your own computer to find photos that you already have.
In Photoshop Elements, there are three ways to create and edit your images: Full Edit, Quick Fix, and Guided Edit.
The Full Edit workspace section contains tools that permit you to correct color problems in your photos, create special effects, and enhance photos. It basically permits the user to do anything with the image that they are working on. It is also adjustable to the user, allowing one to rearrange the section with palettes, moving to another area or providing multiple windows to work in.
The Quick Fix workspace section contains simple tools to correct color and lighting, and clickable commands to immediately fix common problems like levels, contrast, color and red-eye. I still like it that Adobe left the skin color correction tool within the product; it does work quite well to adjust skin tones. If you are a rookie or brand new to the world of digital imaging, Quick Fix is a good place to start learning the tricks of the trade. The Quick Fix capability is one of the premier aspects of PSE.
New to PSE 6 is the Guided Edit workspace section. This is like having a built-in tutor sitting with you at the computer. Select this section and as shown below, there are specific sections of work that PSE presents to the user. It will guide you through the process of what you wish to do with your image. For first time users, not familiar with PSE, this is a handy tool to have to work with until they get used to the process. As you work your way though the guided process, and you choose what you want to do, PSE will show the appropriate tool that you need to use, along with the necessary instructions, in the panel to the right side of the screen.
If you look at the picture above, you will see that the user interface is broken down into the three primary sections: EDIT – CREATE – SHARE. I've already gone over the EDIT section, so let's take a look at the CREATE side.
Click on the CREATE tab, As you can see, this section is further broken down into PROJECTS and ARTWORK. PROJECTS permits you to develop a PhotoBook, a PhotoCollage, a Web Photo Gallery or a PDF slide show. Additionally, you can also create a greeting card, a CD jacket, a DVD jacket or a CD/DVD label. Artwork lets you to deal with Content, further breaking it down and even being able to choose Backgrounds, Frames and Themes for your projects
SHARE. PSE 6 permits you to take your pictures and share them among friends, family and others online. You choose the type of project you want to create, select it and PSE 6 provides the necessary instructions on how to do so.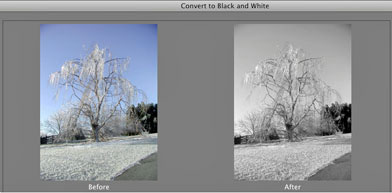 New to PSE 6 is that the Convert image to Black and White has now been moved to the Enhance menu as part of the drop-down menu selection. In PSE 4, you choose Enhance, Adjust Color and then Remove Color. You now have six choices to choose among: Newspaper, Portrait, Scenic Landscape, Infrared Effect, Urban Snapshots and Urban Landscapes; each with a before/after view. PSE 6 also now sports a Quick Selection tool, appropriated from PhotoShop CS3 that allows you to "paint" a selection onto an object using the familiar brush cursor. Working with the Black to White is quick and easy.
PSE 6 also sports the Adjust Color Curves command that permits a limited capability to adjust the individual highlights, Midtone Brightness and Contrast and Shadow Adjustments while you are working on an image. It allows the user to compare and choose different presets by selecting from the list of styles in the Select A Style box.
Still in PSE, an updated PhotoMerge allows you to blend photos together to take the best from each to create one "perfect" picture. You know how it goes when you want to take a family photo –someone has their eyes closed, someone looks off to the side in the next picture and someone else doesn't smile. You can take the best out of each picture taken to produce that one family photo with everyone looking just right. PhotoMerge Faces also permits the user to combine multiple facial features from different images to create one composite face, the "perfect face" if you wish.
While I don't use it myself right now, Adobe has increased RAW support that allows the user to apply different adjustments and presets to multiple images all at once. Basically, you can perform non-destructive editing on the raw image files from your digital camera, as long as your camera is supported.
To fully evaluate PhotoShop Elements 6, I've had it installed on a MDD G4 867 Dual running with 1.5 Gigs of RAM, on a G5 Dual 2 GHz running with 2 Gigs of RAM and on a MacBook 2.2 GHz running with 4 Gigs of RAM. All systems are running Mac OS X version 10.5.2. My own personal take is that PSE 6 just seems so much snappier and responsive on the Intel MacBook. So for those of you, who have been waiting for PhotoShop Elements to run on your Intel-based Mac, have no fear, it works great! I've also been working with PSE 6 as a beta and the GM version and I've experienced no problems with the final install. It did take over 20 minutes to install, so please be patient and things will work out fine.
System Requirements:
• PowerPC G4 or G5 or multi-core Intel process
• Mac OS X – versions 10.4.8 through 10.5.2
• 512 MB of RAM (1GB recommended)
• 64MB of video RAM
• 1GB of available hard drive space
• 1,024 x 768 display resolution
• DVD-ROM drive
• QuickTime 7 software required for multimedia features
• Access to Internet for Internet based services
Pro: Now runs natively on PPC or Intel-based Macs. Permits users to work with their digital images at a fraction of the cost of the full version of PhotoShop CS. For the new or not-demanding user, provides the flexibility to work with digital images and perform improvements, tweaks and adjustments to their satisfaction. PSE 6 does seem to run faster than previous versions. The capability of Before/After views is an asset for those not really sure of how things will work out.
Con: Does not have the full capability of PhotoShop CS. Backup capability of digital photos and other data is not available to Mac users. The non-Mac like interface may turn off some Mac users.
Recommended Software!