Most Macs Apple sells these days comes with a built-in iSight camera and microphone to allow for easy video chatting through iChat. However, if you get a Mac Mini or a tower, or you have an older Mac, you won't have a built in iSight. Don't give up, video chatting is still possible for you by following some (or all) of the tips below.
SETUP
Before any of this works you need an iChat login. You can use an AOL instant messenger name or a .mac name. Both of these are free. You can get an AOL name here. You can get a .mac name here. Sign up for a 60 day trial. Once the trial expires your .mac name will still work in iChat for free and for life.
If you want to be on the receiving end of a video chat and do not have to show the other party an image, you can receive audio and video without having those capabilities on your end. You only need iChat and an iChat login
CAMERAS
Apple no longer sells the stand alone iSight camera. If you want one of those be prepared to pay big bucks on eBay or some other auction site (even more then the pricey retail price when it was available).

There are other camera options out there for a lot less money. My parents use the IceCam by Macally. It works great and is very affordable. The picture is not the highest quality, but for basic video chat needs, it works great. A piece of software called iUSBCam from eCamm Network is required for the IceCam to work in iChat. It is only $10, but something to consider when pricing cameras.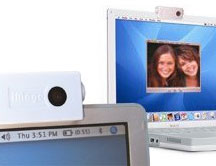 The eCamm Network also makes a USB camera called the iMage Webcam for $59.95. I have not tried it, but it looks promising.
These are only two of the many options available. When shopping for a camera the one thing to look for in the specifications is that it is Mac and iChat compatible. Keep in mind the cheaper cameras will probably be lower quality (check the resolution).
MICROPHONES
Just because you need a camera, you may not need a microphone. My parents have an Emac, which has a built-in microphone, but no camera, My grandmother has a Mac Mini, which lacks both.
Like cameras, there are several options on the market at different prices. The higher the price, the higher the quality.

My favorite microphone is Logitech's USB Desktop Microphone. You can find it for under $25 and the sound quality suits my needs for video chatting. It requires no drivers, which is great.
If you have an older Mac with a microphone jack (looks like a headphone jack with a picture of a microphone next to it) you can save even more money by buying a standard microphone with that connector.
OFF YOU GO!
You have your camera, you have your microphone, and you have your iChat name. All you need to do now is plug everything in, set up iChat, and find a few buddies. In the next Macspiration I'll talk about how to set up iChat.
Leave your comments below.
Note: Once you have all of the equipment needed you can use it in Skype, or other chatting programs. They do not restrict you to iChat.