EyeTV 3
Company: Elgato
$79.95 new users, $39.95 upgrade
www.elgato.com
For those that aren't familiar with EyeTV it is software that turns your Mac into a DVR with the proper hardware (I use a Miglia MicroTV). At Macworld EyeTV 3 was released, with a bunch of new features. Are the new features worth the price to upgrade? That depends on you. Read on to find out more.
The most obvious change in the new version of EyeTV is the look. It has more of an iTunes/OSX feel and a lot of eye candy. Part of this interface change is the ability to view your recordings in a Coverflow look. A nice touch.
Another change which I consider an interface change is the iTunes like controls that appear over what you are watching when you move your mouse over the image. I really like this change. It makes it a lot easier to find a spot in a show, or see how much time is left.

The editing screen has also changed for the better. The new interface makes the timeline controls larger and easier to manipulate.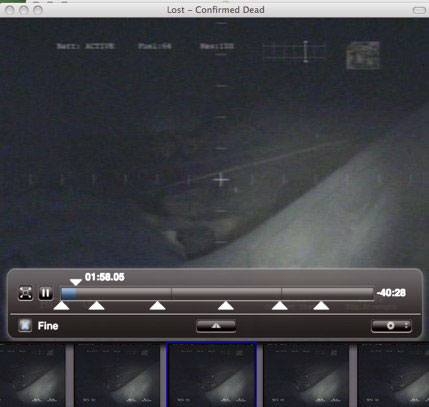 One of my favorite new features is the smart search. This applies to searching recordings and programming. For example, if you were looking for LOST you might get dozens of shows with the word "lost" in the title or description prior to EyeTV 3. Now you can specify a search for LOST on Thursday night on ABC. If you just know the network and the name of the show you can search for that. This is a great improvement.
Related to the smart search is the smart folder. You can now have iTunes like smart folders for your recordings. If you record a lot of programming this is a great way to keep those shows organized. Instead of making the folders and constantly dragging and dropping in new episodes, EyeTV can no dow it for you.
You can also share your recordings in more ways than one with EyeTV 3. You can share with other Macs on your networks that have EyeTV 3 installed, or you can share your programming over the internet to a computer, your iPhone, or iPod Touch. This is extremely easy to do, but a little time consuming to prepare the shows.
I tried it out via the internet feature and my iMac . It works great. EyeTV produces a link to your computer's library of shows. The link can be password protected, if you choose. You follow the link, find the show to watch, and click. The show plays in the browser.
As for exporting, you can still export to your iPod, AppleTV, iPhone, Toast, or just to your computer. I love this feature, I just wish it would be faster. Of course, speed depends on your processor and memory. There is even an iPod assistant for recording and converting VHS recordings to iPod format.
These are just a few of the improvements made to EyeTV 3. A lot of features to make a great program which is easy to use even easier. For a full list of features click here.
The question is are the improvements worth your money? That is a decision you'll have to make for yourself. After using the new version for several weeks now I don't know if I could go back to the older EyeTV. However, I don't know if I would call EyeTV 3 a must have update. You'll have to use this review, and other, to determine if it is right for you.