Fluid Mask 3
Company: Vertus
Price: $239
http://www.vertustech.com
The age of digital photography has transformed the way we take pictures. Using fabulous software such as iPhoto, it is a simple matter for any user to store, catalogue and keyword their photos on their Macintosh, and these photos can cropped and corrected for exposure and colour in seconds – adjustments that used to be only available to those dedicated individuals who had access to a darkroom of their own.
Not only that, but thanks to Adobe's Photoshop there is the possibility of radically amending your photos. Need to remove something protruding from your subject's head? The clone brush is your friend. Judicious use of filters can make your photos into an art exhibition. But there is a problem – to get the best out of Photoshop, you need to be an expert, a maven, to have cut your teeth on at least three version of the software. Any less experience than that, and your efforts may make your Photoshop adjustments look amateurish.
The true sign of Photoshop trickery is the use of the selection tools to cut objects out of a photo, place them on a separate layer and then isolate them from the background. If you have ever tried this as an occasional Photoshop user, it can be a tall order if the object or background is complex – hair is a particular problem, especially as most people who are not me have lots of it. It's not that the tools Photoshop offers can't cope with such things, but more that you have to really know how to make them hum in order to do the job. Recognizing this, Vertus offers Fluid Mask as a way for ordinary mortals to achieve professional results.
The software installs as either a Photoshop plugin or a standalone program – for the purposes of this review I used it standalone with Pixelmator as my layer-supporting photo editor. Once you load up Fluid Mask, and open a photo, the software begins to process the picture and marks up all of the edges it detects, overlaying it with blue lines and making it looked like a stained-glass window or a colour-by numbers picture.
You can then use the tools to mark up the parts of the picture that will either be included or excluded, with your selections being bound by the blue lines of detected edges. At any stage, the tabs above the workspace allow you to see the original picture unmarked or your current selection once it has been excised from the photo. The tools work like brushes in Photoshop, and it is simple to expand or contract the brush size and select an area to zoom in on for finer work.
Where Fluid Mask really shines, though, is the tools that are used to deal with complex edges. There is a set of blend mask tools, that allow you to define the edges of your cut-out. These edges are specially processed when cutting, with sharp edges being selected and fuzzy edges being intelligently smoothed in, ensuring that ugly sharp edges and bleed-through from the background just doesn't happen. But there is more – patch tools allow you to define areas of your photo that can have different edge processing than the rest of the photo, to allow optimal edge detection of difficult areas, and for the ultimate in control you can use a colour workspace tool to make specific selections by their colour for picking very fine pixel detail out from its background. Once you have your selection correct, it can be cut out from your photo and applied as a layer if you are working within Photoshop, or saved as a file to be loaded into a layer if you are working outside of Photoshop.
The end result is that you can make very good selections without rough edges much more quickly than with Photoshop's own tools. Take the following photo of myself and listener David, taken outside Moscone Center at Macworld a few weeks ago:
When I loaded it up into Fluid Mask, the software overlaid its edge detection onto the photo, and it only took me around 10 minutes to select myself and extract myself from the picture: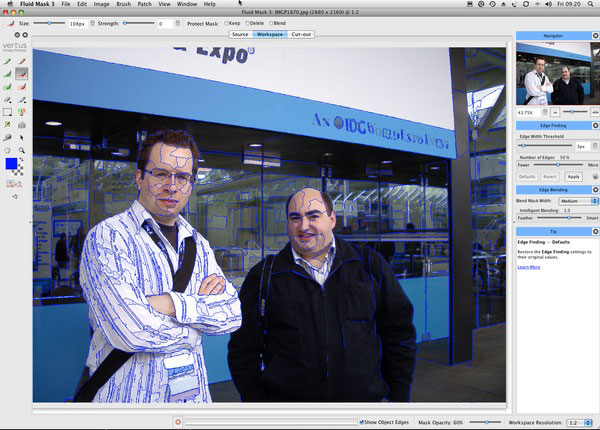 I then decided to travel 3000 miles to a hotel in Manhattan! I downloaded a stock photo of a hotel frontage from the web, and placed my masked image into it – and I think it is not a bad fit!
Fluid Mask delivers fantastic results. Vertus offer excellent support as well – the help system within the program is extremely comprehensive, and on their website they have further tutorials, videos and samples. It is a professional tool, delivering professional results, and it is priced accordingly – and as such it is not really suitable for the hobbyist, unless they are particularly well-heeled!. Nevertheless, if your photo workflow regularly involves much masking and creating cut-outs – say in a professional setting such as print media (who often have to adjust photos for editorial purposes), the time you will save and the quality of the results you will get mean that the price is actually a bargain.