Canon Pixma iP4500
Company: Canon
Price: € 77,75 (at amazon.de)
http://www.canon.de
Canon labels the Pixma iP4500 as a premium photo and document printer, and when I bought it in early January my main purchasing criteria was high quality photo prints and the ability to print on DVDs and CDs.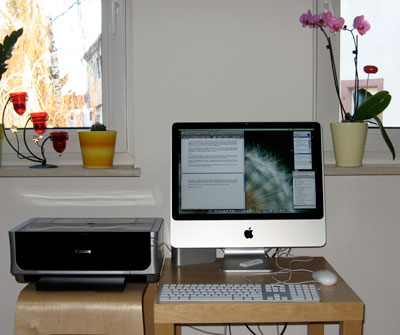 The printer itself looks tremendously stylish. Next to my iMac it looks as if the designers of the printer had been sitting in front of an iMac when coming up with the design. The printer looks great, which kind of is important as it is located together with my iMac in the living room. The only downside to the good looks is that the shiny black plastic attracts dust like a magnet.
One of the many up-sites to this printer is that it has two paper trays. The bottom tray sticks out about 10 cm (4 inch), when you expand it to hold A4 paper, but that is a small price to pay, considering that this way you do not have to store paper in the top tray. The top tray easily adjusts to hold all sorts of paper sizes from 4×6 photo paper to A4 or letter size. A button on the main unit lets you select the tray you wish to use and I found this a real benefit.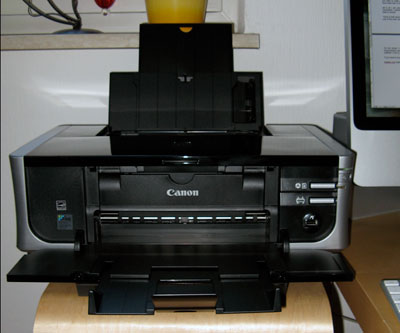 I like the printer driver, though I haven't a lot to compare it to. I find it easy to use and flexible enough to fulfill my beginner's needs.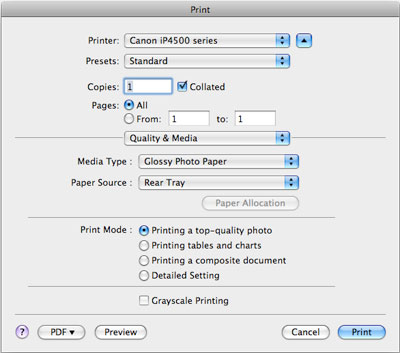 Photo Quality
Comparing photo quality is really hard, as I do not have a bunch of similar printers here, for which I could compare print outs side by side. So I will just simply say that the print outs I have made on glossy photo paper look stunning. So stunning indeed that we have a few of them hanging in our living room already.
The printer uses 5 separate ink tanks, which I am being told is good for photo quality, and i am happy to believe that. What it really means to me is that if one color is out, I can just replace that one color rather than an entire combined cartridge. In my opinion the environmental and bank account friendly option.
Placing a photo print out next to pictures I had "developed" by a popular German photo printing service I must say I personally would consider the Pixma iP4500 print outs almost a bit nicer, at least the smaller sizes, though it greatly depends on the photo paper you use.
The first photo paper I tried obviously wasn't of the best quality, I have to admit, and thus you end up seeing some tracks from where the printer transported the paper. That is rather unfortunate as it takes away from the otherwise superb impression the pure print-quality gives me.
Of course I tried better quality photo paper as well, and those tracks weren't there. So you will definitely want to invest in good photo paper to get the best prints, but I would assume you knew that already. I also find that investing in photo paper with a higher weight per square meter makes the prints feel more like "real photos", but again I would think that you all knew that already.
When printing a normal photo at A4 (about letter size) I notice a minute amount of striping in one area, but I need to get within a few inches of the A4 print in order to see the striping and it is only noticeable in an area of grey clouds. Looking at the image from a normal distance, I cannot see much of a difference. I printed that image last night and the first thing I am going to do is buy an A4 frame, that photo is going to hang in my office.
Black & White
We used the printer to print the inlays and envelopes for our wedding invitations, while black and white only, the speed with which these print outs were completed was purely amazing and the quality was perfect for my impression. Our friends and family were impressed to have professionally printed, yet personalized invitation cards.
In my opinion the result was extremely good and I would be hard pressed to find any fault with the output. Comparing it to my three year old laser printer, I would say that the quality was better and the print outs happened much quicker.
Speed
From a pure specification point of view the printer can deliver a 10×15 borderless photo in 9600×2400 dpi in about 21 seconds. Documents can be printed with a speed of up to 31 pages per minute (b/w) and 24 pages per minute (color).
Printer speeds are hard to really achieve, as they are measured under very specific conditions that we endusers normally don't see. I would think they are more a guide value than anything else and my impression of this printer is that it is quick, very quick.
Did I sit next to my printer and have it print a 30 page document to measure its speed? No I didn't. Did I stop the speed of printing a 4×6 borderless photo? Yes, I did, it took about 35 seconds, which is considerably slower, but when do you start to measure? When you push the print button, or when the printer makes its first noise of transporting the paper? I did measure from pressing the print button to finished photo and I don't think that speed is anything to complain about.
PictBridge
A nice feature is the ability to print directly from my digital camera. I have a Canon A700 which is PictBridge compatible and I plugged it into the printer just to see whether that would work. I was pleased to say the least – the print outs just worked and while I don't think I would trust my Mom to print a high quality photo from within iPhoto, I think that she'd have no issue getting it done this way.
This isn't going to be a feature, I am going to use every day, not even every week or month, but I definitely can see its usefulness.
Printing on CDs & DVDs
One of my requirements for buying this printer was that it should print on CDs and it does. You get a little plastic tray, in which you place the CD/DVD and you fire up the CD Label Print Application to design the label you would like to print.
While the print outs are of decent to good quality, I have a bunch of gripes about this particular feature.
The biggest complaint I have is the software not allowing you to adjust the inner circle to be smaller. The DVDs I bought have a fairly large printable area (see photo), but the software cannot adjust to this larger printable area and thus leaves you with a large white inner circle. I already adjusted the circle as much as was possible to reduce the remaining white area, but it is still rather disappointing to get your DVDs, see that they really look good, but still have that white circle in the middle. There is also a bit of white space at the outer edge, which is less than a millimeter and doesn't bother me too much.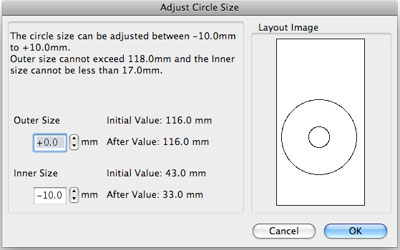 What you see here is that it tells you that the inner circle cannot be smaller than 17mm, but I can only get it to be 33mm. So text and reality just do not match up resulting in the following print out:
The software unfortunately is also not quite intuitive, no tool tips for icons for a starter. My first attempts at printing a DVD saw me resize an image to cover the entire disk, but when I printed this image to disc, the software seemed to have magically reduced the image and printed it much smaller than what it was showing me and thus left a very ugly white space on the disc. So while the software is pretending to be WYSIWYG, it really is more like what you see is what you might get (WYSIWYMG).
If you set a background image that problem isn't there and t works quite well, you get additional design elements like text, rectangle, circles and the lot – but all in all the CD Label Print software leaves me wholly unimpressed as "old fashioned" looking, difficult to use, not quite ready for more complex label designs and most importantly not quite flexible enough, where it does count.
All in all
I think it is tremendously difficult to evaluate a product you have purchased yourself. After all, if you bought it you want to make yourself believe that you made the right decision, objectivity can be hard to come by. I have tried hard to be as objective as possible, but I might be a bit harsh in my verdict.
All in all I am very happy with the printer. The print outs that I have shown to friends and family have impressed, I personally like both the photo and standard print quality. I am sure there is better, but I know there is worse.
There is that issue with the CD Label Software not being flexible enough and this I find annoying as it was one of the main reasons for purchasing this printer.
On the whole I am really happy with the printer and would recommend it to others. Is there room for improvement, yes there is a little, and I hope that Canon will address it as much as is possible with software updates. From a reviewer rating point of view – this is a very decent product, but also look at the competition.
If you were to buy this printer, I am sure you wouldn't regret it – thus I am happy to award:
MyMac.com Rating: 4 out of 5