Stationery Pack (for Mail)
Company: equinux
Price: $29.95
www.equinux.com
Mac OSX Leopard introduced email templates to Mail. There are templates for sending photos, sending notes on stationary, and more. If the standard Leopard templates are not enough for your emailing thirst equinux's Stationary Pack is for you. For $29.95 you get an additional 111 templates for your email. Yes, I said 111 times!
The templates in Stationary Pack fall into six categories: Business, Congratulations, Feelings, Invitation, Leisure, Sports (bonus points for the soccer template), and Vacation. The categories are divided into subcategories to help you find what you want. Some of these subcategories include Cats, Comic, Entertainment, and Food. The templates range from photo templates to templates that are stationary for sending notes outside the standard text email.
Installation is easy. You run the Stationary Pack software and you can install all 111 templates, or pick and choose what you want to install. Once installed, the new templates appear alongside the standard templates in Mail. Once in Mail they work just as easily as the standard templates. Drag and drop photos or just type over the default text.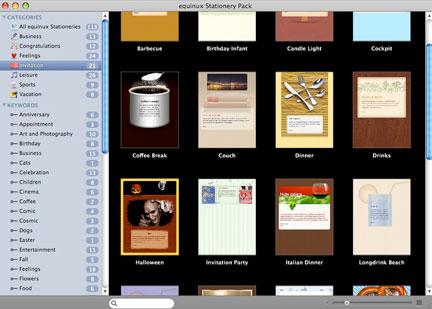 The templates could not be any easier to install and use.
So if you are hooked on using Mail stationary and want more check out Stationary Pack by equinux. There is a downloadable demo to try it out before you buy. The price of $29.95 might seem a little pricey for email templates. I think a $19.95 price would be ideal. However, for those who love email stationary will not be disappointed.