Octava 4×1 HDMI Switch with 4×1 Optical Audio
Company: Octava Inc.
Price: $274 ($294 with multiple cable options). Shipping included.
http://www.octavainc.com
I had a problem (I'm sure my brother, Guy Serle, would put that statement into the present tense…). I started putting together a home theater system with a 1.67 GHz Core Duo Mac mini at its heart. That's when I discovered I was short some inputs.
My A/V receiver, an Onkyo TX SR-803 receiver, no longer in production, has a number of inputs, including two HDMI (high definition multimedia interface), but as I was doing some upgrades to my home theater, I found I needed at least one more. My HDTV, a Panasonic PT-50DL54 50 inch DLP rear projection (also no longer in production), only had one HDMI input, so there was no help there.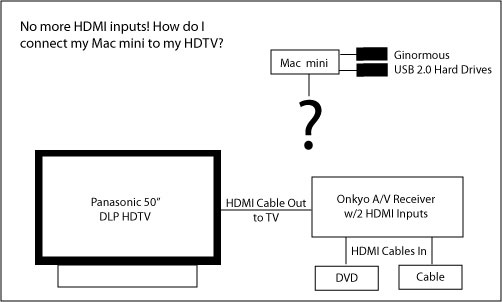 The goal was to connect my Scientific Atlanta HD cable box, my upconverting Panasonic DVD Recorder/VCR combo device, and my Mac mini to my home theater, using their digital outputs. The DVD and cable boxes had HDMI, and the Mac mini had a DVI (digital video interconnect). Because the Mac mini's DVI connector does not provide audio connections, I needed to make use of the optical audio (TOSLINK) connections available in each device.
I did some serious Google searching and came up with several devices, but after much study, I decided on the Octava 4×1 HDMI Switch with 4×1 Optical Audio device.


Octava 4×1 HDMI Switch with 4×1 Optical AudioFront View

Octava 4×1 HDMI Switch with 4×1 Optical AudioRear View
This device is an electronic HDMI/Toslink switch box, compatible with the latest update to the HDMI standard (1.3), which supports 48-bit color and up to 6.75 gigabits per second data transfer rate, making it fully 1080P-compatible by a wide margin. It also offers a proprietary HDMI signal enhancement called Clear EYE that permits longer runs of HDMI cables without signal degradation in more complicated home theater systems. What does this mean? Clear EYE and ISI reduction enhances and "repairs" the digital signal so that it is as clear at the HDTV as it is at the source.
The Octava 4 x 1 switch also includes Smart SCAN technology that automatically switches from source to source as they are powered on. In other words, if you are watching content from your cable box, and you turn on your DVD player, the Octava 4 x 1 switch senses this and automatically switches to that input. It also comes with a remote control that lets you manually switch between inputs. That remote control information is in the Logitech Harmony remote control device database, so if you have one of those neat remote controls, you can easily integrate the Octava 4 x 1 switch into your Harmony remote control automatic programs.
Construction quality is top-notch, if a bit…well…industrial in look. It's powered by a ubiquitous wall-wart that at least remains cool to the touch.
Price for this admittedly specialty device is $274 for the box and one Toslink cable, and shipping is free. For just $20 more, you can add one of several cable options:
* 4 6-foot HDMI cables
* 4 HDMI to DVI cables
* 2 HDMI cables plus 2 HDMI to DVI cables
* 3 HDMI cables plus 1 HDMI to DVI cable
* 1 HDMI cable plus 3 HDMI to DVI cables
As you can see from the admittedly amateurish graphic below, I was able to handle all the switching of digital A/V sources from one device. The only issues both centered around the Mac mini… As I said above, I needed a special DVI to HDMI cable, which I got with the third option above (3 HDMI cables and one HDMI to DVI cable) for the bargain price of only 20 bucks. If you've shopped for these cables at a "big box" store, you'll understand what a bargain this was. Usually, the "big box" stores try to soak you for $100 or more per cable. Don't get ripped off! The other special cable I needed was for the Mac mini's optical digital output. I found the special Toslink to mini Toslink cable adapter at a local computer flea market, but you should be able to find one for around $20.00 from Amazon, or RAM Electronics. The mini Toslink connector plugs into the 3.5 mm audio out jack on the mini (which also puts out standard analog audio if you use a regular 3.5 mm audio plug), and conducts the digital audio information optically to your optical audio input of the Octava 4 x 1 switch and from there, on to your audio receiver's optical audio input (the one with the rubber flap).
Now, I can go back and forth between my cable box, my upconverting DVD player, and my Mac mini, and still have a spare input for one of the new high definition disk players or a high def video game.
For me, the $294.00 investment was well worth it. It was cheaper than a new receiver (contemporary home theater-class receivers from Onkyo and Denon, for example, have 4 HDMI inputs, but start at around $1,700!), and does the job for which it was designed silently and reliably. Can't ask for more than that!
Note that there are other switches out there that just switch HDMI signals for a lot less money, but if you need the addition of optical audio switching, this, for me, is the best one out there. I'm taking .5 off the rating only because it isn't exactly the most stylish device out there, which might cause some resistance from the aesthetics committee.
Octava 4×1 switch photos and logo by Octava Inc. Block diagrams by Larry Grinnell.