Apple AirPort Extreme Base Station
Company: Apple
Price: $179
http://www.apple.com/airportextreme/
Quietly introduced at Macworld Expo in January, Apple's new AirPort Extreme Base Station with 802.11n is a big leap forward but leaves a couple things behind. I was able to borrow one for review courtesy of First Tech Computer in Minneapolis, an Apple Specialist.
The new AirPort Extreme Base Station has several firsts for Apple:
• 802.11n support for up to 5 times the throughput of 802.11g
• use of the 5 GHz band for 802.11n (which also uses 2.4 GHz) and 802.11a
• MIMO (Multiple In Multiple Out) antennas for range up to twice as far as the previous model
• support for multiple USB devices with a USB hub
• Mac and Windows file server protocols with an attached USB hard disk
• built in 10/100 Ethernet switch with 1 WAN input and 3 LAN ports
• all new software, including a new combined setup/admin utility, AirPort Utility 5.0, and the new AirPort Disk Utility
Open the box and you will find the base station, and underneath it the power adapter, CD, and documentation. You must install the AirPort software from the CD as the AirPort Admin Utility and the AirPort Setup Assistant included with Mac OS X 10.4 and earlier can not configure the new AirPort Extreme. The new AirPort Utility 5.0 can setup and administer the older AirPort Extreme and AirPort Express, but not the earlier white and graphite colored 802.11b AirPort Base Stations. Installing the software will not remove the older utilities. Also on the CD are updated AirPort drivers for Core 2 Duo and Xeon based Macs (excluding the current $999 iMac) that will enable 802.11n connections, and the new AirPort Disk Utility which looks for and mounts connected hard disks.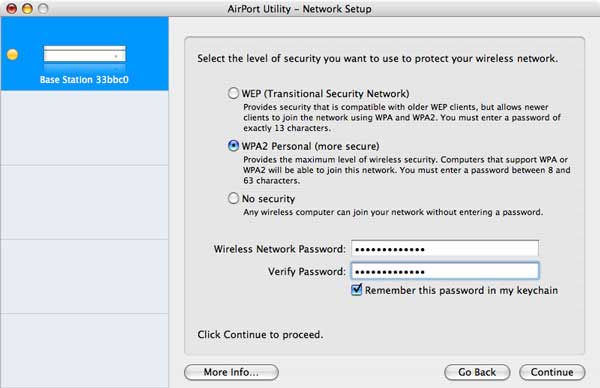 AirPort Utility 5.0 steps you through the configuration process with ease, but the initial setup only covers networking and the internet. To configure features such as shared USB printers and hard disks and advanced networking, select the base station on the left and go to the Base Station menu and choose Manual Setup. The AirPort and Internet sections hold the same items as the assisted setup. The Printers section is used to configure shared USB printers and the Disks section is for setting up Mac and Windows file sharing with a connected hard disk. Advanced networking features such as port mapping and Bonjour are contained in the Advanced section.
Printer setup is basically the same as the previous 802.11g AirPort Extreme. Connect the printer and turn it on configure the options in the AirPort Utility. The AirPort Extreme uses Bonjour to make the printer known. Windows users will need to install Bonjour for Windows, downloadable from
Apple. Both Mac and Windows users also need to have the printer's driver software installed. The base station can also be setup to share the printer over ethernet.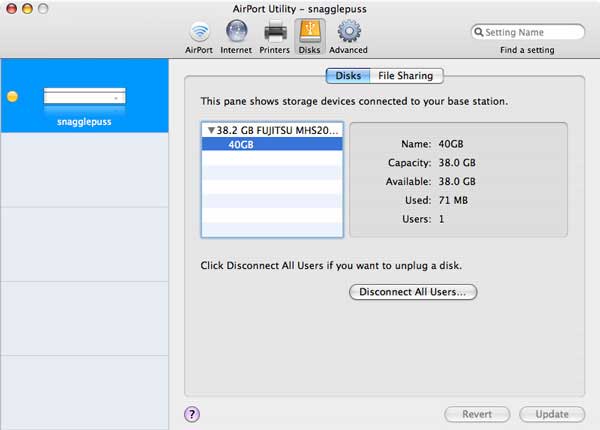 Hard disk setup is just as easy. Either a Windows or Mac formatted disk can be used, but it's best to use a Mac formatted disk. The AirPort Extreme's built in file server supports both Mac (AFP – Apple Filing Protocol) and Windows (SMB – Server Message Block) file sharing, which is configured in the File Sharing tab of the Disks section in the AirPort Utility's manual setup mode.
Previous generations of AirPort provided for a modem for those who are either unable to get broadband internet. That feature has been eliminated in the current model. I did connect Apple's USB Modem, but the AirPort didn't acknowledge it. The only USB devices supported are printers and storage. This could be an issue for those living in rural areas who are unable to get cable or DSL. It would have been nice to see support for the Apple USB Modem.
Also eliminated in this AirPort Extreme is the previous model's antenna port. This was brought about by Apple's adoption of MIMO antennas, which use spatial multiplexing to increase the bandwidth by creating parallel data streams. Multiple antennas with a higher signal to noise ratio also result in increased range, eliminating the main use of an external antenna in the previous model.
Overall, this is Apple's best AirPort base station ever and I rate it 4.5 out of 5. It doesn't support AirTunes like its little brother, the AirPort Express, but it does everything else and more than its predecessor. My only disappointment is the lack of support for the Apple USB Modem. Although few, there are probably those who would really need it.
Pros: Built in file & print server, supports every 802.11 protocol, 3 built in Ethernet LAN ports, smart MIMO antennas, faster throughput, increased range.
Cons: No support for Apple USB Modem. Price could be a bit lower.