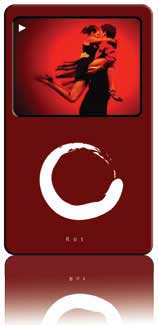 Zozen iPod with Video Case
Company: Zofunk
Price: $24.95
www.zofunk.com

There is a fine line between form and function – a line that as fans of Apple products we know well. We are used to seeing exemplary industrial design in our computers and MP3 players that provide an experience that really works well but also looks good.
This provides a challenge to manufacturers of accessories for Apple gear, especially cases for iPods. Should they cover those designer lines in the interest of functional protection, and potentially compromise Apple's designs?
Zofunk have adopted a compromise approach with their Zozen case for the iPod with Video. The case is a minimal impact design of very thin silicone rubber, that avoids adding bulk to the lines of the iPod. They are available in a variety of colors, and form an all-in-one covering with only the headphone and dock ports uncovered. You slip the iPod in through the open screen area in the case, and Zofunk provide a clear screen protector for this area once the case is on.
There is no cutout for the click wheel – instead, the Zozen denotes this using a stylized swoosh design – with the colour of the case denoted in German underneath, for some reason. I found that having the click wheel covered was not much of an impediment to its operation.
As a further inclusion in the box, there is a set of silicone rubber covers for your iPod headphones that match the colour of the case. At face value, this is all good – the case is stylish, does not bulk the iPod up, and has appropriate accessories. However, I found that in actual use, the Zozen fell short of my expectations.
The screen protector provided is only just big enough to cover the iPod's screen. This makes placing it dead centre crucial – and Zofunk do not provide any directions on how to fit the protector. Once you have it all together, you find that the thinness of the case's silicone rubber mean that it is far too easy for the edges around the screen to get pushed away, admitting dirt and dust. This is especially frustrating given that the silicone rubber used is that low static type that does not attract dust itself, making that mess that appears around the screen especially obvious.
That thin rubber causes another worry – should the iPod be dropped then it has little more protection than if it had no case at all. Its flimsiness means that a drop could also push it away from the screen, again exposing that area of the iPod to scratch damage.
So, to summarize, the Zozen is a good looking case, but not a particularly good case. I wouldn't recommend it to protect your iPod – though if you really like it's aesthetics, it might appeal to you. But if you are a lover of aesthetics, shouldn't you leave Apple's designs as they are?