VisualHub
Company: Techspansion
Price: $23.32
www.techspansion.com
Watching videos on your computer, iPod, AppleTV, or any other device should be simple. Unfortunately, with so many choices in video format, watching videos can be a royal pain. Trying to remember which device can play which format is not fun. And while there are plenty of other video conversion tools for the Macintosh, I haven't found any that offers either the ease of use or the depth that VisualHub does.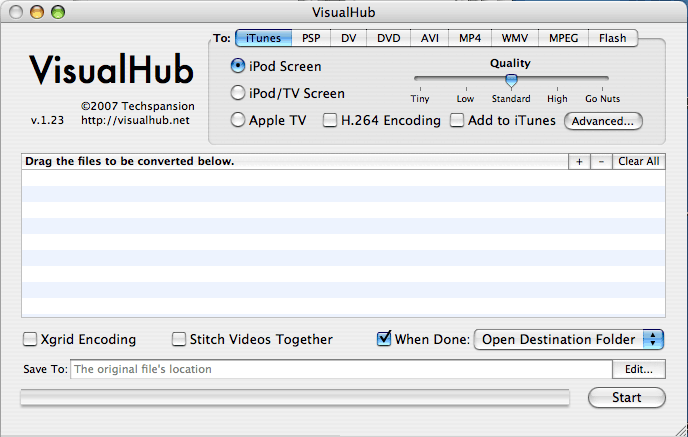 VisualHub solves the problem of converting video formats in a very simple, intuitive interface. At the top of the screen, you simply click the button you want to convert your video to, including iTunes, PSP, DV, DVD, AVI, MP4, WMV, MPEG, and Flash. You have a simple sliding bar for quality, which ranges from Tiny to Go Nuts. (That would be large) Depending on which button you click to convert your video file to, you are presented with more choices for your conversion. For instance, if you choose iTunes, you can then click iPod Screen, iPod / TV Screen, or AppleTV. You can also have VisualHub use H.264 Encoding, as well as automatically send the converted file to iTunes.
Many people use the PSP (PlayStation Portable from Sony) to watch movies. It has a larger and better screen than the iPod, much more suited for watching videos. (UMD notwithstanding). VisualHub can make the converted video an Anamorphic 16:9, which would fill the entire PSP screen.
DV conversion can be done to either NTSC or PAL formats, as well as making the file Final Cut ready. (Also works best with iMovie).
Converting a video to DVD gives you the option to actually author as a DVD and burn the disc in either PAL or NTSC.
The AVI output allows you assign a built-in profile to your video, which includes DivX Home Theatre, DivX Portable, Simple, Best Compatibility, and even Nintendo Wii. MP4 conversion allows for fixed 320 pixels mode, "Hint for Streaming" if you plan on posting the MP4 video online, and H.264 Encoding for better quality.
The only simple option for converting to a WMV format is forcing 320 Pixel Width. Then again, why would you really want to use WMV format?
MPEG format allows many options, including MPEG-2, and profiles that include VCD, SVCD, CVD, TiVo, Transport Stream, 720P, and 1080i. (What, no 1080P?) If you plan on watching MPEG videos on a consumer DVD player that supports these formats, you will be spending a lot of time in the MPEG section. All the videos people are watching on YouTube are in Flash format, the VisualHub will convert to that format as well.
There is an Advanced setting for each of the above video formats. This is for video experts, and in fact the first thing you see when you click the Advanced button is a message that reads "Don't! You'll screw it all up!" But it's here under the advanced button that you will find the real hidden treasure-trove of features VisualHub offers. Want to Crop your video? You can do it from the Top, Bottom, Left, and Right side. If you want to De-interlace your video, you can. You can force a preset size, such as 480X600. You can change the Bitrate, or force your video to fit a certain size, such as 700MB. There is also an option to force decoding of your video to QuickTime, FFmpeg, or even the ever-popular VLC. Want to change the Frames Per Second (FPS)? You can.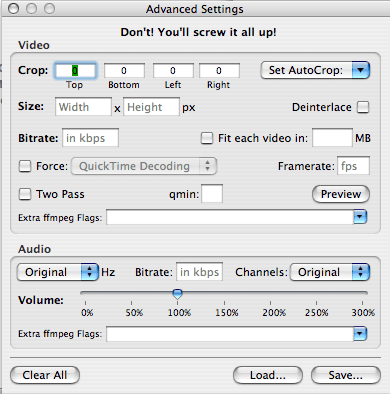 My favorite advanced feature, however, and about the only one I dare use, is to change the output volume. You can go from 0% (silent) all the way up to 300% of the original volume of the video you are converting.
Once you have determined the format you want to convert your video file to, you simply drag it onto the open VisualHub window, and go have a sandwich waiting for it to be done. VisualHub does batch conversions as well, so that if you have a couple of videos you swiped from YouTube you want to convert and send to iTunes, you just drag the lot of them in.
There's even an option that will allow you to determine what happens after VisualHub has converted your videos. Say you have a bunch of QuickTime videos you want to convert to Flash, but it's a task best left to do overnight. You don't want to leave your Mac on all night long after VisualHub has done its thing, right? Simply click the "When Done" box, and choose from a list of options, including Shut Down Computer, Set Computer to Sleep, Quit VisualHub, or even to Open the Destination Folder of your converted videos.
During the encoding process, you do have the option to both use Xgrid Encoding and, if you are converting multiple videos, to have them stitched together as one large video file. This is handy if, say, you have downloaded the latest Amazing Race episodes in four parts, and want to watch them from start to finish without having to manually start each video.
I'm very pleased with VisualHub, and can easily understand why it has won as many awards as it has, including Playlist Plays of the Year, a Macworld Eddy award, and the most prestigious of all, the "This is one cool Mac Application" award from me! Or "This is the application to show your Mac-hating PC friends!"
I love this program; it's simple to use and works very well.