moshi Nano Pouch
Aevoe Corporation
Price: $20.00
www.aevoe.com/moshi
Moshi, purveyor of electronics fashion, is a company looking towards quality and utility.
With an eye for fashion the company is quickly establishing itself as the "go to" makers of protective products for computers as well as other electronic devices, such as this wonderful little Nano Pouch I now have protecting my iPod Nano.
The pouch comes in three designs, one tailored for the Nano, one tailored for the iPod mini as well as one for the Video iPod. My Nano slipped perfectly into the protective embrace of the pouch, which is lined with a micro-fiber fabric called Terahedronâ"¢. This Micron-sized fibre, says moshi, will not scratch the handset, has an anti-static and splash-proof surface treatment, is free of chemical treatments, and is machine washable (cold wash, no bleach, delicate cycle). The anti-static feature will keep your iPod free from electrical discharge.
There is a small pocket designed into the side of the pouch which will stow your earbuds snugly and securely. The pocket is tight. I had to work a little to get my earbuds into it, but they fit. I doubt they could fall out very easily, if at all.
The top of the pouch has a reinforced metal ring drawstring to keep your iPod securely in the pouch.
For even more convenience use the included adjustable tube lanyard to wear your iPod around your neck while you listen to your favorite tunes. The spring-loaded clip attaches easily to the drawstring and keeps everything where it's supposed to be.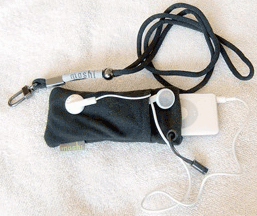 It seems to me that moshi has done its homework in designing the products they offer. But I wonder if they gave any thought to a Shellcase for the iPod, much like their excellent Codex Shellcase made for the MacBooks. It could be made light and small enough to keep it very portable, but would offer a level of protection against crushing and the thrashing that iPods are sometimes put through — a level not afforded by the soft iPouch. Just a thought.
In real-world experience moshi's products do their job and, at the same time, look good. I like the design and construction of the two products I've reviewed so far. They may not be the cheapest game in town, but then, they're not trying to be. They're trying to be the best at what they do while keeping the prices within the reach of most users of electronica. I say, "Keep up the good work." It's refreshing to see a company that creates products which are nice to look at as well as practical.