Recently, a coworker had problems downloading email attachments from Thunderbird. The program wanted to save the file to the Desktop of another user on the computer. I searched through Thunderbird's preferences numerous times for a download location and I could not find anything that would fix the problem. I figured it was a Thunderbird bug. Then I was in Safari's preferences and found what I was looking for.
You see, Safari is the control center for several internet related actions. Instead of putting these actions in a System Preference (which would make sense) Apple has these settings hidden in Safari. These settings are your default web browser, where to save downloaded files, and your default rss reader.
DEFAULT WEB BROWSER
I have never been a fan of Safari. I like Camino. Some people prefer Firefox. Firefox and Camino has built in settings to make these browsers the default browser on your computer. However, not all versions of these programs have this settings, and not all browsers have these settings. For those browsers that don't have these settings, you can change the default browser in Safari. To change the browser open Safari and open System Preferences. Make sure you are in the "General" preferences. At the top of the window you will see a pull down menu for your default web browser. Any web browser on your computer will be listed here. Pull down the menu and pick the one you want. If it is not listed, choose "Select…" and navigate to the browser you want to use, and click "Select."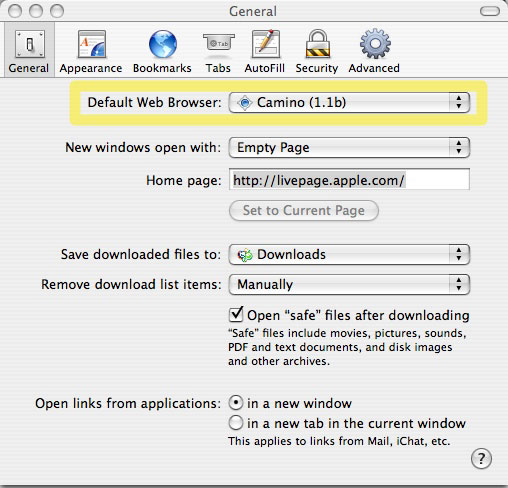 Why set a default browser? Well, you can always open any browser you want to use, but if you have a link in another program (like an email program) you need to tell your Mac what program to open the link in. If you don't change this setting, whenever you click one of these links Safari will open.
SAVE DOWNLOADED FILE TO
About halfway down the the General screen of the Safari preferences you'll find the setting to tell the computer where to save downloaded files. Once again, many programs have this setting, and Thunderbird actually has this setting. However, for some reason this setting in Safari was overriding the setting in Thunderbird. To change this setting click the pull down menu and choose "Other…" Navigate to the folder you want to choose and click "Select."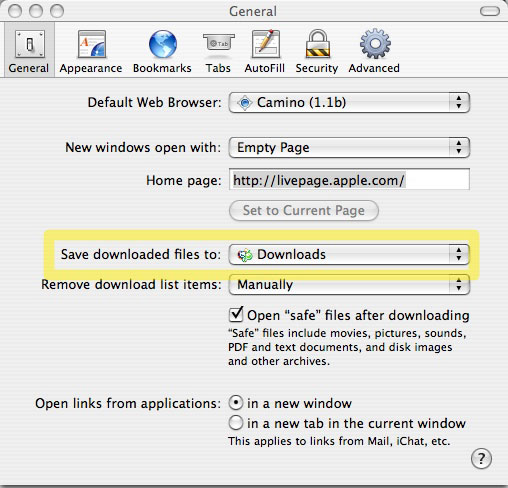 SET YOUR DEFAULT RSS READER
Many people don't even know what RSS is. Actually, I don't really understand it completely, but I do get RSS feeds in NetNewsWire. The RSS feeds I get have headlines from different websites and a short description of these headlines. Safari can read RSS feeds also, so can Firefox, and other programs. To change your default RSS reader from Safari to another program you want to go to the RSS section of the Safari preferences. Right at the top is another pull down menu where you can choose your default RSS reader just like you choose the default browser.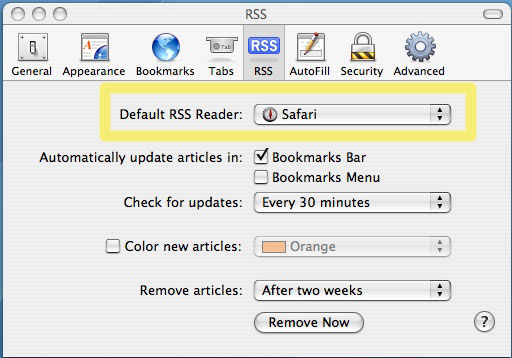 On a final note, you can set your default email program in the general preference section of Mail.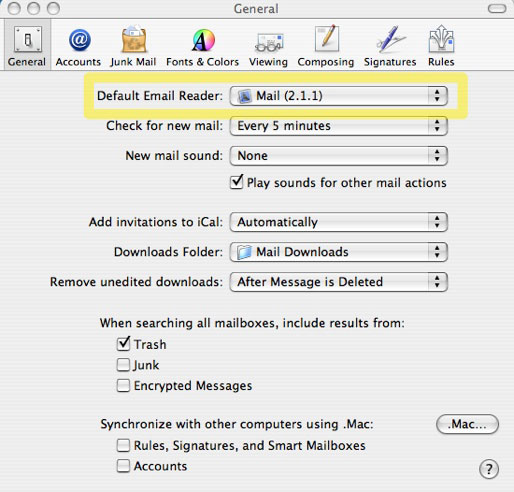 Maybe Apple will make this less confusing and make a new System Preference in Leopard.