Macally External Li-ion Battery for iPod
Company: Macally
$49.99
www.macally.com
Do you go on long trips and never have enough battery life for your iPod? If so, the Macally External Li-ion Battery for iPod is for you.
The Macally External Li-ion Battery is an external battery source for the iPod nano, iPod 5G, iPod Photo, iPod with color display, iPod 4G, iPod 3G, iPod Mini, and iPod shuffle. It is a black box about the size of the current 60GB iPod, but it weighs a lot less.
The battery has a standard USB port for connecting your iPod via the USB iPod cable. If you have an iPod Shuffle, the iPod connects directly to the battery through this port. There is also a port for an AC/DC 5v adapter (not included) for charging the battery, a mini USB port for charging the battery with the included USB cable, and an on/off switch.
The top of the unit has three battery level indicator lights which are activated with the "Check" button. The battery also comes with a nice storage case which has individual pockets for the battery and cable.
As I just mentioned, the battery is charged by plugging it into a USB port on your computer. A USB port on a hub works also. I would imagine that it would also charge fine through a USB charging block you might use for charging your iPod. As I mentioned above, the battery has a port for an AC/DC adapter, but the adapter is not included.
Once charged the battery status light blinks letting you know it is ready to go. It takes several hours to charge the battery.
The battery then connects to the dock of the iPod with the same USB cable you would connect your iPod to the computer with (iPod Shuffles plug right in). An extra cable is not included, so you'll have to take the one you have off your computer, or purchase an extra one.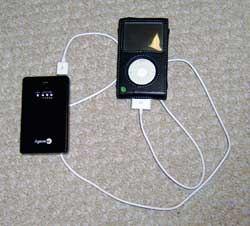 While connected to the iPod, the battery acts as a power source. It will charge your iPod whether in use or not in use. You just have to make sure the battery is turned on. This is a nice feature of the battery. The on/off switch prevents the battery from draining when not in use.
Now onto the important stuff. How does it work? The battery is AMAZING! It performed much better than I expected, and much better then the specs on the packaging (3x more battery life).
When I started using the battery I decided to really put it to the test with the video feature of my 30GB iPod. I normally get 90 minutes to 2 hours of battery life watching video. I figured if I could get 6 hours of video with Macally's battery that would be great. I didn't get six hours of battery life, I got FOURTEEN hours! Yes, I said FOURTEEN hours! That is twelve hours while connected to the external battery, and an additional two from the fully charged iPod after disconnecting the battery. Translate that into a proportional amount of time of only listening to audio on the iPod, and I could be listening to my iPod for close to ONE HUNDRED HOURS without having to charge at a computer or wall outlet.
Of course, the amount of hours will vary depending on the iPod you are using. My old Mini only got four to six hours of battery life, so the amount of extended time with this battery would be a lot less. However, I imagine it would still work great.
As great as the battery is, I do have a couple of minor complaints. It would be nice to have some kind of method to attach the battery to the iPod. A velcro strap would be an inexpensive solution. Since the battery is about iPod size, having the iPod, the battery, and the cable connecting the two can be a little cumbersome and clumsy, especially on an airplane, for example. On that same note, how about a six inch cable for connecting the iPod and battery together?
I'd also like to see an AC/DC adapter included with the battery. Even if it added five dollars to the price, it would be worth it. Not everyone has a computer with them for charging the battery when they go on a long trip. You might say that you could use a wall charger for charging the battery. This is true. However, you first need a wall charger. Second that wall charger has to be USB. I have a wall charger, but it uses a firewire cable from my old iPod, and the battery does not have firewire support. I don't want to go out and by another one. Including an AC/DC adapter would eliminate the need to even bring an iPod charger with you, because you could charge it from the battery. The External Battery has such a long battery life, that you may not even need to charge it during a trip, but it would be nice to have that option.
Even with these minor complaints, the External Li-ion Battery for iPod is a fantastic product. It might seem pricey at $49.99, especially with cheaper external battery options out there. However, most of these options require standard batteries for power. Eventually, the cost of those batteries will add up and could pay for this battery.
If you are a constant traveler and take your iPod with you, especially one with video, I highly recommend this product.
MyMac.com rating: 4.5 out of 5
Pros:
Hours and hours of extended battery life for your iPod
Light weight
Comes with storage pouch
No need to constantly purchase batteries to use
Cons:
No means to attach to iPod
No AC/DC adapter included
It would be nice to see a mini USB-Dock cable included