iPlayMusic Beginning Guitar Lessons DVD
Company: iPlayMusic
Price: $49.99 US
http://www.iplaymusic.com
Learning to play a musical instrument is difficult enough with the help of a paid instructor's weekly lessons. How is a person, young or old, supposed to acquire basic guitar skills via QuickTime video computer lessons and on-screen chord charts?
iPlayMusic's Beginning Guitar Lessons (iPM/BGL) is the best instructional method we've seen at MyMac.com for learning instrumental basics. eMedia Music, the established competitor, will need to work on its chops in order to regain top spot on the tutorial charts.
Installation of the 7.36GB iPM/BGL lessons files took half an hour on my G4 iBook 1.33 GHz with 768MB of memory. Three folders reside within a new iPlayMusic folder inside Library -> Application Support; one each for Garage Band, iPod, and Videos. Yes, you can enhance and amend the included lesson songs within Garage Band, and you can export tutorials and tracks to your video iPod. Neato! This is a Mac application all the way, with plenty of research and planning done before a line of a code was written or a video was shot.
iPM/BGL's main instructional window utilizes a one-up+three-down split panel, and the upper section often breaks into four parts, having three dynamic and one static view of the teacher's finger position: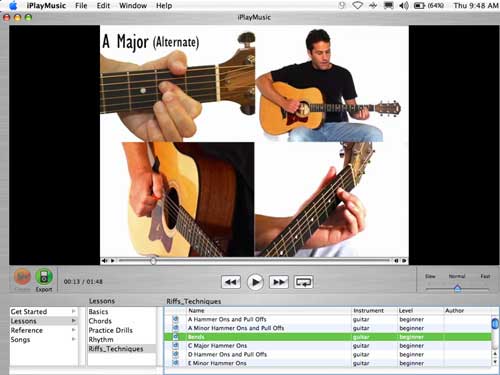 The company provides full demonstration of what's what in their comprehensive intro. On this same web page is an explanation of the software, with links to free !! lessons for an extensive test drive of how iPM/BGL plays in real time. Bravo!
Core lessons take place in 79 consecutive "Get Started -> Step-by-step Guide" short movies. Each one can be adjusted "Slow-Normal-Fast," as you wish, but my humble iBook struggled with these timing alterations. Audio and video quality are first-rate, as is the straightforward method used by iPM/BGL's instructor. Additional "Practice Drills, Rhythm, and Riffs_Techniques" are in the "Lessons" section. Chord Charts, GarageBand Tips, and a selection of old faithful songs (some being too old and faithful for many younger learners) complete the package. This is a lot of valuable material relative to iPM/BGL's pricing and quality.
Stewart Putney, CEO of iPlayMusic, tells Mymac.com:
"We do offer downloadable song lessons and we update the song library, John, so we will have newer songs available over the next few months. Our software is on sale in Apple Stores (retail and online) now.
"We do have a kids / family guitar product called "Play Music Together". You may already have it, but if not, there is a demo page on our site, at: http://www.iplaymusic.com/kids-demo.html. It uses the same software platform, but with kid / family content."
Where iPM/BGL excels is in three-variation examples of the aforementioned tunes: one each for "Full Song," "Guitar Only," and "Jam Track." Here you can play along with two versions of the guitar accompaniment by the video instructor and/or an excellent singer, all using a follow-the-bouncing-ball continuous stream of chords and lyrics. This is difficult to describe, but exciting to experience. Then you can send any track to Garage Band, for your own creative additions, and finally export the whole works to your video iPod. Double bravo.
(I didn't try the Garage Band or iPod transfers. I'll look into them during subsequent reviews of this company's products. I don't have adequate hardware available while completing this first-look evaluation. MyMac.com welcomes your comments on both features in our Article Discussion area below, that has free registration for all readers.)
Let's get honest. You must practice! I've been playing and teaching basic and intermediate guitar for (groan) over 40 years, and there is still no substitute for daily 20+ minute practice sessions. There are no guarantees with any musical method, but if you apply yourself continuously to this or any competing video instruction, you'll soon progress from newbie to dedicated beginner.
Their try-before-you-buy freebies will give you more than a taste of what's ahead, and the modest price is less than two home lessons by Nemo or another decent pro instructor. A friend or family member with any guitar experience whatsoever can give you some personal hands on advice, and this video software will excel in any group or individual situation.
MyMac.com applauds iPlayMusic, and congratulates them on achieving our highest 5 out of 5 rating for Beginning Guitar Lessons. Let's hammer on, and bend some harmonics with a swing feel. Then we can rock!