handle-it
Company: Case-Mate
Price: $49.99
http://www.case-mate.net
You MacBook Pro and PowerBook owners need to get a grip.
On your laptop, that is.
I've owned various and sundry incarnations of Apple laptops, starting with the PowerBook 100, and the only times I've had near-drop experiences has been while carrying them around. I've never had slippery fingers when taking the computer out of the carrying bag. But I've had several exciting experiences while toting my mobile Mac from room to room.
I've been using a review copy of Case-mate's handle-it (why do both the company name and the product name use hyphens?) for a week, and love it.
handle-it is a convenient carrying handle that attaches to the hinge end of your MacBook Pro or PowerBook with four screws. Case-mate includes the proper screwdriver. Simply remove the four screws from the bottom case, hold the handle in place, and screw in the four screws from Case-mate. If this is too complicated for you, then you probably can't run a can opener.
The handle is hinged, so it folds under the computer to equally well as a stand to raise the bottom of the laptop 3/4″ off whatever surface you're working on. MacBook Pro owners especially will like this, as raising the laptop helps air circulate under the computer, and keeps this hot-running computer a bit cooler.
When installed, you get a hinged handle that allows for easy and secure carrying, and it doubles as a stand.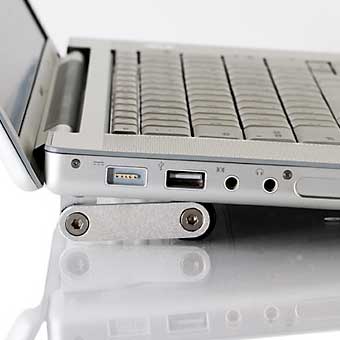 The only problem I had was that one of the two hinge nuts had come off during shipping. I screwed it back on, and it's been fine ever since.
For those who also use carrying bags, the addition of the handle-it did not interfere with the MacBook's fit in my 15″ Brenthaven carrying bag.
There's really not too much more to say, save that this is a good piece of gear!
Handle-it follow up.
In a curious display of synchronicity, I got the following email from my contact person at Case Mate (the handle-it distributor) about the same time as I began having problems with my handle-it attachment nuts coming loose from time to time. A broken handle could cause real damage to an expensive laptop.
"On the 15″ handle-it, since we sent out our review samples, we have made one change. We noticed in the first batch, with use, the screws tend to loosen. While they can be tightened with an allen wrench, we have since incorporated a special tightening solution into our production of handle-it. If for any reason, you have a problem with your handle, we would be happy to send you a new one."
The note went on to say that Case Mate would be sending out new handles free of charge to owners of first-generation handles.
That's fine customer service! Kudos to Case Mate.