Nemo's Ten Point Tutorial #3
"Record Audio Feedback for MyMac.com Podcast, Using Audio Hijack Pro"

Tim and Chad keep asking for live listener comments during each MyMac.com Podcast. Let's call their bluff by learning how to create MP3 voice recordings that can be submitted for that purpose.
1. Download Audio Hijack Pro from Rogue Amoeba. Use the demo, or, even better, pay and register your software, because it's worth every penny.
2. Launch Audio Hijack Pro, and plug in and turn on your USB microphone or Apple iSight into the correct USB or FireWire port, or plan to use the computer's built-in microphone, if your Mac has one.
Hint: The iSight may auto-launch iChat, so quit iChat immediately if that happens. Audio Hijack Pro works independently of iChat. We'll address iChat in a future MyMac.com tutorial.
3. Configure Audio Hijack Pro as in the screen shot below, with Audio Source at Audio Device, Input Device as the name of your microphone, and Output Device as Silence Output, to avoid any screeching feedback noise.
4. Launch System Preferences from your Dock or Apple Menu, and click to open the Sound Preference. Make sure the name of your microphone is highlighted in gray.
5. Test your voice audio input level by speaking normally. You want the blue peak blobs to reach most of the way to the right, leaving four or five blobs empty during your recording, as in the screen shot below. My Input volume level is set high for this particular USB microphone, called AK5370, manufactured by Labtec.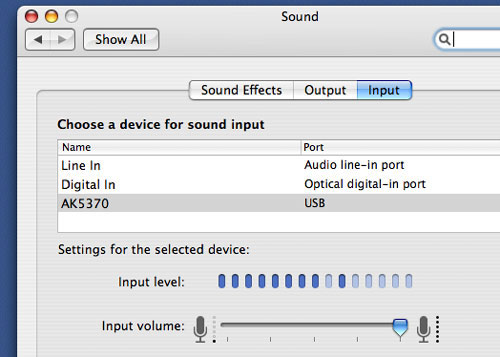 6. In Audio Hijack Pro, click on Hijack and Record at the upper part of the little window, count down slowly from five to one, relax and speak your audio commentary for a couple of minutes, then click Record and Hijack to end your recording. See below:
7. Navigate to: Go / Home / Music / Audio Hijack, and you'll observe the MP3 file you just created. Drag this file onto your Desktop, and double click it to play it back in iTunes.
8. Don't worry if the audio quality or your vocal sound is less than sensational. Tim and Chad will work with whatever you submit, if it's coherent and audible.
9. Send an email to mymacpodcast@gmail.com with the MP3 file attached.
10. Keep listening to MyMac.com podcasts, and one day you may be featured!