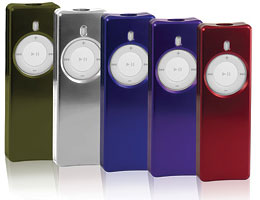 Griffin iVault
Company: Griffin Technology
Price: $19.99
http://www.griffintechnology.com
Are you constantly dropping things? Fingers mashed in your car door? Constantly dropping your iPod Shuffle? Do you slip it in your pocket and forget you have your keys and change in there too? Are you a klutz?
Well, if you answered yes to any of the questions, then you need to provide an armor barrier around your Shuffle. As any military leader knows, you don't go anywhere without your armor. With Griffin's iVault, that's exactly what iPod Shuffle users will now have for their Shuffle's, armor.
Produced out of aluminum, and weighing only 1.5 ounces (empty), iVault provides a secure case for your Shuffle. When you open up your iVault package, you'll find the machined aluminum front and rear shells, a bag of small screws and a USB extension cable. You put the front and rear pieces together around your shuffle, without the USB cap, use four screws on the iVault's back piece and you have now armored up your Shuffle. The iVault is designed so that you have access to the front control wheel, the rear control pad, the USB plug and even an oversized hole on the top for your earphones for a larger sized plug from another company's earphones. The provided USB extension cable, almost 34" long, provides an easy way for you to recharge or update your iPod.
Now let's get down to the nitty-gritty about the case… You have to place your iPod Shuffle inside the case and screw it together. The USB plug on the bottom of your iPod will no longer be covered by a cap. The way that you carry it around with you is normally inside your pocket with the earphones plugged in for listening. I've utilized the iVault while running and I encountered no problems at all. Slip it in the pocket of my running shorts and off I went. You have total access to the controls and when it comes time to recharge or sync up your Shuffle, just plug in the extension cable and do so. If you have an issue with the fact that the USB plug is not capped, be inventive. A small piece of electrical tape over the bottom will prevent dirt from working its way in. If you feel the need to be able to open up the case because you want to plug it into your Mac, buy a small jeweler's or eyeglass Phillips screwdriver and carry it around with you.
The case is tough and will definitely take a beating. I sat in my garage and continually banged on the case on all sides with a hammer. No dings, dents or bruises. Can you run over your iPod in an iVault with your car? Don't know, I'm not that crazy to find out. Otherwise, the approximately $20 you're going to spend to protect your Shuffle is well worth the outlay of cash. Oh, and before I forget, you get to choose your color- green, silver, blue, purple or red. No boring white or black!
Highly recommended.