p>AppleVisionâ"¢ 1710AV Display
Estimated price: $1,080
Company: Apple Computers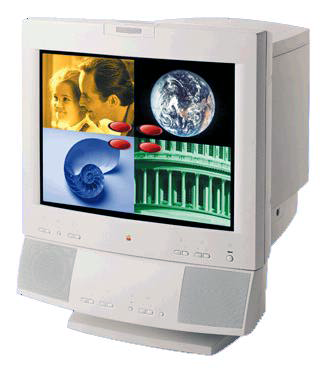 Have you ever listened to a song on your mac's little internal speaker? Sure, its good for an ocasional quack or beep, but when it comes to laser blasts in games, or audio CD's, that little speaker just doesn't cut it! While a monitor is usually bought for its image and resolution, when you are buying a monitor with built in speakers, sound matters a lot. If you are in the market for a multimedia monitor, you have much more to worry about then picture quality. Monitors with built in speakers were unheard of until 1993, when Apple Computer shipped its Audio Vision14″ Display. The response was overwhelming. People wanted better sound, but also wanted to save space on their desktop. Then other companies started to jump on the bandwagon, to fill in the gaps that the Audiovision 14″ had left out.

Gadgets Galore
When I went to my uncle's store (see a trend developing), to check out the AppleVision1710AV, the first thing that I noticed was how it looked on the outside. There were a lot of little gadgets and knobs, which all had standard macintosh icons by them. They were very easy to understand, and I had most of the gadgets mastered within the first couple of minutes. The power switch was easily accessible, as were the Horizontal and Vertical size and centering controls. I also liked the button design for the brightness and contrast controls. Also handy were the bass and treble controls, which were lacking on the AudioVision14 display. The AppleVision 1710AV also sports speaker and microphone mute controls, which makes it very handy not to have to switch back and forth from the sound control panel! The 1710 has integrated attached video and ADB (Apple Desktop Bus) cables. Also integrated is the audio input/output cable, which makes it very easy to connect to your mac.
Audio Heaven
The AppleVision 1710AV has two high-quality integrated stereo speakers, mounted on the front of the monitor. I was blown away by the sound quality while listening to audio CD's. When I took it upon myself to test the sound quality, I connected a pair of Apple Design Powered Speakers II, and then the Display to a Power Mac 6100/66, while listening to Sophie B.Hawkins' CD! The Display's speakers definitely came out on top, but the surround sound wasn't as good. When you have stand alone speakers, you can create a surround sound effect, which can't be matched by integrated speakers. Also, when I went to play Star Wars Rebel Assault II, the sound quality was amazing. (As if any graphics artists are going to play a action-arcade game!)
I had a lot of trouble when I tried to use voice recognition with the built in microphone on the 1710AV. It was worse then when I took an Apple Plaintalk microphone and positioned it right above the built in microphone. Just to make sure it wasn't a faulty monitor, we used another one and had the same problems. I don't know why this is, but voice recognition has never worked good anyway, so this is minor.
Image is Everything
The picture quality on this monitor was nothing less than perfect, except for the sharpness. People typing or using spreadsheets will want clean, crisp text and lines. The AudioVision 1710AV, like many of its Apple counterparts, has a problem with blurriness. This has long been a problem with Apple monitors, and it is still present on the 1710AV.
The 1710AV sports a 17 inch (diagonal)Trinitron picture tube. It has a 16.1 inch (diagonal viewable image size), and a 0.26-mm stripe pitch. It also supports many resolutions including 640by480 at 67hz up to 1,280by1,024 at 75hz, however, the Power Mac 6100/66 we used was not able to drive the monitor at all of these resolutions.
Another great feature of this monitor is its DigitalColor technology. The monitor offers self-calibration aganist factory measurements, and adjustment for ambient lighting and CRT phosphor aging. When the monitor gets old, the color phosphors age and get worn out, but with the CRT adjustment they readjust so this dosen't happen. There is also an antistatic/antiglare coating on the monitor. This is great, especially for owners of monitors that glare. In fact, my Apple Multiple Scan 15 has so much glare, that sometimes I either tilt the monitor down, or turn the light off!
The 1710AV also has great energy saving capabilities. All you penny pinchers out there will appreciate that the 1710 only uses 11W in standby mode, and 0W in suspend mode, and when the computer is in energy saving mode!
The Summary
I am amazed with the 1710AV. The bass and treble controls are great, as are the energy saving capabilities. Apple has made a product that has been unmatched by any of its competitors. The price could be a little lower, as $1,080 is a lot to pay for a monitor. If you work with spreadsheets, and want a sharper screen, I think you should look elswhere. But if you want to save space on desktop speakers, and still want good sound quality along with a great picture, the 1710AV is for you.