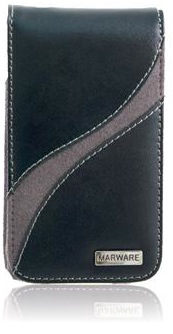 Marware CEO Flip Vue case for iPhone
Marware, Inc.
http://www.marware.com/
US $29.99
Marware has a recent addition to its well-rounded collection of iPhone cases and accessories: the CEO Flip Vue.
Available for both the original recipe iPhone, as well as the new, extra-crispy iPhone 3G version, the Flip Vue is a stylish leather fold-over slipcase for the iPhone.
The case is made of nice quality black leather on the exterior, and it's lined with a softer, chamois-like grey leather on the interior. Holes are provided for the camera, headphone jack, speakers, and dock connector. A good quality belt clip attaches to the back of the case.
I used the Flip Vue for a weekend, and found it to be attractive and well-made, but found it somewhat difficult to actually use.
While the iPhone slides into the sleeve with enough friction so it will not likely accidentally escape when the cover flap is open, that same friction makes it awkward to remove the phone from the case to answer a call and talk on the phone. If you don't want to remove the phone, you're stuck with having to deal with the front flap waggling around as you talk. I found it difficult to slide the iPhone out of the case, as the case comes far enough up the iPhone so that there is only a small bit of exposed phone to grab with your fingers to lift the phone from the case. Removing the iPhone from the Flip Vue when it was still clipped to my belt was too much work; I ended up unclipping the case from the clip, then removing the phone from the case. This proved to be bothersome.
If you use the iPhone while in the case, there is no access to the volume control when the iPhone is inside.
If you've plugged in your earbuds with the case closed, you can't flip the cover open, as the earbud jack prevents the cover from fully opening.
On my evaluation sample, the dock connector opening was a bit too small, making it hard to seat the connector.
Conclusion.
The Marware CEO Flip Vue is an attractive case that does not work well in day to day use.
email – MyMac Magazine – Twitter – Advertise – Reviews Archive – Podcast