MacAlly TriHub 4 Port and 7 Port Hi-Speed USB 2.0 Hubs
Company: MacAlly
Price: 4-Port Unit $19.99 USD
7-Port Unit $29.99 USD
http://www.macally.com
If you are looking for a light weight, dependable, powered USB hub, then check out MacAlly's TriHub 4 Port and 7 Port USB 2.0 hubs. Designed to be mobile for those on the go, MacAlly's TriHub USB hubs fit the bill exactly right.
The 4-port unit is only 1 3/8″ x 1 3/8″ x 1 3/8″ by 3 1/4″ and comes with its own optional AC power supply adapter to provide DC power to the unit along with a USB cable. The 7-port unit is only 1 3/8″ x 1 3/8″ x 1 3/8″ by 5″ and likewise has the AC power adapter and USB cable for connection to your Mac or PC. If you wish, you can utilize the adhesive pads on the bottom of the units to secure them to a desired location on your desk or desktop. The 4-port unit provides one separated port for a larger sized USB device while the 7-port unit offers 2 separated ports for the same reason.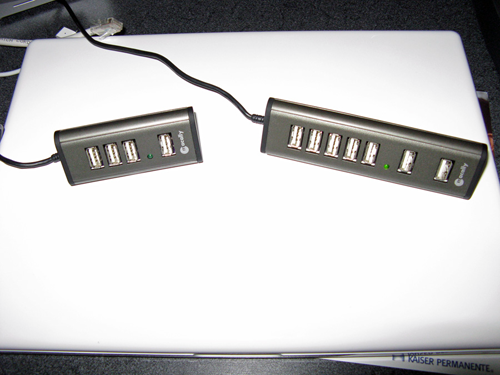 The TriHub's provide the user with USB 2.0 capability or for those with an older system, it is usable as a USB 1.1 Hub. I personally have a preference for using a powered USB hub just based on past experience. MacAlly's TriHub units provided me the flexibility of small size, ease of use and portability that I look for. To test out the Hubs, I used them with a G4 MDD 867 Dual running Leopard, a G5 PPC 2 GHz Dual running Leopard and a MacBook 2.2 GHz Intel Core 2 Duo also running Leopard. I had absolutely no problems using them, although I will admit that I did prefer to use the Hubs with a system running USB 2.0.
Now I really gave both of them a workout with my MacBook. Why Apple only provided 2 USB ports is beyond me but having the TriHub, 4-port or 7-port was a real boon. I could sit and work on the computer, have my USB mouse plugged into one of the two slots and have the TriHub plugged into the second port. Using the Hub I was able to provide expanded capability where I could plug in my printer, or my camera or my iPod and not have to worry about what I was going to have to unplug so I could keep working. The Hub and even its power adapter take up very little space and fit easily into any laptop bag to make the trip with you. Working with them with a desktop system, the units are again small and easily positioned to be out of the way yet readily available when you need to plug something in without having to constantly poke around your computer.
So, if you are looking to expand your laptop's or desktop's USB capability, check out the MacAlly TriHub 4-port and 7-port USB hubs.
System Requirements:
Mac OS X – 10.2 to 10.5 and above
Windows 2000/XP/Vista and above
Any Desktop or laptop computer with a USB port
So to review:
Pro: Easy to use, Mac/PC compatible, low profile, reduced size, very light weight, provides 4 or 7 USB ports and has the optional power adapter for those who prefer it. Reasonably priced.
Cons: None that I encountered
Highly recommended!
email – MyMac Magazine – Twitter – Advertise – Reviews Archive – Podcast