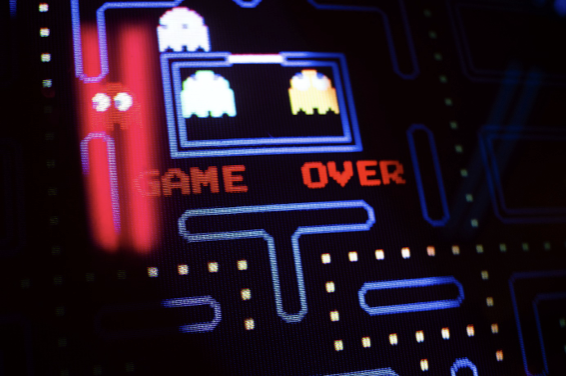 From laid-back casual titles to thrilling strategy entries, the iPhone has enough games to keep everyone entertained. But while modern titles can be all fun and games, what if you were looking for a slightly more nostalgic gaming session? Well, you're in luck, as the iPhone's library boasts countless classics from days past. So, let's explore some retro video games you can play right now on your mobile device of choice.
Pac-Man
Pac-Man stands as one of the most emblematic figures in video game history, right up there with Nintendo's all-too-famous Italian plumber, Mario. Originally launched in Japanese arcades, the ghost-gobbling yellow hero has left a lasting cultural imprint over its four-decade journey. This gaming icon has starred in over 30 sequels and spin-offs since its 1980 debut, from Ms. Pac-Man to Pack-Attack. Only the original Pac-Man game has been ported to the iPhone, though.
But this retro classic lost none of its spark in the process. Developed by Pac-Man's early publisher, Bandai Namco, this free-to-play iPhone version adds a whole new feel to the game without taking away any of its fun. Various game modes await players, introducing weekly challenges for competitive gamers in tournament mode, hundreds of never-before-seen mazes in story mode, and exclusive themed events and skins in adventure mode. Players itching for a more retro vibe can also jump back in time with the classic 8-bit arcade mode.
Tetris
Tetris is arguably the most renowned block puzzle game ever. Funnily enough, what would turn into a global phenomenon started with a Soviet software engineer creating a simple, unpretentious game to test a new type of computer. But with its easy-to-grasp mechanics and hooking gameplay, this mind game quickly took over the world. In fact, Tetris earned a Guinness World Record for being the most widely ported game, reaching over 65 different platforms.
It was only fitting, thus, that Apple users got to experience this legendary puzzler on their device of choice. The official iOS mobile app is designed for both casual players looking to play a quick round and hardcore enthusiasts eager to learn new tricks to beat increasingly difficult challenges. The quick play mode is perfect to pass time during a long commute, whereas competitive gamers can solve endless puzzles in marathon mode. Plus, intuitive one-touch gameplay enhances the overall experience. One drawback is the app's ad-heavy nature, however.
Duke Nukem: Manhattan Project
Duke Nukem is a controversial franchise, if any. Known for its depiction of touchy topics, which got it banned in countries like Brazil, and its unapologetic pastiche of Hollywood action stars like Arnold Schwarzenegger, this series of platformers turned first-person shooters faded from view in the 2000s. Yet, one of the latest installations in the franchise, Duke Nukem: Manhattan Project, still managed to find its way onto the Apple Store.
Released in 2002 to commemorate the 10th anniversary of the original Duke Nukem, this spin-off pays homage to its iconic predecessor with its side-scrolling elements and hybrid antagonists reminiscent of classic villains like the mad scientist Dr. Proton. For all its old-school gameplay, this Duke adventure also adds smooth 3D visuals more palatable to modern audiences. Retaining all the over-the-top fun of its forerunner, this adventure platformer might be the ultimate Duke experience.
Monopoly
Created by Charles S. Darrow, Monopoly has sold over 250 million units worldwide since its initial release in 1934. Resonating with both young and old for decades, the original Monopoly experience is now accessible on iOS devices. Released by Hasbro, this 3D adaptation of the timeless board game supports both single-player and multiplayer gameplay. Apple users might also spruce up their gaming session with mobile variants like Monopoly Tycoon, Europoly, Monopoly Poker, and Monopoly Slots.
The iGaming industry took notice, leading many software providers to draw inspiration from that classic game of strategy. Developed by the creative minds at Barcrest, Monopoly Big Event is a fun addition to the genre. The matching symbols of this machine slot bring back original Monopoly characters like the car and the dog. Players may therefore spin the wheel to build up their property portfolio – and boost their bank balance in so doing. Better still, the Monopoly Big Event slot boasts a free-to-play version available on both established and new online casinos.
The iPhone's gaming catalog is full of exciting modern games to try. As a result, making a clear-cut choice in the face of so many options can often be time-consuming. So, what if you switched the focus to revisit oldies but goldies? From outrageous 90s action titles to cult board games with a spin, there are many classics for you to explore or rediscover to recapture the vibe of the golden days of gaming.