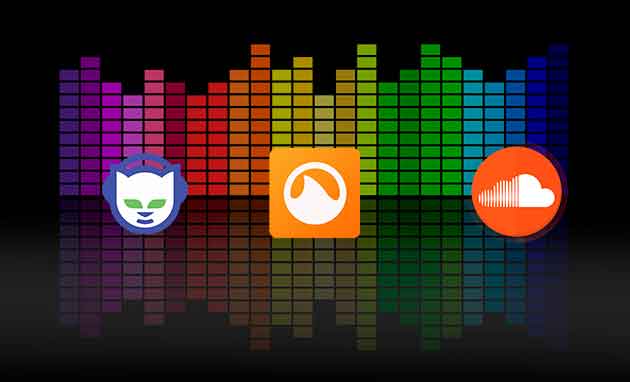 Spotify is one of the largest on-demand music streaming services around. Since launching in 2008 it has seen huge growth, becoming the largest downloaded music app in the USA. Nevertheless, there still remain alternatives, and here we're going to take a look at these apps like Spotify:
Napster
Deezer
Soundcloud
YouTube Music
Google Play Music
Grooveshark
Napster
Napster was first established in 1999 as an illegal peer-2-peer file sharing service, Napster has been through a number of high-profile lawsuits and has now made its way into the legal on-demand music streaming world.
It is available for iOS, Android, and Windows. Mymac readers can also access the Napster library through their browser and log in to their web-player.
When it comes to the money side of things, the personal options at Napster are:
Napster Unlimited (desktop/laptop only, no mobile devices) – £5 per month.
Napster Unlimited plus Mobile – £10 per month
Unlike Spotify, there is not a free version of Napster. You must pay to use the streaming service, you don't pay to remove ads.
Napster boasts a library of 40 million songs, along with the ability to listen in 320kbps quality. They also boast pre-installation of their program onto devices like Sonos, but also suggest that their app is fully compatible with all modern speakers – for example, our recently reviewed nakamichi Bluetooth speaker.
Deezer
Deezer is an on-demand streaming service founded in Paris, France in 2007. Like Napster it ran into some copyright issues when it first launched, but these were quickly resolved.
Deezer is compatible with a whole host of different devices and platforms, which readers can check out on their devices page. They have a desktop app for iOS and Android, along with mobile apps for iOS, Android, Windows, and Blackberry. They also have software for wearables like FitBits, Apple Watches, and Android Wear. Or, for home monitors, which can be found at Laptopunboxed.
There are four different Deezer plans, one of which is the free plan. The other three are paying:
Deezer Free
Deezer Student – £4.99 per month
Deezer Premium – £9.99 per month
Deezer Family – £14.99 per month
The free version of Deezer includes ads, is stuck in shuffle play (like Spotify free for mobile) and does not have offline listening abilities. The premium accounts get rid of these restrictions.
Deezer boast more tracks than Spotify, estimating that they currently have 53 million songs available on their platform.
Soundcloud
Soundcloud is our third app like Spotify, and it was originally an alternative music sharing website for independent artists to distribute their tracks. Launched in 2007 in Berlin, Germany the company has now expanded to include an on-demand streaming service.
The Soundcloud app is available on iOS, Android, and as a web-player. In addition to this it can be installed on ChromeCast, and on Xbox One devices.
There are three tiers within Soundcloud:
Soundcloud Free
Soundcloud Go – £5.99 per month
Soundcloud Go+ – £9.99 per month
Only Go and Go+ allow users to listen offline and without the interruption of adverts. However, only Go+ includes the premium licenced tracks from the major artists, e.g. those songs you hear in the charts.
Soundcloud boats the largest library of independent music of all of the apps we've looked at, claiming 120 million or more. Go+ get the additional 30 million major-label licenced tracks, this makes Soundcloud possibly the most diverse app in terms of music genres.
YouTube Music
In 2015 YouTube launched its music streaming service, however it was only in 2018 that they started to push the product with the launch of the new app and web player – making the app more like Spotify than before.
The app is available on both iOS and Android devices, along with having its own dedicated web-player (which includes music videos).
The YouTube Music subscription plans come in three forms:
YouTube Music free
YouTube Music Premium – £9.99
YouTube Music Family – £14.99
Both of these will remove the ads that you encounter in the free version of the app, along with offline listening, and the ability to run the YouTube Music app in the background.
The music available on YouTube Music is the same as Google Play Music, as YouTube is owned by Google, and your Google Play Music account gets you access to YouTube Music Premium. However, in addition to the 40 million library the Google boasts, YouTube Music also has all the remixes, cover versions, live gigs etc. that have been uploaded to YouTube over the last fourteen years!
Google Play Music
Google play music is an on-demand music streaming service and music locker. It launched in 2011 and is the proprietary music streaming service for the Google ecosystem.
Google Play Music is available on iOS and Android. You can also install the app straight into your google Chrome browser or go to their web-player. Google Play Music has a free version for its users, which will include ads and limitations (no track skipping, diminished music access, no offline mode), but its paid accounts do not include ads and come in the following forms:
Individual – £9.99 per month
Family – £14.99 per month
Google boasts a library of 40 million songs on demand. However, in addition to this, paid users will also get a YouTube Music Premium account too.
Grooveshark
Finally, on our list of apps like Spotify is the now defunct Grooveshark. Grooveshark was launched in 2006 as a music upload and streaming service. Like Napster, Grooveshark courted controversy, leading to Google and Apple removing their app from their stores. Nevertheless, you could get the app on some of the alternative platforms like Cydia. Grooveshark shut down in 2015.
When in operation, Grooveshark had a free service which came with banner ads on the pages, but which could be removed with one of the two paying subscriptions. These paying subscriptions also allowed users to use the mobile app offline.