Square Jellyfish Phone Tripod
Manufacturer: Square Jellyfish
Available from: TheGrommet.com
Price: $19.99
Here's a tripod designed specifically to securely hold your phone while taking hands-free group photos or selfies. It's inexpensive, it's carefully engineered, and it's functional. The three legs fold so the tripod doesn't take up much room in your pack. There are two parts: The tripod has a standard 1/4"-20 camera connector and the removable part that holds your phone screws onto that. The rubberized jaws securely hold any phone up to 4 inches (10cm) wide and you can leave your phone in its case. The part that holds your phone also fits on any tripod due to the standard threads. It is fully adjustable permitting portrait and landscape orientations.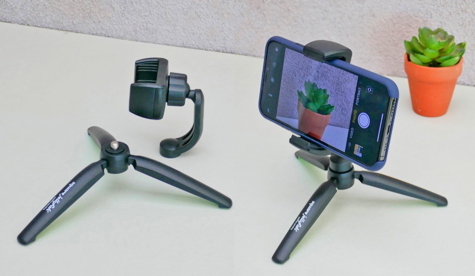 Square Jellyfish makes several devices that are compatible with this tripod and phone holder including a Qi wireless charger that will snap onto the back of the phone clamp allowing you to charge your phone while it is on the tripod. I have a hard time imagining a situation where this would be useful, but it's available as an accessory.
Most phones have a time release feature so you can set up your phone on the tripod, tap the shutter, and scoot into position so you are included in the photo. The Apple Watch will also trigger the shutter from afar for group photos making this tripod an excellent, fun accessory.
MyMac Reviews rating is 9 out of 10.