STORYTELLER 5 Shoulder Compact Camera Bag
ThinkTank Photo
Price: $65 US
The STORYTELLER 5 is a compact camera case that features many of the well-designed characteristics found in ThinkTank's larger high end packs. Photographers won't be able to carry all the equipment they need for a complicated shoot with this small pack, so it's perfect for casual travel, and handy for walk-around street shooting.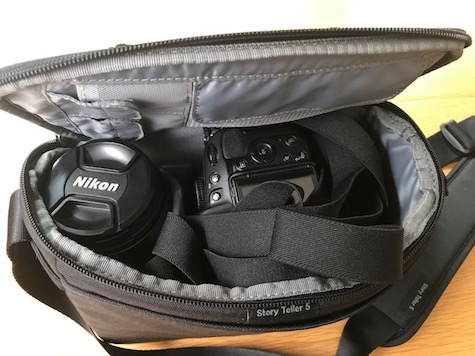 This pack appears to be about the size of a large lunch bag but it is perfect for a Digital Single Lens Reflex (DSLR) or mirrorless camera with two or three lenses. My Nikon D5100 and a 300mm zoom fit perfectly, and if my plans hadn't called for a big zoom, I could have substituted two smaller prime lenses. There also are compartments for extra SD cards and a battery or two, a remote control, and a charger.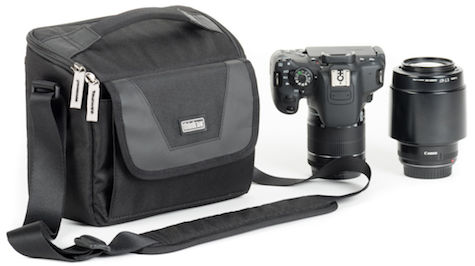 In addition, there are two outside pockets, one with a zipper that seals two divided compartments, one large enough to accommodate a Kindle or iPad Mini and the other suitable for my iPhone.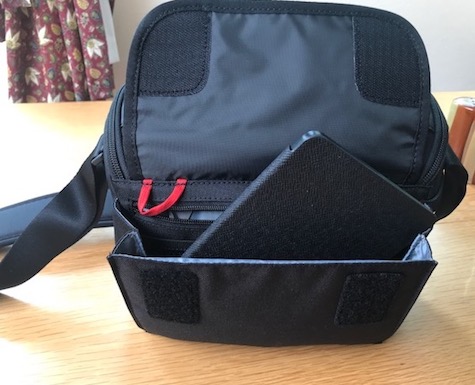 The flip-top lid on the main compartment provides easy access to your gear. STORYTELLER 5 includes a rainfly with a velcro tab so you can connect it to an interior lanyard for safekeeping when it's not raining.
The premium materials and quality zippers make this pack suitable for both amateur and professional photographers, and is a great value for the price.
MyMac Review rating is 10 out of 10.