TacPen – 4 in 1 Tactical Survival and Self Defense Pen
Manufacturer: Wiplabs 
Price: $29.95 U.S.
The TacPen is a tool set in your pocket. This handy device has four functions:
Glass Break
Utility Knife
LED light
Ballpoint Pen
Designed to go where you go, the TacPen can save the life of someone or yourself. With most modern cars equipped with windows that operate via an electric motor, there can be situations such as a traffic accident, when the window won't open. Using the hardened point of the glass breaker, you can break open a window.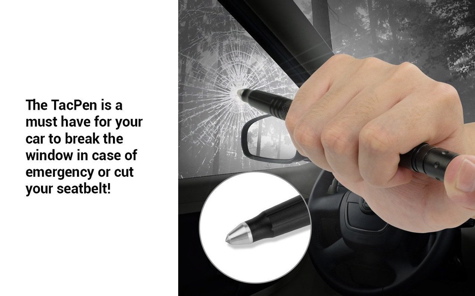 In this same scenario, you might have a jammed seatbelt. You can deploy the razor sharp knife to cut the seatbelt, allowing you to escape the vehicle. When you think about it, isn't better to have this tool in your pocket so you can easily reach it? Some people have a glass break tool in the glove box or door pocket, however in a crash, those may be inaccessible.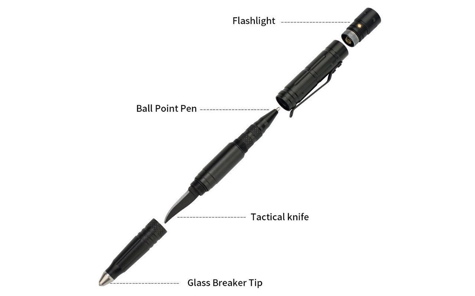 Since your are carrying the TacPen around with you all day, what else can it do for you? First, it will light your way with the LED light. It's always handy to have a flashlight for checking connections on the back of electronics and other daily situations where a little extra illumination helps.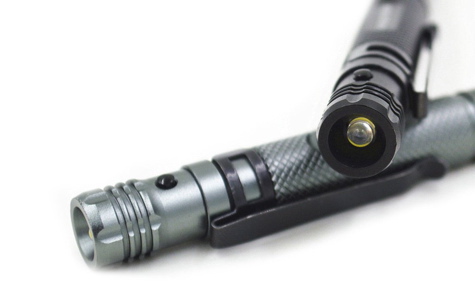 And it is a pen. The replaceable ballpoint pen writes smoothy and appears to be of good quality.
The TacPen is available in three finishes — black, silver and gold. Made of high quality aluminum, this device will hopefully last a lifetime and then you can pass it onto your heirs.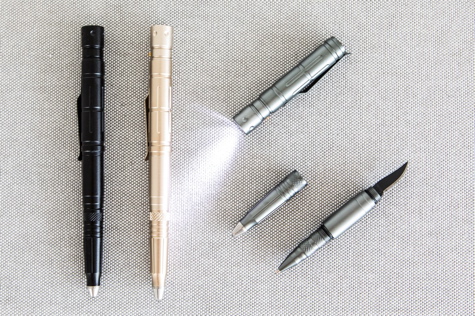 The TacPen has been part of my EDC, or every day carry, for several weeks. It is well made with attention to detail. There are gaskets sealing the pen, knife and LED light battery sections. The LED is powered by three L936 watch button cell batteries, and I priced a package of 10 L936 cells on Amazon USA at $3.99 or $.40 each. I have not had to change batteries yet.
I have just two issues. Since the TacPen is relatively heavy, 0.12 lb., compared to most pens, it can fall out of a shirt pocket, even though the clip is strong. In the summer, many of us wear shirts that are pocketless. I carried it in my pants pocket, with the flashlight end pointing down, so the glass break point didn't wear a hole in my pocket. It worked best in shirts that have a stitched pen pocket. The other issue: When using the pen, you can't screw it to the rest of the body to attach it to the pen. The threads are not the same. It would be nice to keep everything together, if this could be done.
Wiplabs' Web site calls it a Self Defense Pen. I suggest, with proper training, this is true.
The TacPen is useful, well designed and manufactured and worth it's weight in gold, if you are in a jam.
MyMac Review rating is 8 out of 10.